List Of Consumer 360-Degree Cameras
Consumer VR is really on a roll with the stream of new devices coming to the market. One hot area of consumer-level VR is 360-degree VR photo and video capture. Thanks to these devices, it's fairly easy and convenient to shoot, store, and share immersive photos and videos in virtual reality.
360-degree cameras are not to be confused with 3D cameras for VR, as the former is intended for easy shooting, sharing, and viewing via VR. 360-degree cameras are made with the mainstream consumer in mind, as these cameras usually feature a wide-angle lens to effectively capture any view without the complications of 3D processing on some high-end VR camera equipment. VR cameras, on the other hand, usually feature built-in image processing features that stitch multiple images together, creating a depth of field that can be perceived using various VR hardware.
With the plethora of consumer 360-degree cameras available, we list down some of the most notable 360-degree cameras you can buy right now.
360 Degree Spherical Cameras:
360fly
Price: $400
It's the GoPro of consumer VR cameras: the 360fly attempts to be the bridge between action-filled VR and the compatible hardware to go with such activities. The 360fly is marketed as an action camera which you can strap to any outdoor gear and shoot 360-degree photos and video – much similar to a GoPro but with added VR capabilities.
https://360fly.com
ALLie Cam
Price: $499
The ALLie Cam is a consumer 360-degree camera which lets you shoot immersive 360-degree photos and video. You can even shoot videos with it and stream it over YouTube instantly. What makes it unique is that it can act as a home monitoring camera as well – you can set the ALLie Cam wherever you want in your home and view a live stream of its camera feed using your smartphone.
https://allie.camera
Bublcam
Price: $799
Started from a Kickstarter crowdfunding campaign, Bubl Technology Inc. launches the Bublcam – a spherical VR camera that is able to capture 360-degree VR video. The Bublcam is a relatively small spherical camera that is slightly larger than a baseball. Paired with a software suite, the Bublcam is targeted at the mainstream consumer who looks for a 360-degree VR video device that is easy to use.
http://www.bublcam.com
Giroptic 360cam
Price: $500
Started two years ago with a successful crowdfunded campaign, the Giroptic 360cam is considered to be the pioneer of consumer-oriented VR cameras. The 360cam has a unique pear-shaped form factor that also resembles a conventional light bulb, carrying three camera lenses towards the top and a battery back at the bottom. A separate add-on attachment with a single Ethernet port carries both data and power, which enables the livestreaming capabilities of the 360cam. It's also built tough and ready for any adventure, thanks to its rugged rubberized housing.
http://www.360.tv/en/
Kodak Pixpro SP360
Price: $300
Perhaps the most affordable consumer VR camera among the pack, the Kodak Pixpro SP360 lets you shoot 360-degree photos and videos easily with a relatively small form factor. It's also built tough – you can use it much like in any extreme situation like in sports or any other outdoor activity. As its small size permits, you can have access to a variety of usage configurations where you can experiment putting it in almost any mount or accessory.
http://kodakpixpro.com/Americas/cameras/actioncam/sp360/
LG 360 CAM
Price: $200
LG's entry into the consumer VR camera, the 360 CAM, is a relatively inexpensive solution for consumers who want to take 360-degree content. Available as a standalone device or a companion camera accessory to the LG G5 smartphone, the 360 CAM delivers standard features you look for an easy-to-use VR camera without a steep price tag. Its dual 13-megapixel lenses and built-in 4GB internal storage is a pleaser, considering the small form factor and low price.
http://www.lg.com/us/lg-friends/lg-LGR105.AVRZTS-360-cam
Luna
Price: $250
Luna is another 360-degree camera that's relatively smaller than most similar cameras on the market. With two 190-degree fisheye lenses able to take 5-megapixel stills and full HD video, Luna shows that a small form factor still packs big on features. Luna is generous on storage, with 32GB of internal memory built right in. For ease of sharing, Luna has built-in Wi-Fi to connect with your devices, letting you instantly transfer 360-degree content and share across social media platforms.
http://luna.camera
Nico360
Price: $200
Touting itself as the world's smallest 360-degree camera, the Nico360 is a consumer VR camera heavily inspired by the GoPro camera in terms of design. It packs a pair of 16-megapixel aspherical lenses that's able to capture video beyond HD at 2560 x 1440 resolution. Nico360 also takes highly detailed stills with an effective resolution of 32 megapixels. It's waterproof so you can take it outdoors in every weather condition. Nico360 also features PC-free livestreaming of content, thanks to the latest Wi-Fi and Bluetooth wireless technologies inside.
http://www.nico360.com

Nikon KeyMission 360
Price: $559
Nikon also joined the consumer VR market with its KeyMission 360 camera. It sets apart from other consumer VR cameras of its class, as it comes with 4K video shooting capability in a very compact form factor. It's aimed at the action camera market, featuring various outdoor endurance features like waterproofing and shock resistance. It was announced earlier this year, but the official consumer rollout won't be seen until late 2016.
http://www.nikonusa.com/en/nikon-products/action-cameras/index.page
Ricoh Theta
Price: $400
The Ricoh Theta is a 360-degree digital camera with a straightforward usability approach, which is brought by its simple form factor. With this camera, its users can photograph an entire scene or the floor, ceilings, and all four walls of a room with the touch of a button. A fairly steep price may keep some consumers from getting the Theta, but for an introductory shooting device in VR, it may sound reasonable for its capabilities.
https://theta360.com/en/
Samsung Gear 360
Price: $350
The Samsung Gear 360 is an eyeball-shaped 360-degree camera for the mainstream. Its small footprint makes it easy for anyone to shoot and share 360-degree photos and videos. It lets you take stationary shots with a flat bottom base, and it also supports a standard tripod thanks to a built-in mount. With two 30-megapixel sensors and a 195-degree field of view, the Samsung Gear 360 shoots clear and detailed imagery. It features a minimalist design with only three button controls and a tiny PMOLED screen on the housing. Being splash-proof and dust-resistant, the Gear 360 is far from the likes of outdoor cameras.
http://www.samsung.com/global/galaxy/gear-360/
Price: $1,500
The Sphericam V2 is a camera rig that takes the shape of a sphere, as it name implies. It is able to capture 360-degree video in glorious 4K resolution – four times than that of 1080P HD video. What sets Sphericam V2 apart from other camera rigs is that it is able to take high-resolution 4K video at a smooth 60 frames per second (fps). This is a fairly high frame rate by present video standards; however Oculus has recently announced that the consumer version of the Rift VR headset is optimized to run VR content at an even smoother framerate of 90 fps or higher. Another thing about the Sphericam 2 is its wide support for 360-degree video playback. As it states on its Kickstarter page, videos shot using the Sphericam 2 can be viewed on a wide array of devices, including most popular VR headsets.
http://www.sphericam.com/
https://www.kickstarter.com/projects/1996234044/sphericam-2-the-4k-360o-video-camera-for-virtual-r
Facebook Surround 360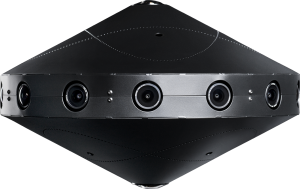 Price: To Be Announced
Facebook introduced its new 3D-360 video camera, the Facebook Surround 360, a durable and high-quality camera system that makes 3D, spherical VR footage. It includes a stitching software that greatly reduces post-production time and effort. Facebook also enables people to use and learn from the code so they can design and build their own 360 cameras with off the shelf components.
For more information on 360-degree consumer cameras, please visit the following websites:
https://en.wikipedia.org/wiki/Omnidirectional_camera
http://www.nikonusa.com/en/nikon-products/action-cameras/index.page
https://allie.camera
http://virtualrealitytimes.com/2016/07/05/consumer-360-degree-cameras-list/
https://virtualrealitytimes.com/wp-content/uploads/2016/07/sphericam_gallery_0007-600x400.jpg
https://virtualrealitytimes.com/wp-content/uploads/2016/07/sphericam_gallery_0007-150x90.jpg
Hardware
Resources
VR Cameras
Consumer VR is really on a roll with the stream of new devices coming to the market. One hot area of consumer-level VR is 360-degree VR photo and video capture. Thanks to these devices, it's fairly easy and convenient to shoot, store, and share immersive photos and videos in...
John Marco Oscillada
John Marco
Oscillada
oscilladajm@gmail.com
Subscriber
Follow John Marco Oscillada on Twitter @maurkopolow for timely updates on VR. You can also reach him at oscilladajm(at)gmail(dot)com for more serious stuff.
Virtual Reality Times