The Top Startups Developing Virtual Reality and Augmented Reality Solutions for Surgeons
Want to become a better surgeon? Or maybe you wish to train better surgeons in your institution? The advent of immersive reality technologies such as virtual reality, augmented reality or mixed reality has reshaped the surgical training process and contributed massively towards improving surgical outcomes.
Surgical training must include a practical component that involves operating on a cadaver before the surgeon takes their training to a live patient which can be quite daunting for many in the profession, especially when they are just starting out.
While medical schools go out of the way to train professional and proficient surgeons, the need for an improved surgical training environment has always been evident and medical schools continuously update their training techniques in order to train better qualified surgeons.
The advent of immersive reality technologies such as AR and VR promise to completely transform the profession through life-like simulations that provide a "clean", affordable and flexible module that surgical trainees can use to hone their skills with the scalpel.
Surgical training of the future will heavily rely on these technologies and several startups are already rising to the challenge with VR software that offer very realistic training experience within a virtual or 3D environment where the risks that are often associated with on-the-job training on live patients are virtually eliminated.
Beyond the training applications, virtual reality and augmented reality are opening up vast new frontiers in the medical field. Surgeons can now have pre-surgery access to 3D images of various human organs and parts including the heart, lungs, knee joints, the brain, legs and many others. Rather than simply relying on 2D imaging techniques such as MRIs and ultrasonography, they can now see the actual 3D image or a very realistic VR rendering and are in a better position to make the most precise surgical decisions. In the recent years, there have also been innovations in the VR and AR-enabled haptic gloves that mimic the sense of touch and allow surgeons to get the actual sense and feel of the operating theater.
Apart from assisting medical professionals with surgical preparation, these XR tools also result in efficiency and productivity boost, helping hospitals save both time and money.
The scope of applications of this technology in the vast medical field is practically limitless. Here are some of the top companies that are already solving problems in the surgical field and the operating theater using virtual reality and augmented reality.
ProPrio Vision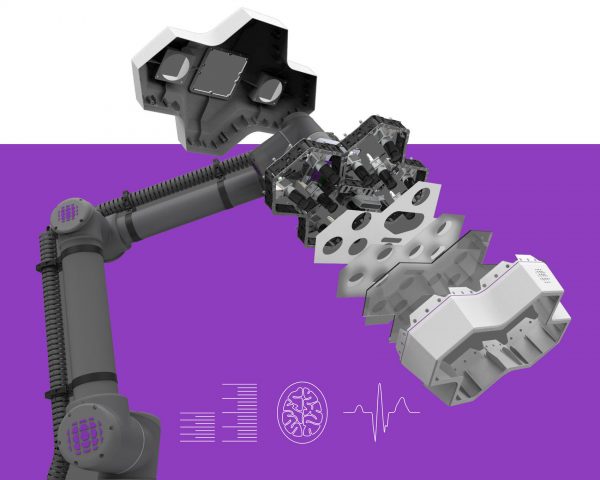 Proprio Vision is a medical technology startup based in Seattle, WA that builds cutting-edge solutions for the health industry using augmented reality and virtual reality. The company leverages both software and data along with emerging technologies such as machine learning and computer vision to create solutions of the future that have revolutionized medical field.
In the surgical field, Proprio leverages both augmented reality and machine learning to develop ultra-precise 3D medical images. The company has stated that its main aim is to overhaul how surgeons see, through the use of emerging technologies. Proprio has sets of imaging tools that make it possible for surgeons to see through obstructions while also allowing them to collaborate with their colleagues in surgical plans. Proprio's solution also includes a built-in artificial intelligence platform that performs an analysis on the 3D rendering of images. The platform can also store and share the surgical data in real-time.
In terms of actual impact in the industry, the Proprio is partnering in clinical research with Seattle Children's and the UW Medicine.
Visit ProPrio Vision website
TrueVision 3D Surgical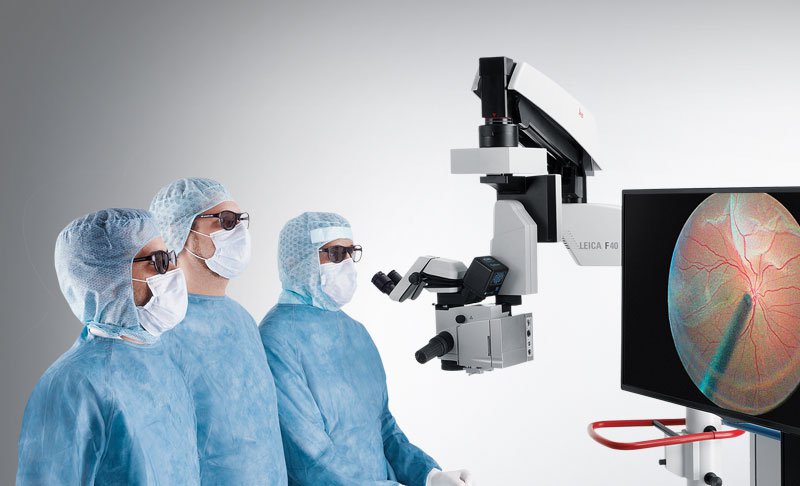 Based in Santa Barbara, California, TrueVision 3D Surgical specializes in digital 3D visualization and in the provision of guidance for microsurgery. TrueVision uses a combination of 3D visualization as well guidance software applications to improve the efficiency, accuracy as well as the surgical outcomes for both patients and surgeons. The medical technology company is currently building 3D guidance applications for surgery that will help improve patient outcomes and surgical efficiencies.  TrueVision 3D Surgery also builds AR toolsets that provide support to surgeons in various medical fields including microsurgeries, ophthalmology and neurosurgery. Its main 3D visualization product in the surgical field is the Digital Microscope Platform that transforms the real microscopes into digital surgery systems which are capable of producing both 3D and augmented reality images.
TrueVision 3D Surgical also developed the Refractive Cataract Toolset and has already entered into partnership with both Oculus and Pentacam AXL that will see its 3D imaging and real-time analytics computer guidance software being used in both cataract and refractive eye procedures.
Visit TrueVision 3D Surgical website.
OSSO VR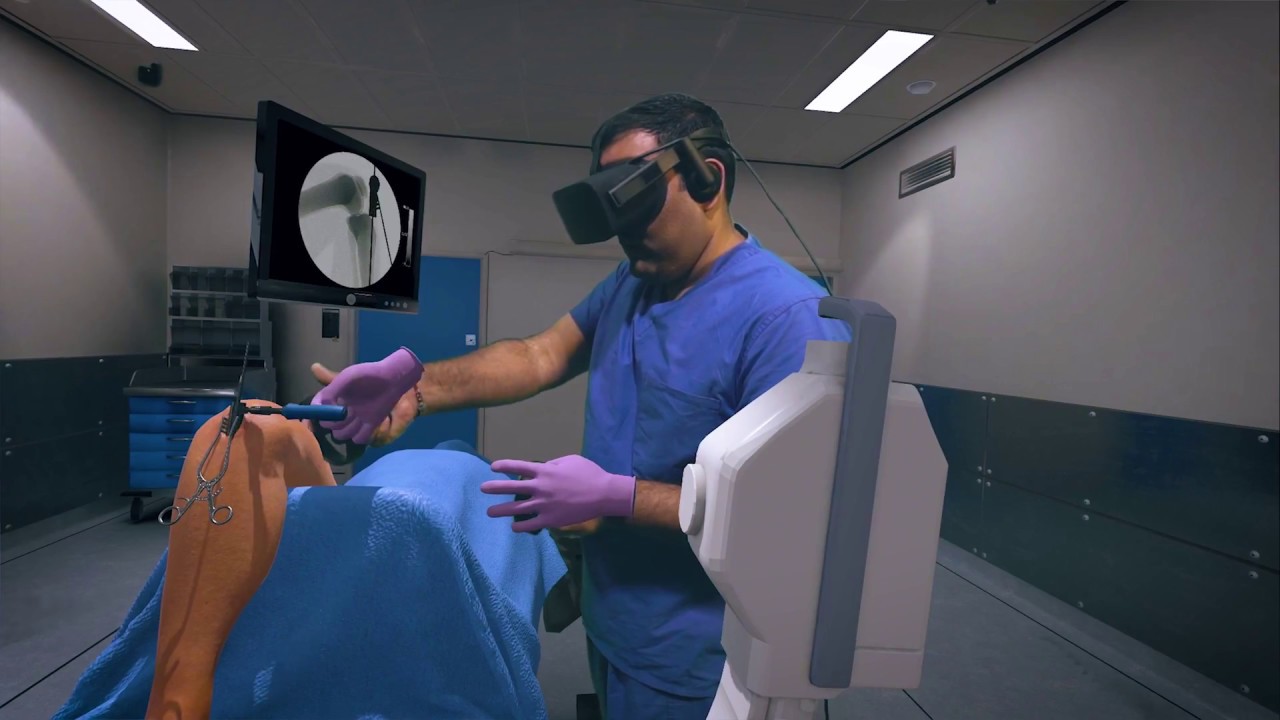 Based in Palo Alto, CA, Osso VR is a virtual reality surgical simulation platform that provides surgeons and trainee surgeons with life-like hand-based simulations of various medical operations. The platform focuses on practicing using virtual tools that surgeons normally use for spine and orthopedic surgeries.
Virtual reality surgical training currently meets an important need given that some 30.7% of graduating residents will come out of medical school while still incapable of operating independently, after years of residency. The use of both VR and AR therefore helps bridge this training gap and helps the residents update their skills as they move into their practice.
The Osso VR platform bridges this gap by offering simulations that are clinically accurate. When a user puts on a VR headset, they can perform simulated surgeries in a realistic environment that closely mimics that of the real operation.  Research has shown that surgeons trained through virtual reality deliver surgical outcomes that are 230% better than those that aren't. Medical establishments are increasingly recognizing the value of VR to boosting surgical performance and are eager to tap into this. Osso VR currently has an interactive platform where surgeons can interact with one another and go through the practice sessions together.
Check out OSSO VR website for additional information.
FundamentalVR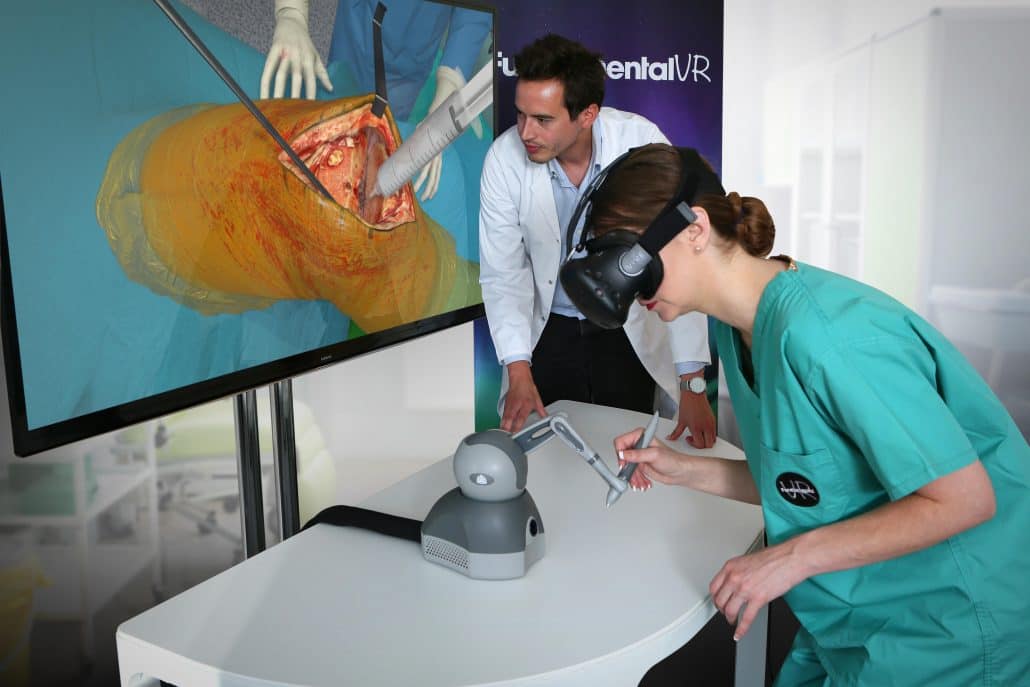 Based in London, in the UK, FundamentalVR specializes in haptic simulators that enable surgeons to practice and sharpen their surgical skills in a very realistic training environment where they even have the sense of touch. It accomplishes this through the use of realistic vibration patterns and haptic technology that provides medical practitioners with a realistic feeling of holding the actual surgical tools. FundamentalVR has a virtual ecosystem that creates a life-like environment where doctors can study and practice various surgical procedures. FundamentalVR has partnered with various leading players in the medical and tech field for the deployment of its platform including Bayer, Amazon, Oculus and the University College London Hospital.
For more information, check out the FundamentalVR website.
Augmented Intelligence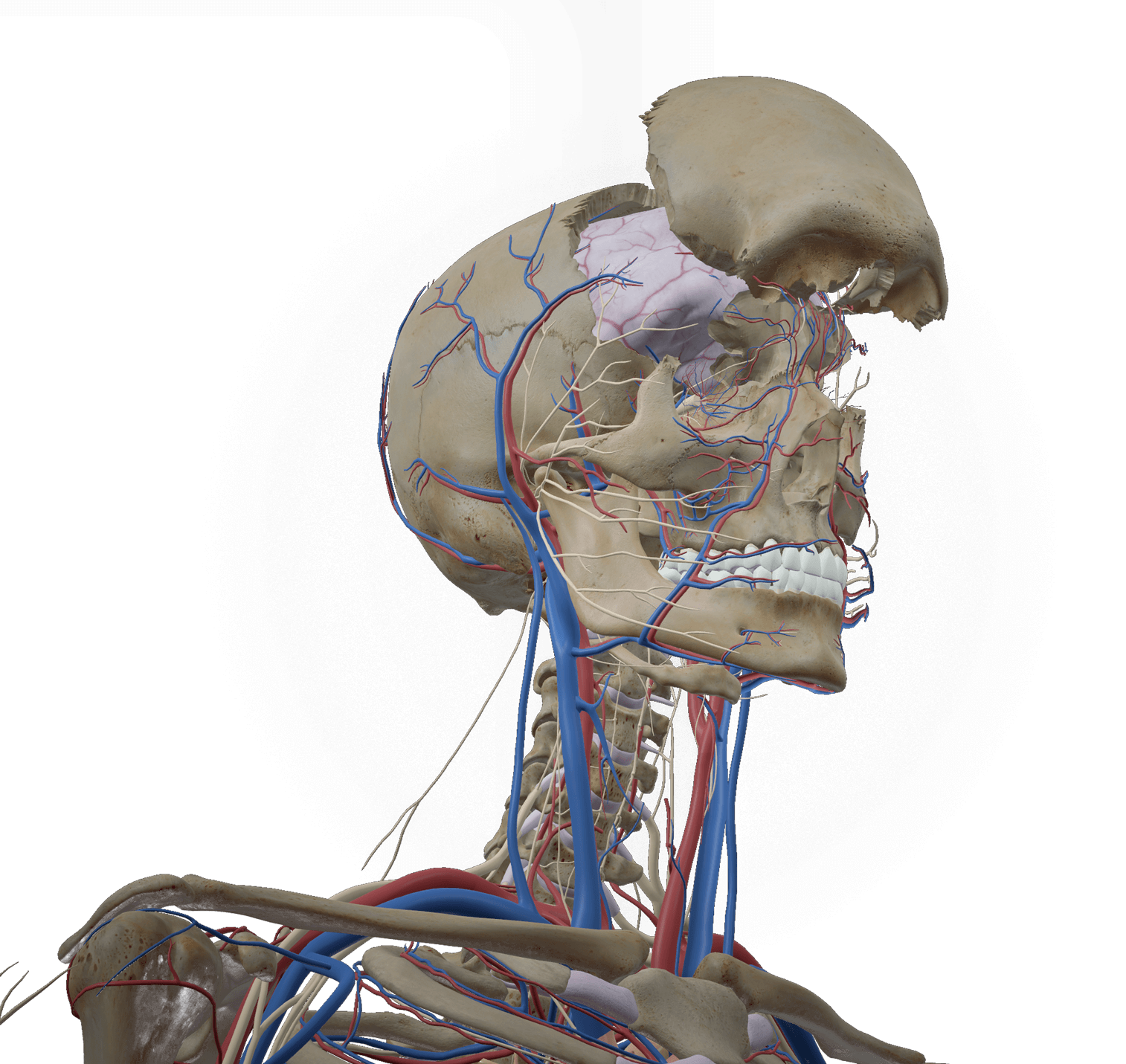 Based in Fairfax, VA, Augmented Intelligence specializes in building augmented reality and virtual reality educational tools that can be used by both medical students and doctors. It claims to provide "The Google Map of Human Body". Augmented Intelligence was formed with the aim of developing the capability and capacity in medical professionals that will allow them to understand and solve complex medical challenges. The company hopes to use Augmented Intelligence in advancing medical intelligence through the use simulated visualization.
Augmented Intelligence has developed the Body Map that allows both students and professionals to observe models of human body that are both intricate and highly accurate so that they can learn more on the various systems and hone their surgical skills.
The Augmented Intelligence augmented reality tools have been used by doctors at the  Chang Gung Proton Therapy Center in mapping out the patient's optimal lying position and then administering proton therapy. The center is able to leverage on artificial intelligence to treat cancer in patients in a much more efficient way.
Visit Augmented Intelligence website for more details.
ImmersiveTouch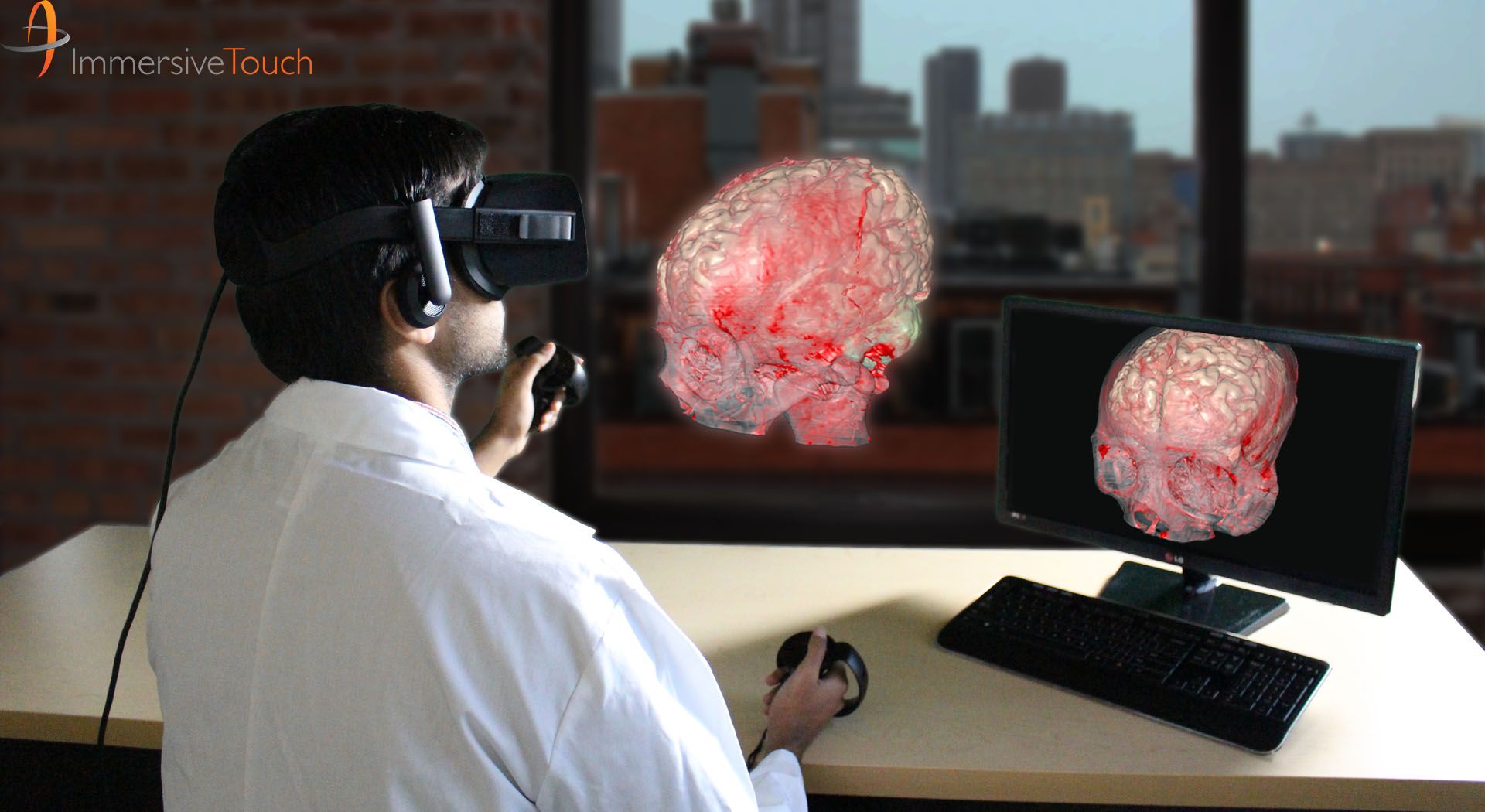 Based in Chicago, IL, ImmersiveTouch develops virtual reality solutions for surgical planning and training. The company has developed surgical training and educational virtual reality surgical simulation platforms which surgeons can use to practice and rehearse various surgical procedures by leveraging on uploaded patient scans, within a zero-risk and hyper-realistic VR training environment.
On the surgical planning front, ImmersiveTouch developed the ImmersiveView Surgical Planning (IVSP), which uses an Oculus headset to immerse surgeons into the patient anatomy inside a 360-degree immersive virtual reality environment so as to improve the surgical outcomes. The tool has already been cleared by the FDA. The ImmersiveView Surgical planning platform will generate the 3D replicas of the anatomy from specific patient scans and create an immersive 3D rendering that surgeons can study and collaborate with other team members on the surgical tactics.
The ImmersiveTouch tool is already being used by surgeons in University of Texas, John Hopkins University and University of Chicago to plan and study surgeries.
Learn more information from the ImmersiveTouch website.
Surgical Theater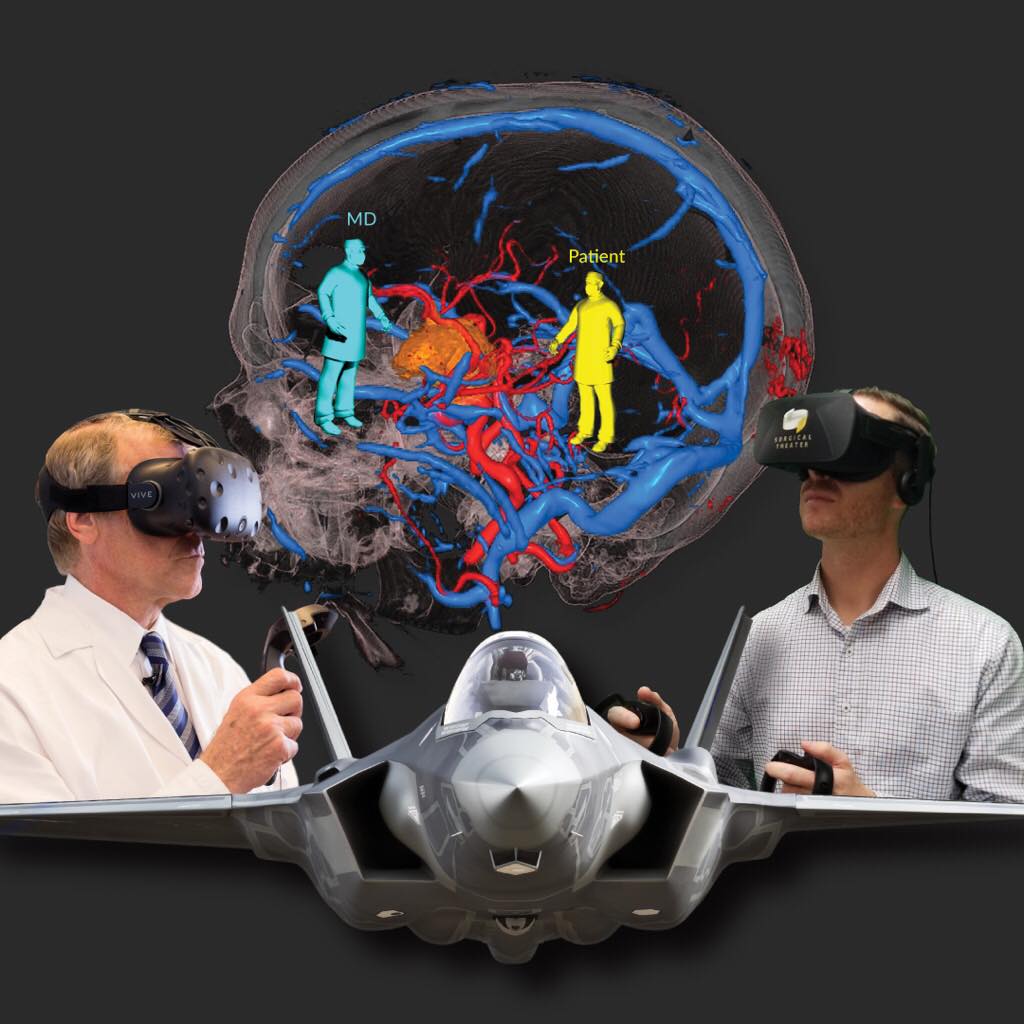 Surgical Theater puts patients and surgeons inside a 360-degree VR reconstruction of the patient's anatomy. It's a VR-based Surgical Rehearsal Platform which is used in neuro-surgical pre-operative planning and rehearsal. Surgical Theater will scan 2D images of tumors and use this to generate individualized 3D models of the tumor which can be used to guide the patient on the expected surgery.
Surgical Theater provides an engaging 360-degree surreal experience that allows patients,along with their doctors, to walk into their own anatomy and stand in between their vessels, tissue and tumor inside their specific virtual anatomy. It's an important surgical planning and patient care tool that enables the patient to gain great knowledge and insights regarding their condition. This is accomplished through the Surgical Theater's Medical Virtual Reality platform.
As a surgical planning tool, it enables physicians to plan from all angles and see all the margins from all angles. It offers physicians a 360-degree intra-operative visualization along with navigation that allows physicians and patients to see behind every corner even before the surgical procedure has commenced. It's also a useful immersive and collaborative tool for medical professionals.
Surgical Theater's brain modeling platform has already been used by Mayo Clinic, NYU and UCLA in planning surgeries and explaining surgical procedures to patients.
Check out additional information on the Surgical Theater website.
EchoPixel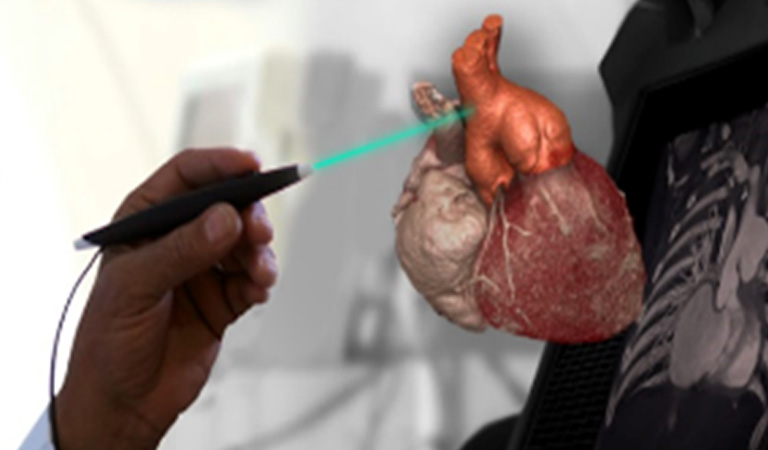 EchoPixel provides revolutionary patient care through its new and disruptive approach to surgical planning. The Santa Clara-based startup is creating a new world of cutting-edge patient care through interactive, 3D medical visualization software. Its True 3D software enables physicians to interact with various kinds of medical images such as echocardiography, MR, standard DICOM CT and C-Arm fluoroscopy in much the same way that someone would interact with actual physical objects in the real world. It's a holographic experience that allows the physicians to visualize and also interact with patient-specific organs within a 3D space.
It does this through the creation of holographic-like images of body organs, tissue, blood vessels as well as various other structures in the body and the virtual rendering allows physicians to perform various functions such as dissecting, rotating, resizing and creating very realistic virtual patient-specific surgical views. Medical professionals are able to interact with these 3D image renderings within an open 3D space from a display. The 3D visualizations allow doctors to quickly identify, evaluate and dissect structures that are clinically-significant.
EchoPixel's True 3D is an important surgical tool that can be deployed in diagnostics, surgical planning as well as in the image-guided treatment applications. It utilizes numerous image datasets in generating patient-specific 3D images that are anatomically accurate. The depth information provided by its cutting-edge software helps in enhancing very detailed medical images in real-time. True 3D provides several benefits to patient care including an enhanced pre-operative planning, improvements in patient selection, better patient engagement along with a precise and instantaneous visualization of the 3D spatial relationships.
The technology has already had some industry impact. Its 3D images of colons have helped surgeons around the world in planning their operations and producing real-time analytics.
For more information, check out EchoPixel website.
SentiAR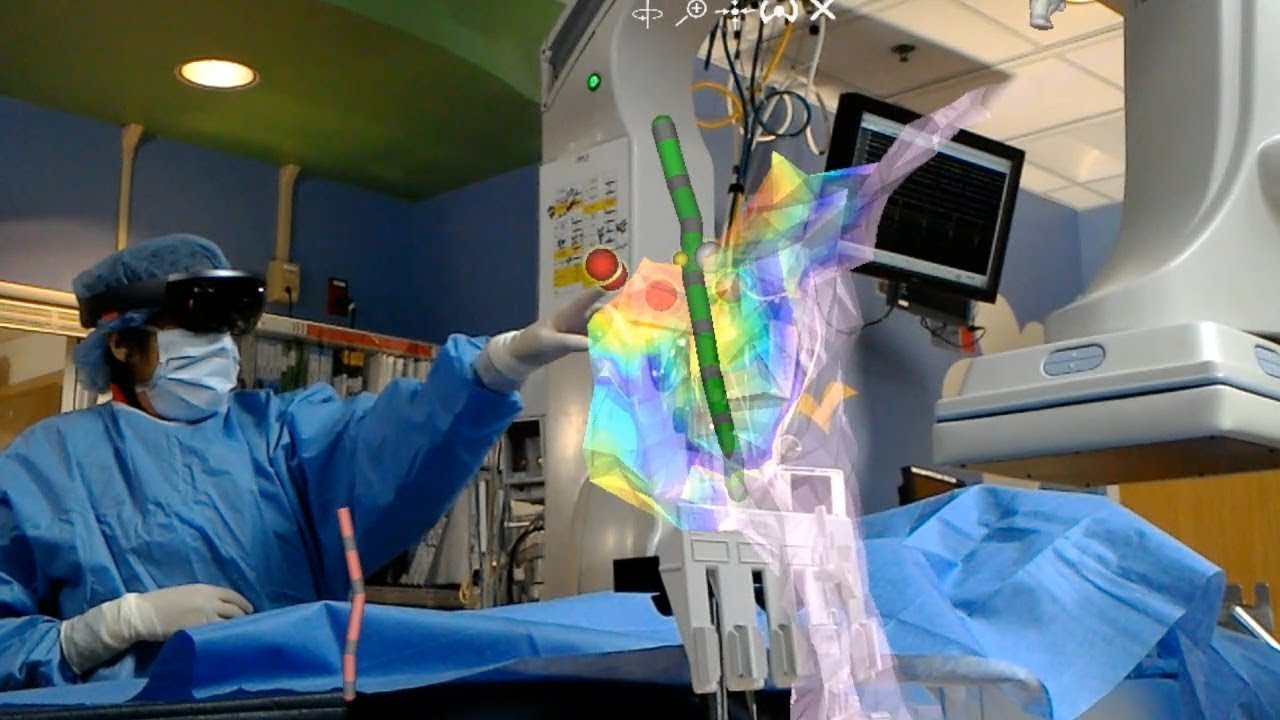 SentiAR provides real-time clinical augmented reality. It aims to transform interventional procedures using AR. SentiAR is a holographic augmented reality platform which has been designed for real-time holographic visualization of a patient's actual anatomy. When surgeons are performing procedures on a patient, they can use the SentiAR augmented reality tool to generate 3D images of a specific anatomy. During the procedure, the augmented reality 3D image generated will float above the patient on the operating table, in real-time. The 3D visualization generated is also controllable in a "hands-free" manner and will provide the surgeons with real-time in-depth insights into the patient's health for the duration of the surgery.
By wearing holographic headsets, clinicians are able to get richer perspectives from SentiAR's real-time holographic visualization. The technology will convert real-time mapping/catheter location outputs, MRI and CT into real-time hologram in the field-of-view of the physician. The EP will, within a sterile environment, expand, measure or simply enter the chambers in a "floating" cardiac model that will speed up procedures while delivering a high level of accuracy. The SentiAR platform will also allow multiple physicians using multiple headsets to visualize the procedures.
It has had a tangible industry impact and has been used in successfully analyzing and treating cardiac arrhythmias within a lab environment. Microsoft has also partnered with SentiAR for its (Microsoft's) mixed reality platform.
Read more details on the SentiAR website.
Proximie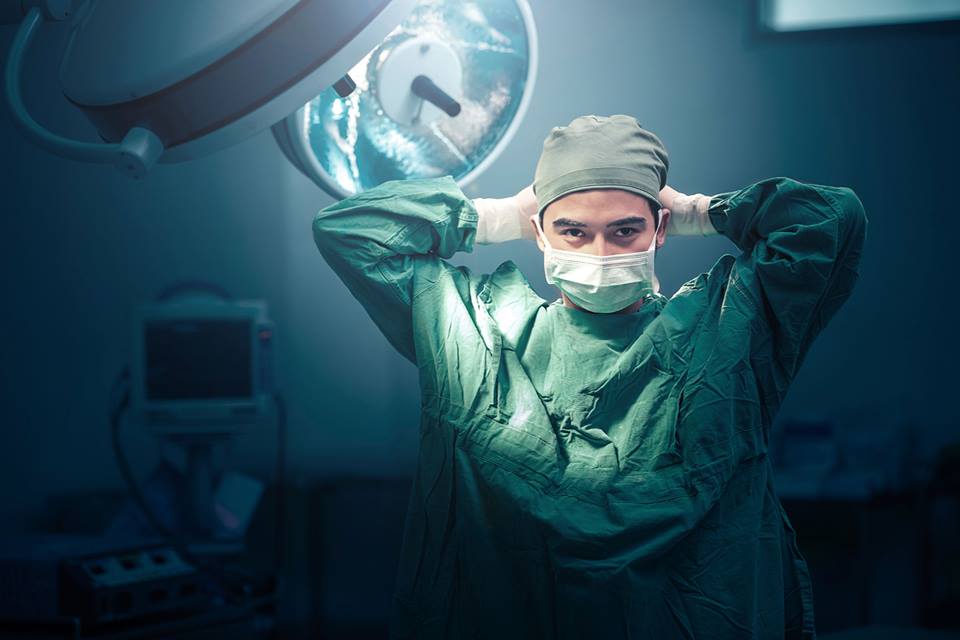 Proximie is another piece of augmented reality technology that empowers physicians to deliver better outcomes to their patients. The medical tech company has developed a suite of augmented reality tools that enable physicians to discover ailments in patients and then describe the surgical procedures involved by using 3D models. Doctors will be able to perform scans on the patient's bodies and use these to point the health problems such as tumors. They will then generate 3D images that will show patients the detailed process involved in the potential surgery required to treat the ailment. The Proximie platform allows doctors to deliver superior patient care through real-time specialist collaboration. The AR technology will empower physicians to respond to patient's in-the-moment needs generally leading to increased productivity and efficiency in treatments.
Proximie provides a pioneering and award-winning platform and was named as one of the best digital innovators in the world during last year's World Summit Awards.
Learn more about the platform on the Proximie website.
https://virtualrealitytimes.com/2019/04/28/the-top-startups-developing-virtual-reality-and-augmented-reality-solutions-for-surgeons/
https://virtualrealitytimes.com/wp-content/uploads/2019/04/Surgical-Theater-600x600.jpg
https://virtualrealitytimes.com/wp-content/uploads/2019/04/Surgical-Theater-150x90.jpg
Business
Health
Startups
Want to become a better surgeon? Or maybe you wish to train better surgeons in your institution? The advent of immersive reality technologies such as virtual reality, augmented reality or mixed reality has reshaped the surgical training process and contributed massively towards improving surgical outcomes. Surgical training must include a...
Sam Ochanji
Sam
Ochanji
[email protected]
Administrator
Virtual Reality Times