Top 10 NFT Marketplaces Where You Can Sell Your Non-Fungible Tokens
The rise of NFTs, non-fungible tokens, has been one of the unlikeliest developments in cryptosphere this year. In a way, it seems almost surreal. People are willing to splurge thousands or sometimes millions of dollars in seemingly worthless tokens. The trade in NFTs, rare and indivisible tokens, is now worth hundreds of millions of dollars every month. Social media channels such as Twitter awash with thousands of users looking to buy or sell NFTs. This trade takes place in the leading NFT marketplaces.
The top NFT marketplaces are currently abuzz activity due to the enormous amount of trade going on in NFTs. Here is a look at the top ten NFT marketplaces currently meeting the NFT trading frenzy across the globe.
#1. OpenSea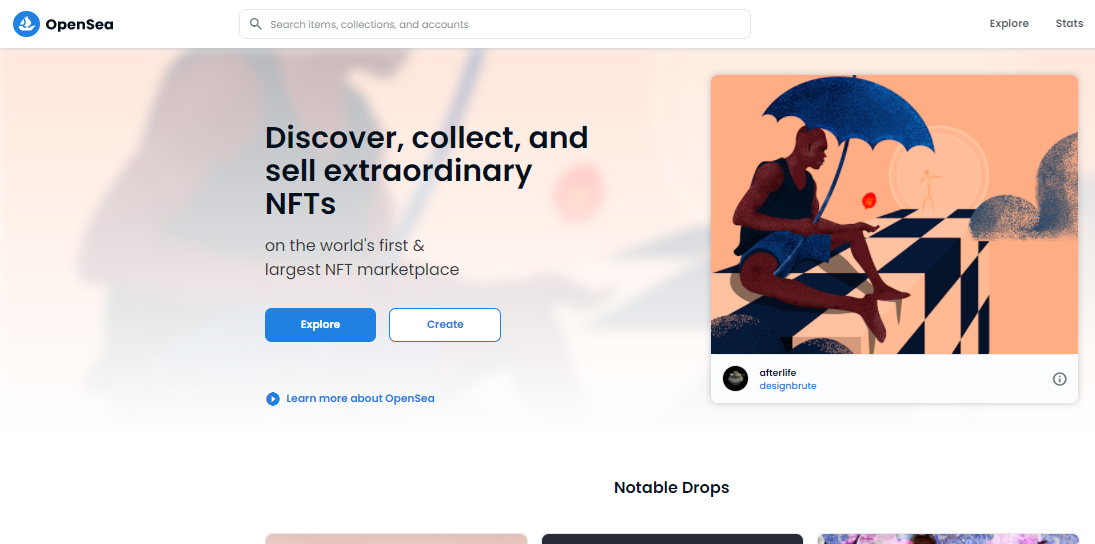 OpenSea is undoubtedly the top dog in the NFT marketplaces and is generally regarded as the biggest NFT marketplace with over $10 billion in all-time sales volume. Even on social media channels like Twitter, most sellers have their NFTs listed on OpenSea.
You can buy a large selection of non-fungible tokens on OpenSea including virtual worlds, art, sports, domain names that are censorship-safe, sports as well as trading cards. It is, thus, not a niche or specialized NFT marketplace.
OpenSea features both ERC1155 and ERC721 assets. This is the go-to marketplace if you are looking for some of the most exclusive digital assets ranging from CryptoKitties, to Axies and ENS names. The sheer size of this marketplace means that there is a diverse array of NFTs that you can purchase here. You can discover some really rare gems here, including some prized collectibles.
There are more than 700 different projects on OpenSea ranging from trading card games to name systems such as Ethereum Name Service (ENS).  You can also find digital art projects and collectible games here.
OpenSea has an item minting tool that creators can use to build their own items on the blockchain. You can also leverage this tool to create NFTs and collections free of charge and simply without writing a line of code.
You can easily add your smart contracts for digital collectibles, unique digital items, or some game to OpenSea.
You can also use OpenSea to simply sell digital items for a one-off fixed price. It also features options for declining price listing and auction listings.
#2. Rarible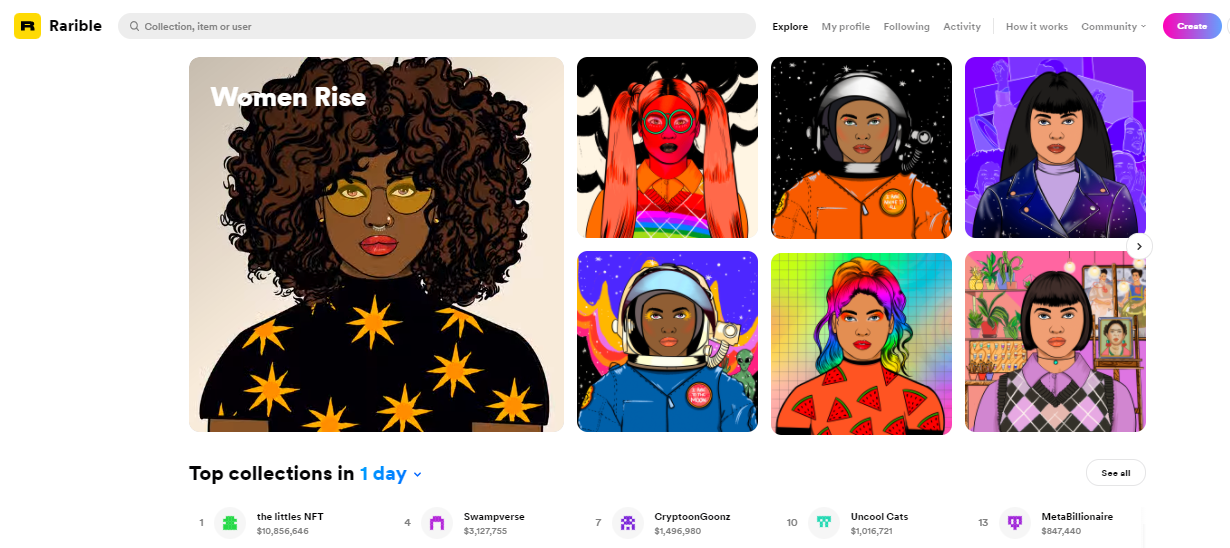 Rarible is one of the most commonly used NFT marketplaces by NFT traders. It is commonly listed by many buyers and sellers on social media channels like Twitter.
Rarible is an NFT marketplace that is community-owned. The owners of the marketplace hold the ERC-20 RARI token. The marketplace also awards this same token to its active users that trade -buy or sell- NFTs on the Rarible marketplace. 75,000 RARI tokens are distributed on the platform every week.
Rarible places a strong emphasis on NFT art assets. The platform also allows creators to mint new non-fungible tokens for selling their artistic creations. These creations can take any format ranging from music albums to movies, books, and digital art. Rarible even allows creators to give the public a sneak peek of their artistic creations but only the purchaser can access the full project.
Traders on Rarible have to first "mint" the tokens for the works they wish to sell with Rarible's software thereby transforming their creations into NFT.
One of the main advantages of Rarible NFT marketplace is that it is creator-centric. Traders, buyers, and sellers, are issued with the RARI tokens for their efforts on the marketplace, thereby empowering them for interacting with the protocol.
Rarible users can easily mint NFTs for different kinds of digital creations including games, memes, photography, metaverses, and art among others.
#3. Foundation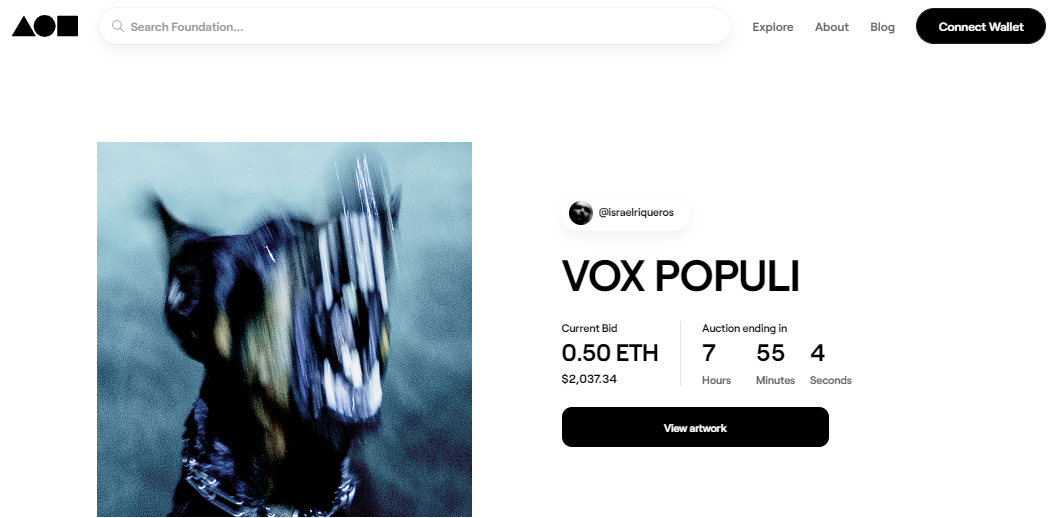 Foundation is one of those niche NFT marketplaces. It prides itself as a "creative playground" where artists can sell their non-fungible tokens. Foundation has a trading volume of more than $79 million and has notched some notable sales such as Edward Snowden's first NFT sale, the Nyan Cat internet meme sale as well as an audiovisual collectible from Richard D. James.
#4. NBA Top Shot Marketplace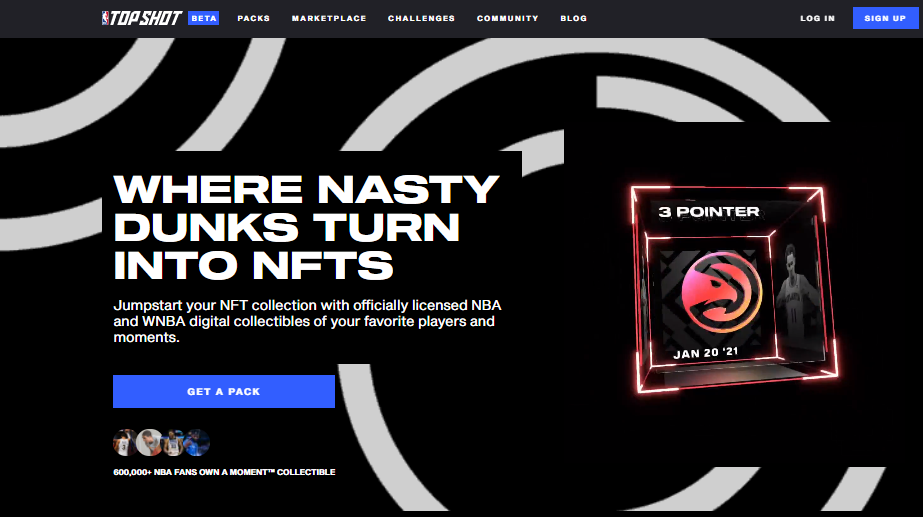 NBA Top Shot is one of the most lucrative NFT marketplaces. The NBA Top Shot Marketplace features several trading cards consisting of NBA video highlight clips. These trading cards typically fetch a premium with some running into millions of dollars. The NBA Top Shot Marketplace has largely introduced and popularized NFTs to general audiences.
When you purchase any of the packs in the NBA Top Shot Marketplace, the top shot clips will be saved in your safe which consists of an encrypted and blockchain-verified wallet from where you can watch or resell the clips on the NBA Top Shot Marketplace.
The NBA Top Shot Marketplace is fairly easy to use, even for the average user who may be unfamiliar with non-fungible tokens or crypto tokens in general. This is one of the top reasons for its wide popularity.
You can sign in to the NBA Top Shot Marketplace by linking your Google account to Dapper. You will, subsequently, be prompted to enter your mobile phone details for SMS authentication.
You can then proceed with the rest of the account creation procedures such as selecting your preferred team. Finally, get into a drop of the fresh packs. This will get you a slot in a virtual line from where you can snap up a pack. After an SMS verification, you can pay for your NBA top slot NFT via an existing crypto wallet, through Dapper money, via a credit card, or through a Flow wallet.
#5. Axie Marketplace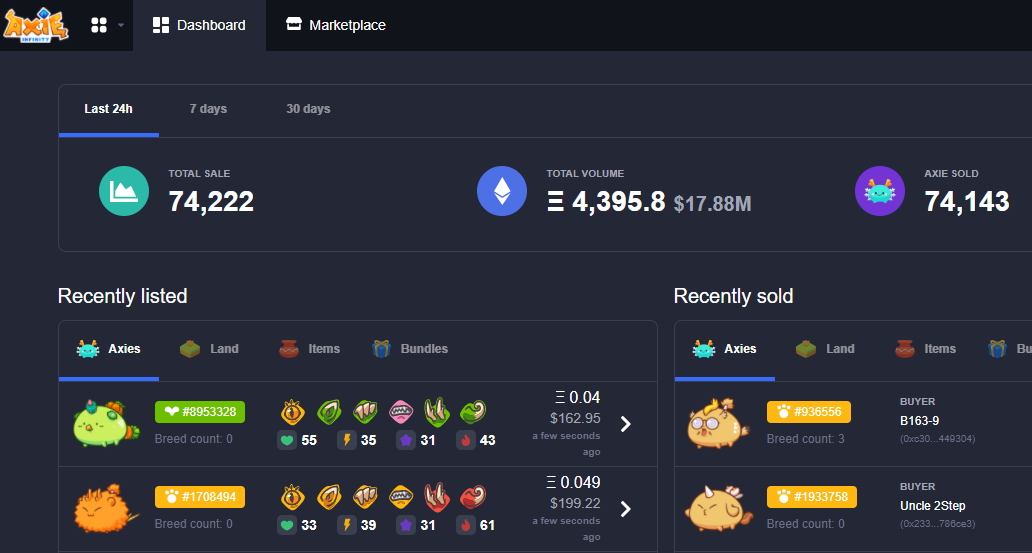 Axie Marketplace is the marketplace for the NFT-powered video game Axie Infinity. With $2.1 billion in trading volume on Dappradar, this is the second biggest NFT marketplace. This marketplace is somewhat limited to other creators since the trade is exclusively on Axies, the cute, Pokémon-like mythical creatures in the game that can be purchased, trained, and then be pitted against the Axies of other players so as to earn rewards. Players can buy and sell the Axies on the Axie Marketplace. Players can also purchase other items from the game including entire lands as NFTs that can subsequently be used within Axie Infinity.
The tokens in the game are referred to as Axie Shards and have been created on the Ethereum blockchain. As a result, these tokens can be traded on other NFT marketplaces other than Axie Marketplace. You can also trade them on the cryptocurrency exchanges like Coinbase Global.
The game is also built with breeding mechanics that players can use to create new Axies and trade on the Marketplace. For players in the game, Axie Infinity NFTs serve a definite purpose in contrast to other NFTs such as art NFTs that are purchased for their unique quality and as collectibles. You can use the Axie NFTs in-game to take on other players and monsters in the game upon which you will earn tokens that you can use to breed new creatures in Axie Infinity.
Axie Infinity's NFTs are so lucrative that some players in Asia earn a living out of breeding the Axies and selling them in the Marketplace.
On the flipside, this is a fairly complex NFT to use or earn a living from. You have to learn to play the difficult game after going through a number of hoops.
You will need an Ethereum wallet like MetaMask to trade Axies. You will also need to sign up for a Ronin wallet and then deposit ETH into it. Finally, you have to purchase a minimum of 3 Axies from the Axie Marketplace which costs hundreds of dollars. If you are a casual NFT enthusiast, you may not even begin to make sense of this complex NFT marketplace.
#6. Nifty Gateway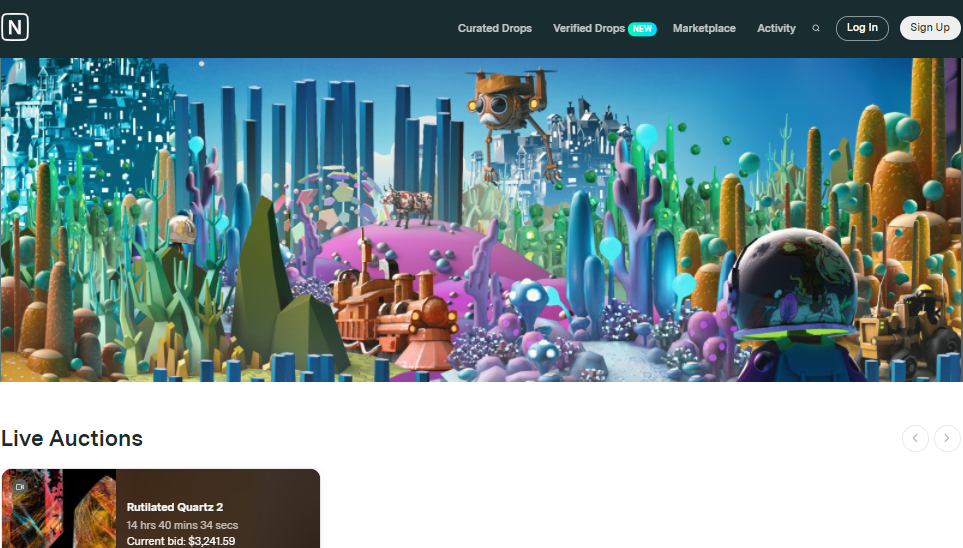 Here is a marketplace for the average 'passerby' NFT enthusiast. Nifty Gateway is also one of the biggest NFT marketplaces and has featured a number of multimillion-dollar NFT sales with Beeple's CROSSROAD which sold for $6.6 million early in the year. The platform has notched hundreds of millions of dollars in NFT sales so far.
Nifty Gateway's selection of NFT drops is highly curated and is refreshed on a tri-weekly schedule so you can always find some fresh drops here every now and then. Nifty Gateway is also the platform of choice for some of the top artists that have hopped onto the NFT train including Grimes, Eminem, and Weeknd.
You won't have to sift through layers of junk on this NFT marketplace as it features carefully curated collections. You can also purchase NFTs from verified artists here. There is also a large selection of curated selections in this marketplace from both verified and unverified artists.
Unlike other complex marketplaces that have a convoluted onboarding process for new traders, Nifty Gateway has a fairly streamlined sign process. This is all thanks to the marketplace integration with Gemini.
To trade on Nifty Gateway, you first need to register on the website and use Stripe.com to verify your identity if you will be selling non-fungible tokens on the platform.
After signing up, load your account with funds by either linking your credit card or loading a deposit address with some ETH. After this, you are all clear and can begin buying NFTs.
Alternatively, you can link your Gemini exchange account directly to your Nifty Gateway account. This allows you to use the balance in your Gemini exchange account to make purchases and withdrawals. You can top up your Gemini account via wire transfer, bank transfers, or through crypto deposits and trades.
#7. SuperRare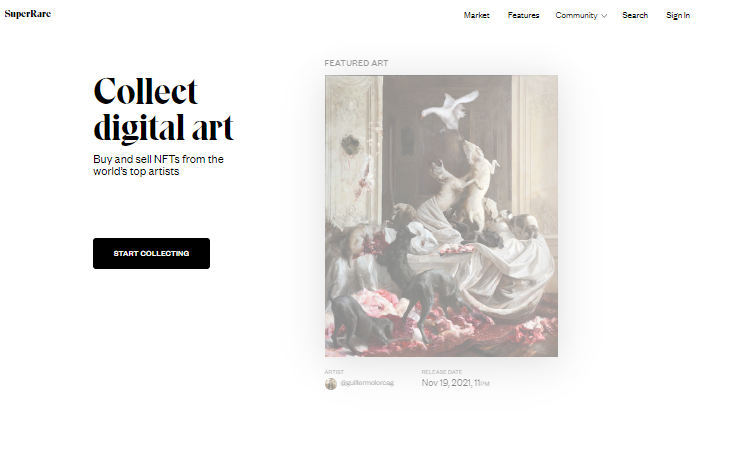 SuperRare is an NFT marketplace that differentiates itself as the higher-end alternative to the community-owned Rarible. The Rarible interface is often a theater of chaos with live auctions and flashing GIFs among other distractions. The SuperRare interface, on the other hand, is more minimalist, a bit pared down.
The NFT drops on SuperRare are also more strictly curated which allows the platform to bill itself as a social platform that brings together NFT enthusiasts looking to create and collect crypto art. The platform actively partners with artists and their works have to be approved after submission before they are listed in the marketplace. As a result, the SuperRare marketplace puts a premium on quality over quantity.
To trade on SuperRare, you will need to sign up with a supported wallet such as Formatic or MetaMask.  You will also need to create a username and password linked to your wallet address. The signup process takes only a few seconds and you will be good to go, scouring through SuperRare's exclusive NFTs.
#8. KnownOrigin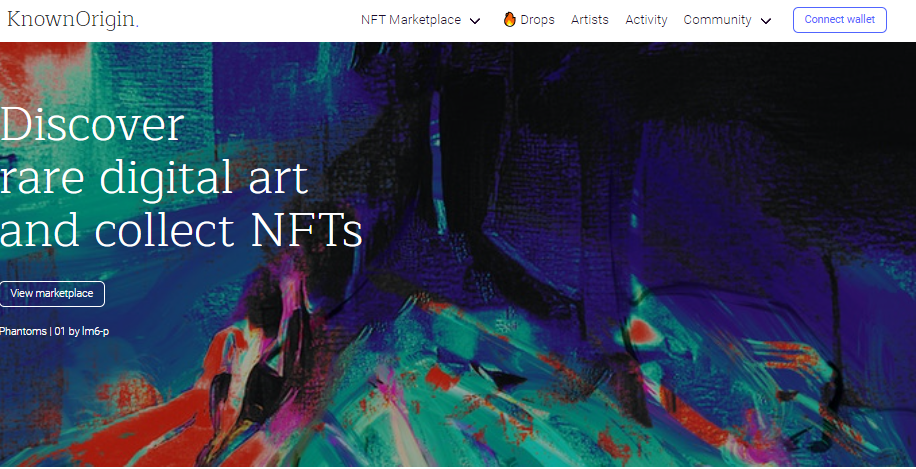 Like SuperRare, KnownOrigin is a quasi-exclusive platform where the NFT offerings consist of carefully curated works arranged in a gallery-like format. If you are a discriminating NFT buyer, you might want to try out this platform. However, KnownOrigin has a relatively low trade volume.
All the artwork files listed on KnownOrigin have been stored on IPFS so the platform offers enhanced security for the underlying works. KnownOrigin places an emphasis on digital art but completely avoids some of the whacky works that you'd find in other NFT marketplaces- think avatars and unique creatures.
This NFT marketplace is also relatively easy to use. All you have to do is link wallets such as Formatic and MetaMask and you can begin placing bids for some of the exclusive drops on the marketplace.
#9. MakersPlace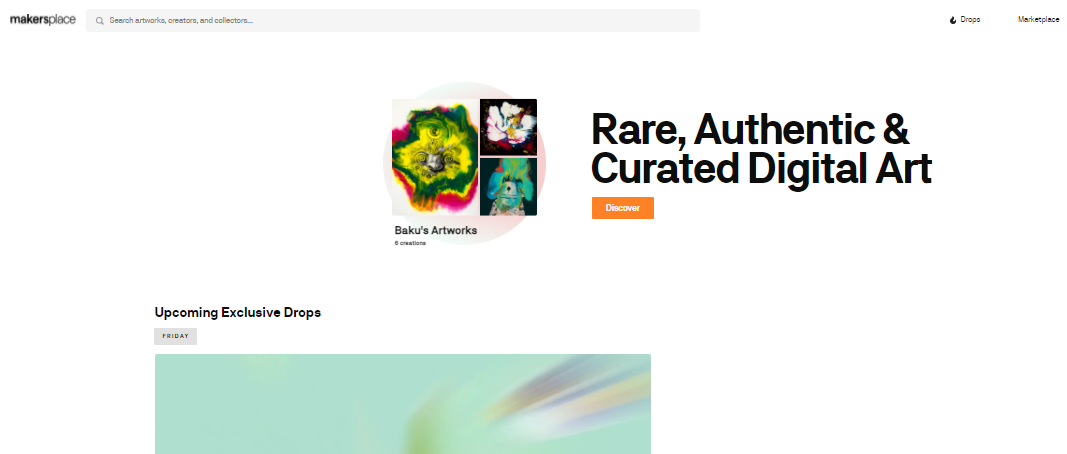 MakersPlace is another NFT marketplace with exclusive collections of digital artworks. Here, you can buy some of the rarest collections of digital fine art. MakersPlace prides itself as the premier rare digital art marketplace.
MakersPlace has better trade volume than KnownOrigin. It features some top digital artists and many of its creations are one-of-a-kind making it one of the most exclusive NFT marketplaces. The marketplace has hosted various NFT drops by top digital artists and even top musicians including Shakira, T-Pain, and Tom Morello from Rage Against the Machine.
MakersPlace is an easy-to-use platform with a seamless signup process. You can even sign in with your Facebook or Google account.
During the registration process on MakersPlace, you must pick five artists to follow. You can, subsequently, buy the creations on the marketplace using a credit card or MetaMask ETH balance. Creators must request invitations to join MakersPlace whereupon they will fill in an online form that must be approved by the site's curators.
#10. Mintable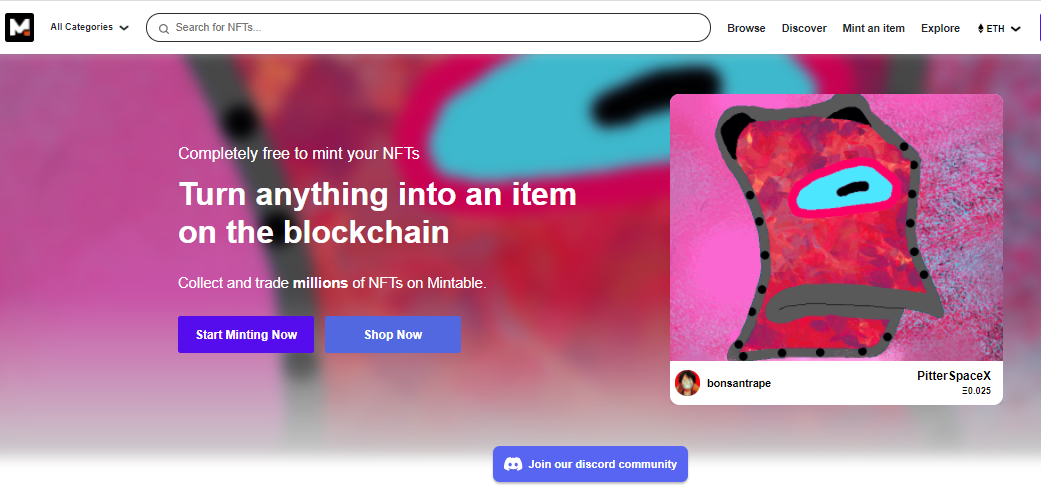 Mintable is a newer NFT marketplace that has been seen some impressive growth recently. The marketplace has managed to attract users with its extremely easy-to-use platform as well as excellent customer support. Mintable also has one of the most comprehensive APIs for tracking your NFT collection. The platform uses an instant sell option, allowing you to easily offload your unwanted NFTs.
The unique feature about Mintable is that it allows you to easily mint your own limited edition NFTs. You simply have to send them an email, wait for approval (usually in 24 hours), and then keep track of the number of tokens that you have created on their website.
Mintable will even help you promote your token and share it with their community. You can buy Mintable tokens (MNT) with ETH, BTC, or even fiat currency. MNT is used as the payment for mechanism on Mintable and has a fixed price of $0.60 per token.
https://virtualrealitytimes.com/2021/11/30/top-10-nft-marketplaces-where-you-can-sell-your-non-fungible-tokens/
https://virtualrealitytimes.com/wp-content/uploads/2021/11/Rarible-600x267.png
https://virtualrealitytimes.com/wp-content/uploads/2021/11/Rarible-150x90.png
Business
Cryptocurrency
The rise of NFTs, non-fungible tokens, has been one of the unlikeliest developments in cryptosphere this year. In a way, it seems almost surreal. People are willing to splurge thousands or sometimes millions of dollars in seemingly worthless tokens. The trade in NFTs, rare and indivisible tokens, is now...
Sam Ochanji
Sam
Ochanji
[email protected]
Administrator
Virtual Reality Times