Fresh Details Revealed About Magic Leap 2 Technology
Magic Leap is yet to provide a firm release date for its Magic Leap 2 headset although the device is expected to launch this year. The company is now sharing some information, including technical details, about the virtual reality headset which indicates that the launch date is nearing.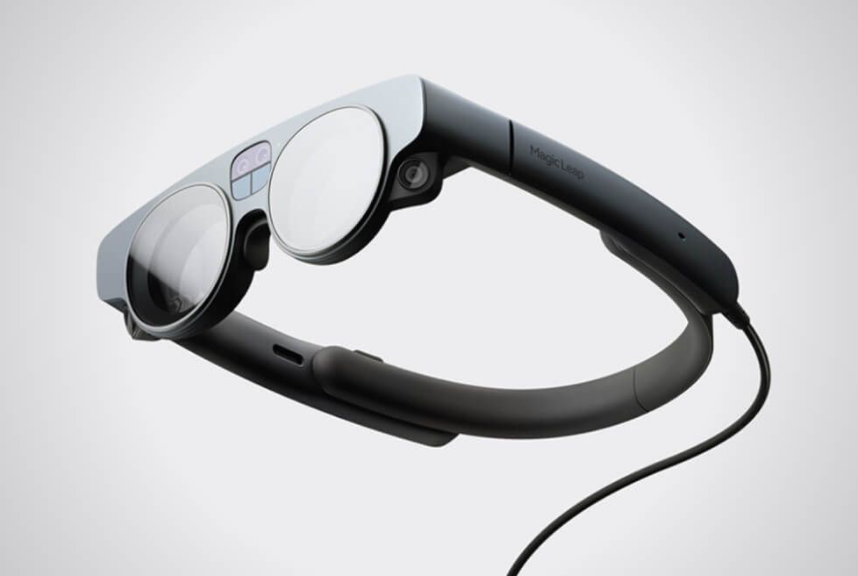 The new information haul came from the SPIE Photonics West 2022 where the company's VP of Optical Engineering, Kevin Curtis, provided new details about the augmented reality headset.
Curtis revealed the many sensors, Android foundation, optical stack, and much more about the Magic Leap 2 AR headset.
One of the most interesting features of the headset detailed at the event is its dynamic dimming capability. This is the first such feature in the commercial Augmented Reality headsets.
Magic Leap 2's Dynamic Dimming Lenses
Curtis revealed that Magic Leap 2 is able to adjust its lenses' light transmission from 22% to 0.3%. The 22% is something closer to sunglasses while the 0.3% is closer to welding goggles. The wide dynamic dimming range will allow the Magic Leap 2 to be used even in the very bright outdoor environment but it will also involve dimming the world around the headset wearer.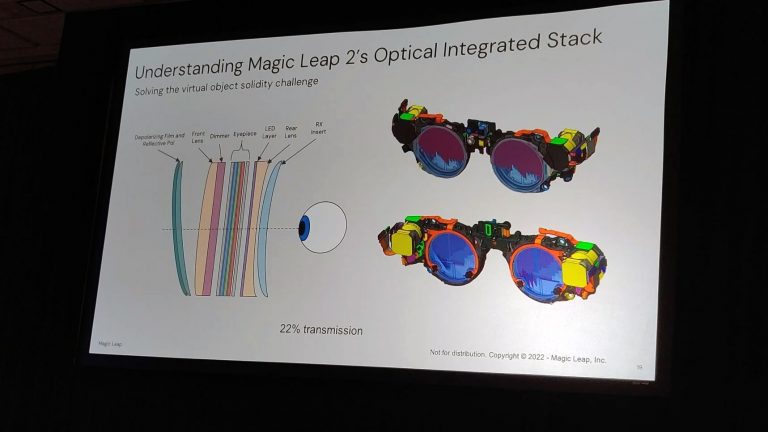 The dynamic dimming in the headset has been paired with a brightness range of 20 to 2,000 nits. The combination of these two capabilities will make this Magic Leap 2 more flexible than the previous generations as well as similar AR or mixed reality headsets when used in varied lighting conditions.
The presentation also stated that the dynamic dimming capability has a refresh rate of 120Hz and that it is also "segmented."  As a result, Magic Leap 2 lenses will "enable black" and this  could, presumably, be by dimming only those parts of the device's lens where the black is required in the image.
It is impossible to have a "black" as a color in the current conventional augmented reality headsets as black is the absence of light and those lenses simply can't stop light from passing through. It is not clear yet how the headset's dynamic dimming capability can be segmented. The "segmentation" might be limited or it might be something a lot more groundbreaking.
By going to the minimum 0.3% light transmission, the Magic Leap headset might also be as useful in the fully immersive virtual reality experiences in which the real world has been almost totally dimmed to allow for the computer-generated world of virtual reality. We will know, in due course, whether Magic Leap is also targeting this use case.
The Magic Leap 2 Headset
Curtis revealed that the Magic Leap 2 headset will be available in just one size. In contrast, the original Magic Leap 1 was available in both a 'large' and 'small' size.
In Magic Leap 1, the two sizes were justified by the lack of IPD adjustment and small eyebox which needed two headset sizes in order to accommodate a suitable range of the IPD spectrum. Curtis says the eyebox has doubled in size in Magic Leap 2 and that it is now big enough to allow the company to transition to one headset size.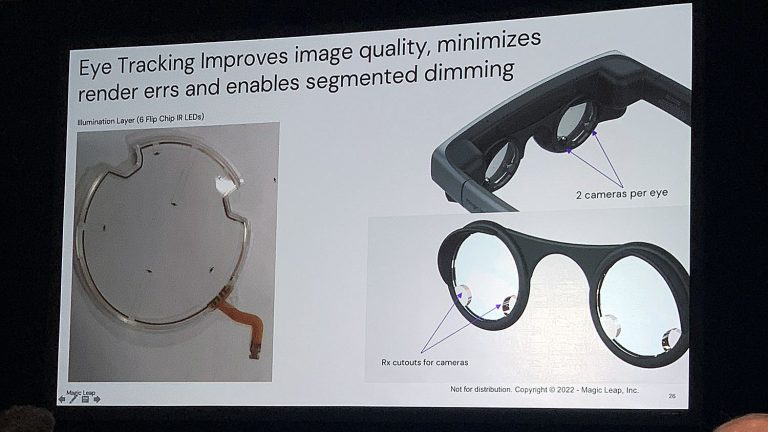 Curtis says Magic Leap 2 weighs 248 grams or 0.5 pounds. The weight has gone down close to 22% from that of Magic Leap 1's 316 grams or 0.7 pounds. With this reduction, Magic Leap 2 also opens a huge weight gap over its serious competitor HoloLens 2 which weighs 566 grams or 1.2 pounds
However, it is important to keep in mind that Magic Leap 2 uses a tethered connection to a 'Compute Pack' which gives it the weight advantage over standalone headsets.
Magic Leap 2 will also have eye-tracking with two cameras per eye. This is an improvement over Magic Leap 1 which had one camera per eye. For end-users, this means a vast improvement in accuracy. Eye illumination in the headset is from 6 tiny LEDs that are seen embedded in each lens.
It is not yet apparent with Magic Leap 2 will feature similar varifocal capabilities as Magic Leap 1. Curtis shared a diagram that apparently shows a single waveguide per red, green, and blue color compared to two per color in Magic Leap 1.
Magic Leap 2 will have a 12MP RGB camera that will be put into user-facing photo applications such as scanning barcodes, taking pictures and videos or for streaming video in 'see-what-I-see' use-cases. He also confirmed on-board audio.
There are still some unknowns in the Magic Leap 2 headset such as the field-of-view and the resolution. Curtis says Magic Leap 2 headset has "double" the field-of-view (FOV) of the Magic Leap 1 which has a 50-degree diagonal FOV. That statement is likely referring to double the area rather than double the linear dimensions. Magic Leap has previously done this field-of-view comparison where it also implied that the next-generation headset would have double the FOV of the Magic Leap 1.
Magic Leap 2 Compute Pack
According to Curtis, Magic Leap 2's 'Compute Pack' would have double to triple the GPU and CPU performance of the Magic Leap 1. It will also include an added dedicated co-processor to handle the computer-vision operations which Curtis called CVPU (Computer-Vision Processing Unit).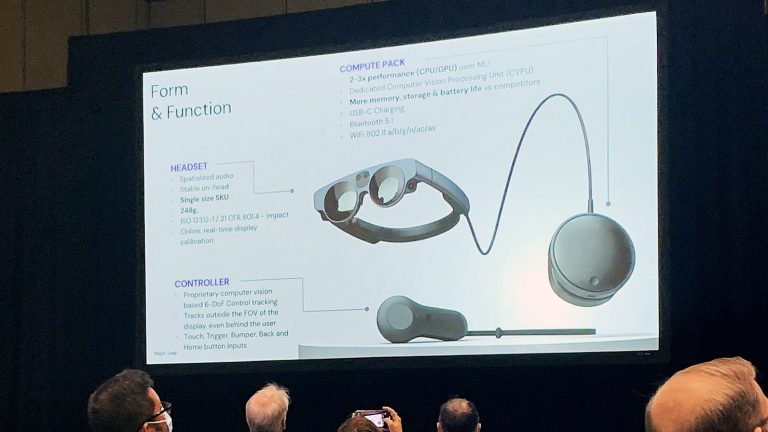 Although he didn't reveal what processor Magic Leap 2 will be using, Magic Leap has in the past strongly hinted that the headset will feature an AMD processor. Magic Leap 1 used Nvidia's Tegra chipset, a unique chip for this kind of device.
AMD is also a rare chip for this product category. Most AR/VR hardware manufacturers currently use Qualcomm chips. Even Magic Leap's main competitor, HoloLens 2, also uses a Qualcomm chip. AMD is better known for its laptop, desktop, and GPU processors rather than for AR/VR headset chips. The company also makes lots of chips for the console market: it supplies the chips for the PlayStation and Xbox consoles. If the rumors of an AMD chip for Magic Leap 2 prove accurate, this will be AMD's first foray into the XR space.
The company has previously stated that Magic Leap 2 would have more memory, more storage as well as longer battery life compared to competitors. However, there are no specifics on these performance features yet. From the material that has been released so far, it is apparent that Magic Leap 2 will also feature USB-C charging, Wi-Fi 802.11AX (also known as WiFi6), and Bluetooth 5.1.
Controller
Curtis revealed that the Magic Leap 2 controller also provides 6DoF tracking which is based on computer vision and that the headset also allows for "tracking outside FOV of the display" and even behind the user.
It isn't apparent whether the headset will come with additional tech for tracking outside the camera range or if they will simply rely on IMUs to approximate the position until the controllers get back into view like in Meta Quest. Magic Leap 1 leveraged a novel magnetic approach to the controller tracking but it appears that will be ditched in the Magic Leap 2 headset.
The Magic Leap 2 controller will also have a touchpad, bumpers, trigger along with back and home buttons.
Magic Leap 2 Embraces Android
Unlike Magic Leap 1 which used ML's own Lumin OS, Magic Leap 2 will use Android. The Lumin operating system was also based on Android but Magic Leap had pretty much custom-built the underlying piping for the Magic Leap 1 headset. By relying on Android for its Magic Leap 2 headset, it appears the company is envisioning making the device easier to scale in large organizations. In his presentation, Curtis noted that Magic Leap 2 can easily be integrated with Active Directory, a tool that is widely used to manage user permissions with businesses.
With the change, it remains to be seen whether Magic Leap 2 will provide support for native Android apps. Should that be the case, it would be a smart move on the part of Magic Leap as it will enable enterprises to easily adapt existing workflows to the AR headset through the deployment of the field applications on the headset such as support manuals and barcode scanners which will save enterprises the trouble of having to port everything to run on Magic Leap's Lumin OS.
Price and Release Date Still Unknown
Curtis didn't reveal the headset price and the release date but we will know this in the coming weeks as the company progressively releases additional details about the headset which is expected to launch this year, most likely in the first half of this year.
Source: RoadtoVR
Image Source: Nataliya Kosmyna
https://virtualrealitytimes.com/2022/01/29/fresh-details-revealed-about-magic-leap-2-technology/
https://virtualrealitytimes.com/wp-content/uploads/2022/01/Magic-Leap-2-Details-600x338.jpg
https://virtualrealitytimes.com/wp-content/uploads/2022/01/Magic-Leap-2-Details-150x90.jpg
AR Headsets
Business
Hardware
Magic Leap
Magic Leap is yet to provide a firm release date for its Magic Leap 2 headset although the device is expected to launch this year. The company is now sharing some information, including technical details, about the virtual reality headset which indicates that the launch date is nearing. The new...
Sam Ochanji
Sam
Ochanji
[email protected]
Administrator
Virtual Reality Times