List of Decentralized Cryptocurrency Exchanges
For most people, centralized cryptocurrency exchanges are still the default and most logical go-to platforms for cryptocurrency trading as they assure users of a higher standard of regulation, fast transactions and customer service. There is also the safety net of regulatory compliance.
However, centralization creates a behemoth. Centralization still comes with the same shortcomings that blockchain technology sought to eliminate. The systems are not only controlled by a central intermediary but they are also susceptible to security breaches such as hacking as was seen with the Mt. Gox debacle or the troubled QuadrigaCX where more than $150 million was recently drained from traders' wallets.
Due to the regulatory issues, lack of anonymity and the security issues surrounding centralized exchanges, a trend has developed that seeks to explore the possibility of shifting to more secure decentralized exchanges (DEXs).
What are Decentralized Exchanges?
As the name suggests, a decentralized exchange (DEX) is a peer-to-peer crypto-trading system where there is no central intermediary or central control. A DEX works pretty much like a blockchain system with all its advantages of security and anonymity. The transactions are done directly between users (peer-to-peer) and there is no need for a trusted intermediary so the users don't have to pay transaction fees or navigate their way around people regulating the system. For entities wanting to list their tokens, you can do it on a DEX without worrying about the huge listing fees normally required for listing in centralized exchanges.
Another aspect of decentralized exchanges is that they are highly well-secured against potential hackers using smart contracts and blockchain and there are no points of failure that can be breached easily like in centralized exchanges since the funds or tokens remain in the individual users' accounts. Additionally, unlike centralized exchanges, decentralized exchanges don't have to grapple with restrictive government regulations as there is no single intermediary or authority. The regulation of the system is carried out by multiple nodes in the blockchain system and by smart contracts.
However, decentralized exchanges are not without challenges. The interface is generally not user-friendly due to the underlying technical complexity of smart contracts and the difficulty in abstracting this underlying complexity to present a user-friendly customer-facing interface.  This complexity has so far limited the use of the DEXs mostly to the more technically-oriented users.
The execution of DEX trading will also have a collateral effect on their volumes. In spite of the proliferation of the decentralized exchanges, they still constitute only a tiny fraction of the liquidity or volume that is found in the centralized exchanges. This low liquidity can hinder exchanges. The DEXs also operate in an uncertain regulatory terrain. While many developers and founders may take the cold comfort that it's possible to operate a DEX in an extra-jurisdictional peer-to-peer environment, many regulatory authorities will still require compliance with registration, Know Your Customer (KYC) and Anti-Money Laundering (AML) laws. In fact, there have been cases where some DEX owners have been charged with running unregistered security exchanges as in the case of the EtherDelta founder.
In spite of these challenges, the cryptocurrency community has invested a lot of hard work and ingenuity in building new DEX platforms that allow users to trade cryptos in the same manner in which they send and receive them, through a decentralized and pseudonymous mechanism.
The decentralized exchanges are currently a growing niche even though they still account for a fraction of the total cryptocurrency trade as many of the exchanges and infrastructure is still under development. Still, there are some good alternatives out here. Here is a list of the top decentralized exchanges (DEXs) in the market:-
Working DEX – ERC20 Only
Here is a comprehensive list of the top decentralized exchanges where you can trade ERC-20 tokens:-
0x (zero-ex or ZRX)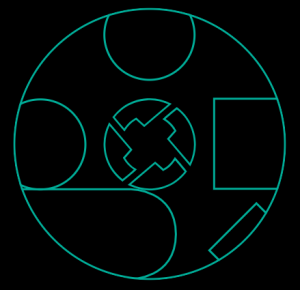 0x is an open protocol that allows for peer-to-peer trading of assets on the Ethereum blockchain. It creates a tokenized ecosystem where all value flows freely. The platform is not only open but also permissionless and allows for the ERC20 tokens to be exchanged on its blockchain.
0x is an important infrastructure for the rapidly emerging crypto economy. It allows for the creation of new markets that couldn't have existed previously. With more assets becoming tokenized, these public blockchains will create an opportunity for the establishment of new financial stacks which will be more transparent, efficient and equitable than any of the existing systems.
Advantages
Enjoy trustless transactions
0x offers non-custodial trading
Supports off blockchain orders and on blockchain settlements
0x token holders can upgrade the protocol through a decentralized governance mechanism.
Order types are flexible
Get access to more than 30 dApps and relayers that are built on top of the 0x protocol
Networked liquidity
Visit 0x (zero-ex) protocol here.
EtherDelta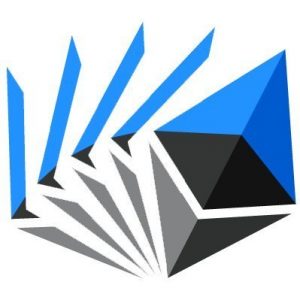 EtherDelta is a peer-to-peer Ethereum token exchange developed by Etherboost. You can use this platform to trade Ether and other Ethereum-based tokens directly with other users on the exchange.
Traders on EtherDelta are responsible for their own funds, account and private keys. As a trader, you will also be fully responsible for your trading decisions along with other mechanics and details of the token trade. The platform will not be responsible for your trading decisions, does not hold funds and neither does it issue refunds.
Etherboost specializes in building autonomous platforms that are powered by smart contracts on the Ethereum blockchain. On the EtherDelta cryptocurrency exchange, users are able to trade most of the tokens that are Etherum-based including Augur, Iconomi and IST among many others. There is a single taker fee of 0.3% while the rest of the transactions including deposit and withdrawal are free.
Advantages
Fully decentralized platform that serves as a secondary market for trading ERC20 tokens.
You are fully in charge of the proceedings on the exchange.
Click here to visit EtherDelta.
ForkDelta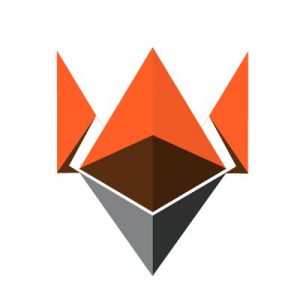 This is a decentralized Ethereum Token Exchange which currently has the highest number of ERC20 listings for any exchange. ForkDelta is an open source platform and has an updated interface for EtherDelta's smart contract thereby allowing FolkDelta uses to trade on EtherDelta's volume. The platform also has a public and active development team.
Advantages
The platform is community-driven with an open and fair community that has an open source codebase and easily accessible developers.
The platform charge does not charge any token listings fees
Has the most tokens listed for any exchange and there are new tokens added on a daily basis
Has smart contract protection
ForkDelta is fully open source
It has a permissionless token-listing system
Check out the ForkDelta cryptocurrency exchange.
IDEX- Decentralized Ethereum Asset Exchange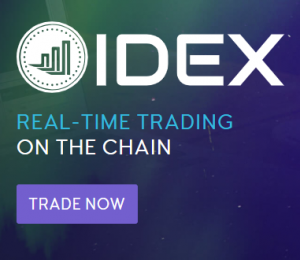 IDEX is currently the only Ethereum decentralized exchange that offers real-time trading with a high transaction throughput. IDEX is a decentralized exchange that allows you to trade the Ethereum (ERC-20) tokens. Created by Aurora DAO, it is the first real-time non-custodial trading platform.  The IDEX trading platform offers the high speed of transactions that is normally associated with centralized exchanges along with the top-notch security of blockchain-powered settlements. It is currently regarded as the fastest and most user-friendly exchange for trading Ethereum tokens.
Advantages
IDEX offers real-time trading
Secure smart contract protection
Users can fill multiple orders simultaneously
Provides access to analytical tools
Low gas costs
Community trust enabled by the peer-to-peer blockchain based transactions
Click here to visit the IDEX Decentralized Ethereum Asset Exchange
Paradex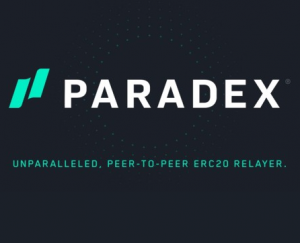 Paradex is a relay platform that enables customers to trade hundreds of their Ethereum tokens directly from their wallets. Paradex is currently Ethereum's most robust peer-to-peer ERC20 relay. You can use Paradex to trade trustlessly on the Ethereum blockchain with your own wallet without ever having to worry about accounts, custodianship and other service compromises. Paradex offers a professional trading platform that combines the traditional trading methodologies with decentralized settlement.
The peer-to-peer ERC20 relay platform is built on top of the 0x protocol and gives users a simple and elegant way of handling settlements without the shackles often associated with centralized exchanges.
Advantages
Paradex is fully decentralized
No requirement for user accounts or the taking of custodianship of the users' funds.
Paradex was recently acquired by Coinbase, thus has a solid backing of a major cryptocurrency exchange
Robust peer-to-peer ERC20 relay
The platform provides a hybrid solution which combines the decentralized components of a relay with an off-chain architecture that supports everything else.
Offers a real-time trading experience
Generic price discovery functionality
Visit the Paradex relay platform.
RADAR Relay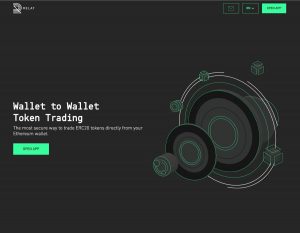 RADAR Relay represents a decentralized token trading alternative to the ubiquitous centralized exchanges and is built on 0x Protocol and Ethereum. The exchange offers one of the most secure ways of trading ERC20 coins directly from an Ethereum wallet.
RADAR RELAY allows you to trade your cryptocurrencies without worrying about losing custody. Using the platform allows you maintain control of your ERC20 tokens when trading directly from your wallet. Trade when and how you want in a decentralized exchange without any intermediary.
Advantages
No sign-ups required: You can make a trade on RADAR RELAY without providing any of your personal details.
No deposits: Avoid fees, save time while maintaining the custody of your tokens
Easy and direct wallet integration: You can easily integrate your existing Ethereum wallets with just one click
On-chain settlement: You can track each and every transaction on the Ethereum blockchain
Wallet Portfolio: There is the token view functionality that you can use to track and manage your portfolio
ERC20 Token Transfers: You can send tokens between wallets fairly quickly
Customer support is highly responsive
Has detailed charting options
Off the chain order book
Click here to visit Radar Relay.
Working DEX – All Cryptos
Airswap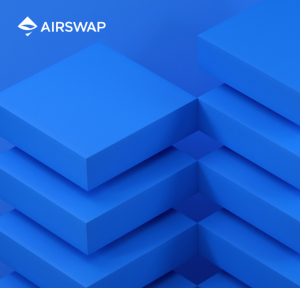 Airswap is a decentralized/peer-to-peer trading network that is built on Ethereum. The decentralized exchange offers users a platform that is scalable, secure and portable for frictionless global trade. Airswap has been designed to work with any token, device, website or language. The Airswap DEX is also live across multiple platforms including desktop, tablets, web and mobile. It also provides support for the top 8 of community languages on the platform.
Advantages
Decentralized trading: This is a decentralized marketplace that is powered by search. Both people and programs can connect and carry out a wallet-to-wallet trade with the use of smart contracts.
Airswap provides a simple wallet-to-wallet token trading platform
The airswap design delegates the custody, execution as well as the settlement to the traders on the platform.
Airswap is embeddable anywhere: You can run the peer-to-peer Airswap marketplace via a browser on virtually any website. Integrating Airswap into an Ethereum project or website is both quick and easy.
It's in your pocket: You can use the Ethereum wallet easily and make trades with Airswap on the go. You can easily use it with a mobile wallet.
Visit Airswap decentralized exchange website.
Bancor Network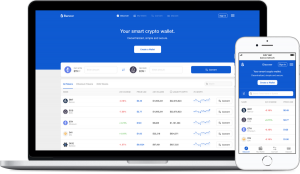 Bancor Network offers a decentralized liquidity network which enables users to convert any token on the network without the intervention of any intermediary with the exchange taking place at an automatically determined price. You can use the Bancor Network to trade any token for any other token.
Advantages
Get constant conversions which are based on an internal Constant Reserve Ratio (CRR).
You can easily make conversions cross-chain between various tokens in the network with the simple click of a button.
There is an easy to use, multi-feature and fully decentralized Bancor Wallet that you can use to store, manage and convert your tokens.
The Bancor Network is a market maker that automatically discovers its own price and offers liquidity for other cryptocurrencies.
Profile search feature allows you to easily search for friend and request or send them tokens.
The Bancor Network is also fully open source
The pricing is transparent
Bancor network has cross-chain liquidity
Visit Bancor Network website.
BarterDEX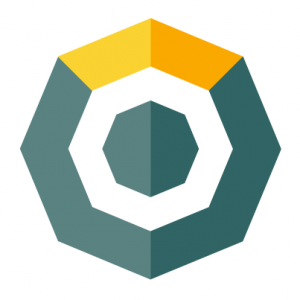 The BarterDEX decentralized exchange is a project of the Komodo platform. You can read more about it here . The Komodo platform provides all users with Bitcoin-level security in their transactions.
The Komodo platform provides users with a delayed-Proof-of-Work (dPoW) security framework that provides protection for the complete ecosystem by leveraging the power of the robust Bitcoin Network. To breach any of the protected chains, an attacker will have to compromise the native KMD network as well as the BTC network simultaneously which is practically impossible. Using Komodo's three-layer network helps minimize risks even further and gives users a complete peace of mind.
Advantages
Accessibility: Blockchain projects in Komodo enjoy a BTC-level security at only a fraction of cost.
Universal: While the Komodo Chains have embedded security, this can be extended to other external blockchains.
Green option: Komodo's dPoW security contributes to sustainability by recycling the Bitcoin hash rate so as to protect the blockchain industry.
Get unlimited scalability on demand: The Komodo platform provides every project with the autonomy that allows them to control their own blockchain infrastructure. They will also have the space and freedom to linearly scale out their projects at any point in time. Komodo's platform also has a unique architecture that provides users with the capability of launching multiple chains each of which will have optional tokenization.
Multi-chain linking: Users can add as many extra blockchains as they wish and they will be able to link them in clusters that allow for linear scale-out.
Burn protocol: With its unique burn protocol, coin supply is held constant which allows for multiple blockchains to function as a unit.
Independence: Every project on the Komodo platform will have its own customized and dedicated blockchain.
Learn more about about the Komodo Platform.
Bisq Exchange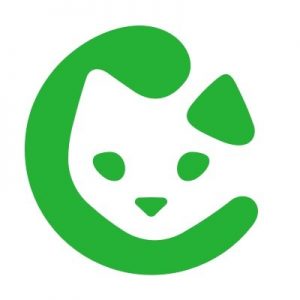 Bisq is a decentralized desktop peer-to-peer open source Bitcoin exchange that allows users to buy and sell cryptocurrencies in exchange for national currencies or other alternative cryptocurrencies. No sign ups are required to use Bisq Exchange. Bisq is not a fully decentralized platform. While the trading aspect is decentralized, the platform's decision making and revenue distribution is not.
Advantages
No sign-ups, identity verification or approvals from a central authority required to use the platform.
It's a peer-to-peer or decentralized network and the trading therefore occurs in a global P2P network where users run the Bisq Exchange on their own nodes or machines.
Bisq has a decentralized arbitration system and its security deposits requirement helps protect traders
The platform is fully open source
All users' personal data is stored locally
Has an end-to-end encrypted communication that is routed via Tor
The platform has multisig wallets
Click here to explore the Bisq Exchange.
Bitshares
Bitshares is a Decentralized Autonomous Cooperation. Its blockchain provides an implementation of industrial-grade technology for businesses, organizations and even individuals. The Bitshares Blockchain supports a great eco-system along with a free-market economy. The Bitshares platform is based on the Graphene technology that is licensed by MIT and was first launched in its present form in 2015. Before that, the Bitshares platform existed as a community project that was referred to as 'PhotoShares'. The Bitshares platform along with its dApps is currently developed and maintained by a team that has been elected through a stakeholder consensus.
Advantages
Processing speeds: Bitshares is an industrial-grade blockchain which has one of the fastest block confirmations. Transactions can be written on the Bitshares blockchain in a matter of 3 seconds, and usually, in less than 1.5 seconds.
Ultra low fees: Bitshares blockchain has relatively low fees and includes an 80% vesting cashback for its lifetime members.
Operating on a Delegated Proof of Stake (DPOS), the Bitshares platform is practically impossible task as hacking the platform will require hacking numerous active as well as back global trusted delegates.
Self-sustaining platform: The Bitshares platform is powered by a system of dApps. These self-fund the platform's core token BTS making sure that the blockchain will meet the costs to keep it running perpetually.
Dynamic account permissions for the corporate account management and control of wallets via a weighted mix of other account approvals.
Click to explore the Bitshares platform.
Changelly DEX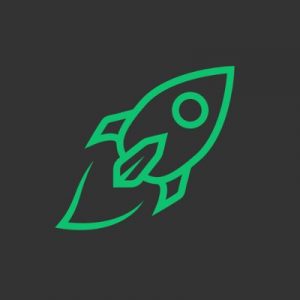 Changelly facilitates the exchange between the various cryptocurrencies with a transaction fee of 0.5% per trade. It is a non-custodial and decentralized cryptocurrency exchange that offers instant conversions for cryptos. Changelly serves as an intermediary between the myriad of the cryptocurrency exchanges as well users, providing support for up to 140 cryptocurrencies.
The cryptocurrency exchange aims to offer effortless transactions processing for all who wish to invest in cryptos. It's been operational since 2015 and both the Changelly platform and its mobile app attract more than a million visitors a month making it one of the most popular decentralized exchanges.
Advantages
Easy to use platform that supports more than 140 cryptocurrencies.
Transparent transaction fee of 0.5%
Changelly offers the best rates in the market
Clients get high exchange limits
Fast transactions
24/7 live chat support for users
Learn more from the Changelly website.
Counterparty DEX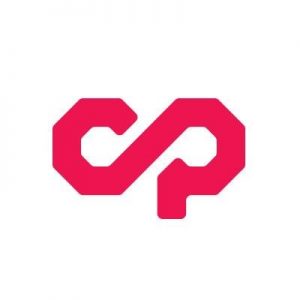 Counterparty DEX is a decentralized exchange on Bitcoin blockchain that enables all users from virtually anywhere in the world to trade tokenized assets on the Bitcoin blockchain. Counterparty DEX has a website at CXPDEX.com which acts as a blockchain explorer and publishes dedicated data on how the assets on the platform trade. However, the Counterparty website is not an exchange in itself. There is counterwallet software that you can use to access the decentralized exchange.
Advantages
Counterparty DEX extends the functionality and capabilities of Bitcoin in powerful new ways.
The Counterparty Protocol: It has technology that enables the Counterparty nodes to communicate with one another through the Bitcoin blockchain.
Assets: It's easy to create your custom digital tokens in a matter of minutes for a small anti-spam fee. These tokens can represent anything and are easily exchangeable peer-to-peer via the platform.
The Counterparty wallets are fast, secure and user-friendly and include browser, web and mobile wallets.
Bitcoin-aware smart contracts which can also interact with the Counterparty tokens directly.
The Counterparty DEX is a decentralized exchange that allows for a trustless exchange of tokens.
The platform is open source and secure: Several top Bitcoin security experts have reviewed the Counterparty software since 2014 and given it a clean bill of health.
Visit Counterparty DEX website to learn more about this cryptocurrency exchange.
CryptoBridge DEX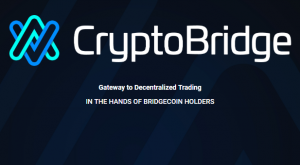 CryptoBridge DEX is a gateway to the BitShares digital asset exchange and provides trading support for an ever-growing constellation of popular tokens along with altcoins. CryptoBridge also runs its own token known as BridgeCoin (BCO) that investors can use to stake and own shares.
Advantages
Decentralized platform: CryptoBridge is built on top of the BitShares (BTS) platform and as a result, the trades and the orderbooks are fully decentralized. You can trade on the platform 24/7.
Secure platform: In the CryptoBridge DEX platform, you will be the only person with access to the BitShares private keys. In the future, further innovations will remove the need to centralize the capital deposits after the Federated Gateways have been deployed.
Altcoins and Tokens: The platform gives users access to a large number of established cryptocurrencies. It also serves a crypto/token discovery function, allowing users to discover and trade in some of the upcoming tokens and altcoins in various pairs.
High performance: CryptoBridge DEX is powered by the Graphene blockchain that is capable of processing up to 100,000 transactions per second with a confirmation time of only 3 seconds. The decentralized platform also has 12 dedicated nodes and its network grows steadily to ensure super fast and seamless trading experience.
Visit the CryptoBridge DEX website to learn more about the exchange.
HodlHodl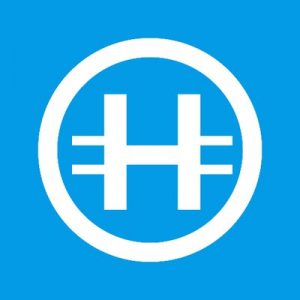 The HodlHodl platform is a global multisig peer-to-peer cryptocurrency exchange that enables users to trade cryptos directly with one another. The platform does not hold the user's funds but will instead lock them in a multisig escrow so as to reduce the likelihood of crypto assets theft while also minimizing the trading time.
The HodlHodl platform does not hold any money, be it in cryptocurrency or fiat form, and as a result the platform does not have to contend with complex financial compliance procedures. This allows for a more relaxed trading environment where the trades can occur between the users' wallets without mandatory identity verification requirements.
Advantages
Secure platform: The trader controls the key to the funds in escrow. The platform also offers multisign (P2SH) contracts.
The HodlHodl TESTNET allows users to practice the trading without necessarily risking actual money.
You can use the HodlHodl filter system to search for the best deals globally
The platform is ultra-fast. You can set the number of confirmations per contract.
HodlHodl provides the latest news and trading sentiment through its Hold Index that you can follow to catch up on the latest developments.
The platform has an excellent review and ratings system.
The HodlHodl platform is ultra-cheap charging a fee of only 0.6% per trade.
Has a reliable notifications system
The price settings are flexible and the price can be tied to other exchanges.
Global peer-to-peer platform that trades without the KYC/AML requirements.
All the contracts' transactions can be tracked on the blockchain
Learn more from the HodlHodl cryptocurrency exchange website.
Kyber Network: The On-Chain Liquidity Protocol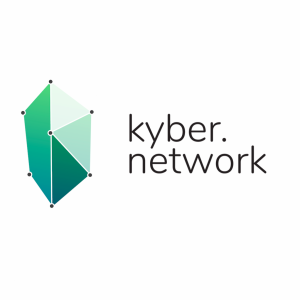 Kyber Network refers to an Ethereum-based protocol that provides instant exchange and conversion of various tokens. It has a high level of liquidity and provides a simple and secure way for buying and selling tokens. Enjoy seamless transactions between dApps, individuals and ecosystems. All the actions on Kyber are performed on the blockchain. The platform lends itself to wide-ranging inter-token use-cases.
Kyber Network's on-chain liquidity protocol makes it possible for the decentralized token swaps to be integrated into any application thereby enabling value exchange to occur smoothly between all the parties using the ecosystem. Developers can also tap into the Kyber Network protocol to develop payment flows and financial apps such as erc20 payments, instant token swap services along with innovative financial dapps. This helps create an ecosystem where the tokens are usable everywhere.
Advantages
Proxy payment services
Kyber Network offers instant token swaps with just a few clicks
Simple with no order books, wrapping or deposits
Very secure platform with no middleman or transaction risk
The transactions are instant and you don't have to worry about waiting for orders matching to occur.
The platform is very developer-friendly. Get fully on-chain transactions of assets that occur on chain through smart contracts
Kyber Swap enables the integration of different wallets
Smart contract accounts, individual users along with merchants from the network
The Reserve Entity or the entities offers liquidity on the Kyber Network platform
Offers a diverse token pool that is open for contribution by the token holders
Transparency of all operations with ease of integration
For more information, visit the Kyber Network website.
OmiseGo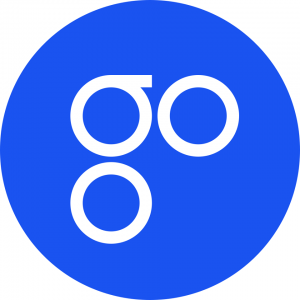 OmiseGo (OMG) is a white-label eWallet solution and smart contract platform as well as an ERC-20 token that utilizes a Proof-of-Stake (PoS) algorithm to enable financial inclusion and interoperability through its decentralized OMG network. The platform has a total supply of 140, 245, 398 tokens. The decentralized exchange operates in Asia, primarily in Japan, Indonesia and Singapore and is owned by its token holders and users.
OMG provides a scaling solution for finance on Ethereum thereby allowing for transparent peer-to-peer transactions in real-time. The OMG network will facilitate self-sovereign financial solutions across borders, applications and asset classes.
Advantages
White-label SDK: You can use the OMG network SDK to build apps that will support wallet-to-wallet transactions of fiat currencies, cryptos, game credits, loyalty points and much more.
Digital Asset Gateway: The OMG network allows you access, manage and transact with digital assets securely kept on chain.
Decentralized exchange: The OMG network provides a decentralized exchange platform that enables multi-asset and cross-chain interoperability which is both scalable and secure through the proof-of-stake algorithm.
Clearinghouse:  Benefit from secure and rapid transactions clearing through the usage of Ethereum smart contracts and protocol consensus.
Scalability: Its plasma architecture allows for limitless scalability with incredible transaction speed.
Security: OMG bonds to the Ethereum blockchain thereby creating secure token custody and a decentralized exchange for all Ethereum assets. This also ensures highly secure transaction validation.
Interoperability: Financial apps can seamlessly interact with one another on the platform.
Decentralized: No central authority controls the OMG network. Instead, it's controlled by users and stakers.
For additional information, visit the OmiseGo Network website.
OpenLedger DEX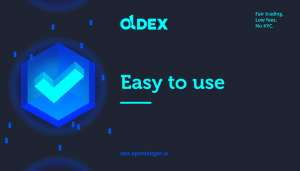 OpenLedegr DEX is a decentralized trading platform which has been built on the versatile, scalable and secure Bitshares blockchain. OpenLedger DEX has low and fairly transparent fee schedules. The encryption techniques are top notch. Thanks to its superb security features and user-friendly functionality, the platform has already clocked over 200,000 signups. You can trade more than 50 of the most popular crypto coins including Ethereum, NEO, Dash, Monero, Litecoin, EOS and Steem among others. The platform trades even the price-stable crypto coins such as bitEU, bitUSD and bitCNY. OpenLedger DEX works on a Delegated
Proof of Stake consensus structure. The platform currently handles more than 100,000 transactions per second. There is a white label and customization options for partners.
Advantages
High performance platform: OpenLedger DEX is a Bitshares-based platform that's capable of handling more than 100,000 transactions per second
Maximum Security: With a combination of decentralization, cold storage, 2-factor authentication and a more rigorous access management, the platform will keep your assets and accounts protected at all times.
Low trading fee: It has a low and very reasonable trading fee of 0.2%
A fully decentralized system with no real centralization. Centralized systems can be subject to breaches, manipulation or performance issues.
Supports more than 50 coins
Has a dedicated and super responsive round the clock customer support via email and messenger.
Basic and advanced modes: The platform has super-intuitive interfaces which are ideal for both professionals and newcomers.
Visit the OpenLedger DEX website for additional details.
StellarDEX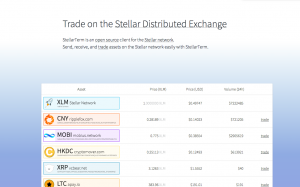 The Stellar Decentralized Exchange (SDEX) is an open-source platform of the Stellar Network which connects banks, payment systems and the people using these services. The protocol stores the order book on-ledger, settles the transactions on-ledger and also has matchmaking built into it. Users on the Stellar Network are able to send and receive trade assets with relative ease. You can, for example, use your USD credit balance to send EUR credits to a third party. It will perform a conversion for you at the lowest rate and the receiver gets an amount that they can withdraw at an anchor that supports the receiving currency credits.
Advantages
Get faster and cheaper transactions
Zero restrictions on the commercial use of Stellar Network
Open source, distributed technology that is community-owned
You can easily send, receive or trade assets on the network by using StellarTerm.
Check out the Stellar Decentralized Exchange website for additional details.
StellarX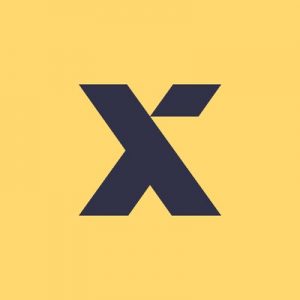 StellarX is a peer-to-peer and user-friendly marketplace where users can trade all kinds of assets. The StellarX marketplace provides users with a better way to trade and holds the distinction as the first decentralized cryptocurrency trading exchange to enable global fiat gateways to users. The StellarX platform for example allows users to trade bitcoin for Euros and then for Chinese Yuan.
Advantages
It's a free platform which means you can trade on StellarX virtually free without any catch or obstacles.
You can deposit and withdraw both fiat currencies and crypto. The app allows you to easily move funds in and out or to convert your fiat tokens into fiat money inside your bank account and you can do all this from your wallet.
Peer-to-peer trading means you are able to directly trade with other traders without any intermediaries.
Check out the StellarX website for additional details on the cryptocurrency exchange.
Tabtrader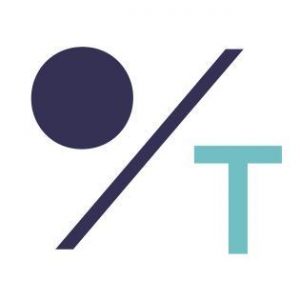 Tabtrader is a secure mobile terminal that supports all the major cryptocurrency exchanges. You can use the Tabtrader to buy and sell crypto assets from numerous cryptocurrency exchanges via a beautifully-designed mobile interface. Tabtrader more or less acts as a consolidated order book with users seamlessly switching between exchanges and accounts.
Advantages
Trade on-the-go as Tabtrader provides all the trading instruments on your smartphone and in your pocket. You can place your orders at a specific price level and buy and sell your coins at the best possible price.
With all the cryptocurrency exchanges available to you in a single screen, you can enjoy trading without the need to keep on switching between multiple accounts and apps. Tabtrader provides you with a unified interface through which you can manage all your exchange accounts.
Technical analysis: You can do a lot with the technical tools available for you including adding trends, making charts, and adding horizontal lines and technical indicators with relative ease. It has forecast tools that can help traders fine tune their trading strategy to maximize the returns.
Reliable push notifications about events that send timely updates and don't use mobile data.
Data protection: Tabtrader connects to wallets via API keys that are either in the possession of users or which are stored in the exchange in an encrypted format.
Active support via chat functionality
For more details, check out the Tabtrader website.
Waves DEX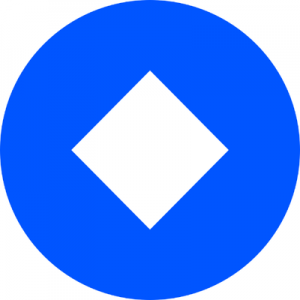 Waves DEX is a decentralized marketplace where you can trade various Waves-based assets including fiat tokens, Waves Assets, Waves as well as cryptocurrency tokens such as wETH and wBTC. Waves says it runs the fastest decentralized digital asset exchange in the world. The platform also offers a high level of security.
Advantages
The cryptocurrency exchange is based on the Waves cryptocurrency
Very secure platform where the funds are stored in the user's wallet rather than on the exchange. All private and traffic keys are encrypted and safely stored in the user's device.
It's a decentralized platform so you don't have to grapple with third parties or withdrawal limits. The user is in total control of their decisions and finances.
Waves DEX charges low flat trading fees for all exchange transactions
Offers a multi-currency wallet
Waves DEX is platform and the exchange app is available on laptops, iOS, desktop and Android devices.
There are lots of trading tools that give users access to various charts and technical analysis indicators.
Enjoy fast transactions speeds thanks to the WavesNG protocol.
For more information, visit the Waves DEX website.
DEX- Under Construction
AgroDex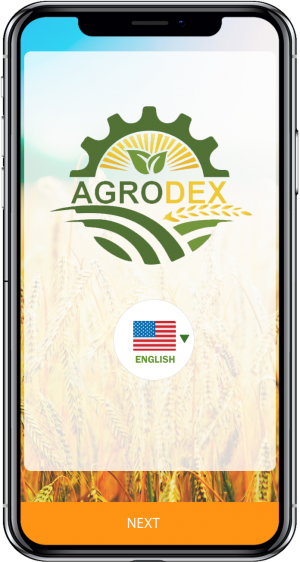 AgroDex is a blockchain-powered business-to-business platform for the trading of food products and agricultural crops. The AgroExchange Platform has the mission of helping drive the adoption of blockchain technology by the mainstream users by integrating it with ecommerce channels via a decentralized payment platform.
Advantages
Fully decentralized, safe and secure platform.
AgroCoin cryptocurrency powers the AgroDex Platform thereby guaranteeing payments between users.
Secure: AgroDex platform provides a secure and transparent platform using the Ethereum smart contracts.
Mobile application: The AgroDex Platform is available via a mobile application that enables buyers and sellers to use the platform on the go.
Blockchain implementation on the platform provides for a more transparent trading with fair market prices available in real-time.
Visit the AgroDex website for additional information.
Binance DEX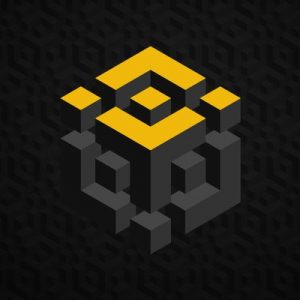 Binance DEX is Binance's upcoming decentralized exchange.  The Binance DEX platform is currently on a public Testnet phase at https://testnet.binance.org. The mainnet launch for the platform is expected to occur in April 2019 though a definite date is yet to be provided. The Binance platform has been around since 2017 and includes a centralized cryptocurrency exchange and other value-added products such as its Binance LaunchPad. With the launch of its own DEX, Binance is looking to further disrupt the industry and contribute further towards its continued growth and legitimization. It's always a positive sign when some of the big players roll out new products and services for the community.
Advantages
Trade various cryptos while maintaining the full custody of your funds.
Security: You will have the full custody of your funds on Binance DEX. You will also be able to control your private keys. The Binance Chain leverages the Byzantine Fault Tolerance (BFT) and Proof of Stake (PoS)-based consensus to maintain a high level of integrity.
There is a Github page along with a high level of customer support to provide help to the user community.
The decentralized exchange is based on the Binance Chain Technology which guarantees users of near-instant transaction finality. The DEX will therefore be able to support trading volumes similar to those of Binance.com.
The Binance DEX provides a rich web-based trading platform which also includes TradingView charts with a complete range of technical indicators.
For more information, check out the Binance DEX Testnet.
CoinEX DEX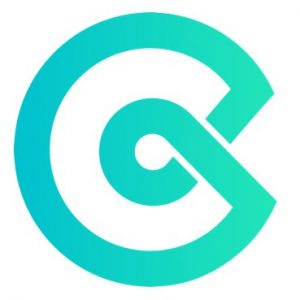 CoinEX is currently constructing a public chain known as CoinEX Chain for decentralized trading. The website for public chain was launch on March 22, 2019 and the chain-based decentralized trading platform, the CoinEX DEX, will go live in the fourth quarter of 2019.
The CoinEX DEX will constitute a proprietary high-speed matching engine capable of supporting a processing capacity of up 10,000 transactions per second. It represents a new pattern of ecosystem and exchange where users no longer have to grapple with a centralized exchange infrastructure with its centralized drawbacks, prolonged listing procedures and where users have direct control of private keys.
Advantages
Users will have control of their own private keys. The CoinEX DEX platform will not host store, save or transfer the user's assets. Traders are empowered to store their assets in their own wallets.
Get permissionless one-click token issuing: Because the token issuing module has been preinstalled in the CoinEX Chain making token issues faster and more secure.
The code is completely open-source: The CoinEX DEX is open source for the community.
Supports smart contracts and more diversified features through the side chains. The platform also connects to mainstream public chains via cross chains to create a fully open and fully decentralized ecosystem.
For additional details, check out the CoinEX DEX.
EFIN DEX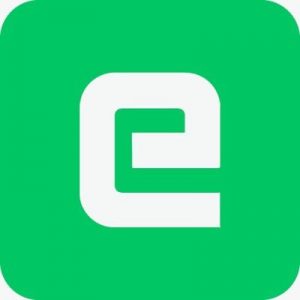 Fully decentralized cryptocurrency trading platforms are generally are much slower due to the peer-to-peer nature of the transactions and the fact that they are fully performed on-chain. The eFIN platform is the first cross-chain decentralized exchange in the world and has been designed to enable ease of use. With its Easy Trade functionality, you will be able to enjoy a seamless one-click trading. The eFIN platform shares some similarities with ShapeShift but it is fully decentralized and has a Tor network that is built for maximum privacy. Trading on eFin is 100% free for most of its users.
Advantages
A fully decentralized peer-to-peer cryptocurrency trading platform.
The EFIN platform is a bridge coin that allows for secure and instant transactions with Atomic swaps integrations.
It is a scalable platform. The EFIN platform has an off-chain network of bi-directional payments hence easily scalable and can manage future rise in demand.
There is a high level of privacy thanks to the Tor encryption, Confidential Transactions, Ring Signatures and RingCTs.
Enjoy super fast instant transactions with its Atomic Swaps, Infinitesimal and Lightning Network integrations.
Multi-Signature Security: The EFIN platform has a "2-of-3" Multi-Signature address that ensures protection on the platform in case either of the parties fails to send coins. This ensures complete protection during transactions.
For more information, check out the EFIN DEX platform.
EOSfinex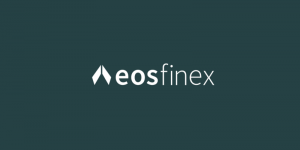 EOSfinex is a high-performance cryptocurrency exchange that has been built on the EOSio technology. It provides a scalable and transparent decentralized platform for digital asset trading with instant execution and industry-leading security.
The whole EOSfinex platform runs on-chain. All functions including custody, order book along with the matching engine form part of the EOS contracts. The EOSfinex blends the speed and scalability of EOS with the industry-leading expertise of Bitfinex to deliver superb "on-chain" decentralized exchange that is built around a transparent, fast and trustless digital asset trading platform.
Advantages
EOSfinex provides a fully on-chain trading platform with a highly-scalable network of peer-to-peer exchange.
Enjoy unparalleled speed, control and transparency.
Performance: EOSfinex is capable of processing tens of thousands of transactions per second thereby delivering instant transactions to users at minimal fees.
Distributed exchange: The platform runs a fully on-chain exchange with custody, order books as well as a matching engine all of which are on the OEO blockchain.
Secure platform: EOSfinex leverages the transparency and security of EOS for a trading experience that offers you greater control.
Check out the EOSfinex website for additional details.
LADEX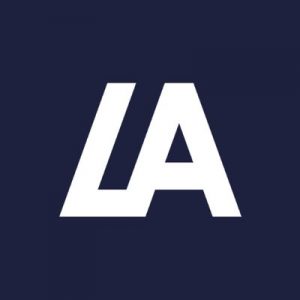 LADEX is the decentralized exchange for the cryptocurrency exchange LATOKEN. LADEX is currently available in the beta version and is an open source and fully decentralized peer-to-peer cryptocurrency exchange.
The LADEX platform is geared at getting rid of the custody problem in asset trading in cryptocurrency exchanges. It's therefore a relatively fast and convenient exchange.
Advantages
Uses 90 GAS per trade which gives better TPS
No KYC requirements for using the DEX
LADEX charges a fee of 0.1% per trade for all transactions worth over $50 from maker to taker.
Has a smart contract that has been developed to guarantee that all users on the platform will get their funds in 24 blocks.
For more information on the LADEX platform, visit here.
Nash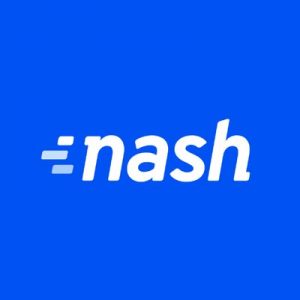 The Nash decentralized exchange will be launching soon and promises to offer users a distributed off-chain matching engine that leaves traders in control of their assets. The Nash DEX Exchange will be a non-custodial cryptocurrency exchange whose beta platform is set to launch soon among a core community of members. Once launched, the Nash platform will provide trading pairs with NEO and Ethereum thereby offering fiat gateways for US as well as international-based investors.
Advantages
The platform is built for everyone with its simple and intuitive interface and is perfect for both beginners and advanced users.
Get access to all the tools you need for your trades including complex order types and advanced analytics tools. It also has a simplified view that you can use to buy or sell with a single click.
Supports multiple asset classes across a large number of blockchains. Traders can also buy and sell across Nash's partners.
For more information visit the Nash DEX cryptocurrency exchange website.
Sparkswap Decentralized Exchange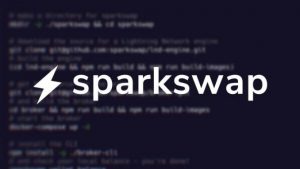 Sparkswap is currently in Beta and is the world's first bitcoin exchange to utilize the Lightning Network's Atomic Swaps. It is the first exchange that is built on atomic swaps. The Sparkswap exchange has been backed by Pantera Capital. The DEX leverages the Lightning Network to provide users with a fast non-custodial exchange where trading is decentralized.
Sparkswap users can buy and sell orders directly in a peer-to-peer fashion between one another. They are also able to seamlessly trade coins across disparate blockchains thanks to atomic swapping.
The DEX will include bitcoin and litecoin trading pairs for its mainnet launch but support for other atomic swap-friendly cryptos such as komodo, vertcoin and decred is feasible. Sparkswap is also planning to accommodate other cryptocurrencies including projects that are based Bitcoin-Script.
Advantages
Built on the Lightning Network, the platform enables users to exchange bitcoin and cryptocurrencies in a matter of seconds without the need to deposit assets with a third party.
Reduction of counterparty risks through the blending of the best of the centralized and decentralized systems.
Trades on Sparkswap settle instantly
Allows cross-blockchain trades: The platform provides compatibility with very liquid trading pairs such as BTC/LTC. It's also planning to launch BTC pairs soon.
Sparkswap allows traders to take back control of their assets.
Check out the Sparkswap website for additional details on the decentralized cryptocurrency exchange.
ViteX
ViteX is a decentralized cryptocurrency exchange by Vite Labs that is set to go live in April 2019. ViteX will form part of Vive Labs already rich ecosystem of cryptocurrency products. The platform has been built on Vite's public chain and is fully decentralized, with a higher level of security for digital assets as well as a robust economic model for sending/receiving transactions and for the confirmation of transactions. ViteX will initially enable users to trade coins such as ETH, VITE, USDT and BTC. Tokens on VITE will be traded in pairs once the decentralized exchange has been launched officially.
Advantages
The platform is fully decentralized unlike other DEX platforms that are only partially decentralized.
The user keeps the private keys themselves thereby providing a high level of asset security.
Provides a quality user experience that is close to that of centralized cryptocurrency exchanges with its fast confirmations, cross-chain gateway, high throughput and zero gas cost.
Users can stake to earn coins: Whenever users execute transactions on the Vite Chain, they will receive VX tokens.
The ViteX platform is open to the community and allows virtually anyone to list their cryptocurrency on the exchange provided they comply with the Vite and ViteX agreements.
For more details, visit the ViteX website.
X-Hive
The X-Hive decentralized exchange is a new generation cryptocurrency marketplace which makes use of the original consensus algorithm. It promises to be the fastest cryptocurrency exchange in the world. In that respect, it will offer users some of the benefits of centralized exchanges. Users will be able to trade any pair of cryptocurrencies on the platform in a safe, fast and secure manner. The Beta version of the DEX is already available for download.
Advantages
Fast speeds: The cryptocurrency exchange says it provides users with the fastest speeds in the industry with a block generation time of 0.2 seconds which will allow for up to 40 million TPS. This makes it the fastest decentralized exchange in the world.
High security: The X-Hive has top-notch security thanks to its hidden multilayered security protocols which protect the DEX from cybercrime.
Highest number of pairs: With the X-Hive platform, any cryptocurrency on the blockchain can be paired up and traded by all participants in the marketplace.
Hybrid design: It has a hybrid design that includes both a centralized and decentralized component.
Top quality services: The platform has 24/7 multi-lingual support that is available in English, Japanese and Chinese.
For additional information visit the X-Hive decentralized exchange website.
DEX Closed
OasisDEX Distributed Exchange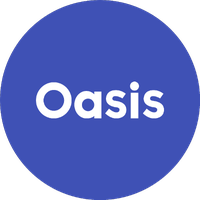 OasisDEX is a decentralized ERC20 exchange which has borrowing and leverage features by Maker.  The platform is a liquidity pool that is based on the Ethereum blockchain. There is a Simple Market along with Matching Market smart contracts which assure users of a trustless atomic exchange of the ERC20 tokens without the need for a third party counter-risk.
The OasisDEX marketplace is accessible through web3, solidity and python. The front-end interface was hosted at oasisdex.com. However, OasisDEX.com will be shutting down and the platform is shifting to eth2dai.com.
Check out the new platform website at eth2dai.com
https://virtualrealitytimes.com/2019/04/14/list-of-decentralized-cryptocurrency-exchanges/
https://virtualrealitytimes.com/wp-content/uploads/2019/04/Decentralized-Cryptocurrency-Exchanges-600x392.png
https://virtualrealitytimes.com/wp-content/uploads/2019/04/Decentralized-Cryptocurrency-Exchanges-150x90.png
Cryptocurrency
For most people, centralized cryptocurrency exchanges are still the default and most logical go-to platforms for cryptocurrency trading as they assure users of a higher standard of regulation, fast transactions and customer service. There is also the safety net of regulatory compliance. However, centralization creates a behemoth. Centralization still comes...
Sam Ochanji
Sam
Ochanji
[email protected]
Administrator
Virtual Reality Times