How to Invest in Crypto ETFs
Among seasoned and traditional investors, cryptocurrencies have always been regarded as something of a Wild West. However, last month, on 19th October 2021, the first crypto ETF debuted in the US, followed a few days later by the second crypto ETF listing. The launch of the first bitcoin futures ETF has triggered a wave of cryptomania and driven Bitcoin prices to new peaks never seen before in the history of the cryptocurrency. Bitcoin hit $66,000 which drove its market capitalization to $1.24 trillion.
For the crypto-world, the launch of new Bitcoin futures ETFs provides the mainstream validation that the industry has craved for a decade in an asset class that has always been deemed controversial and which has a very high volatility.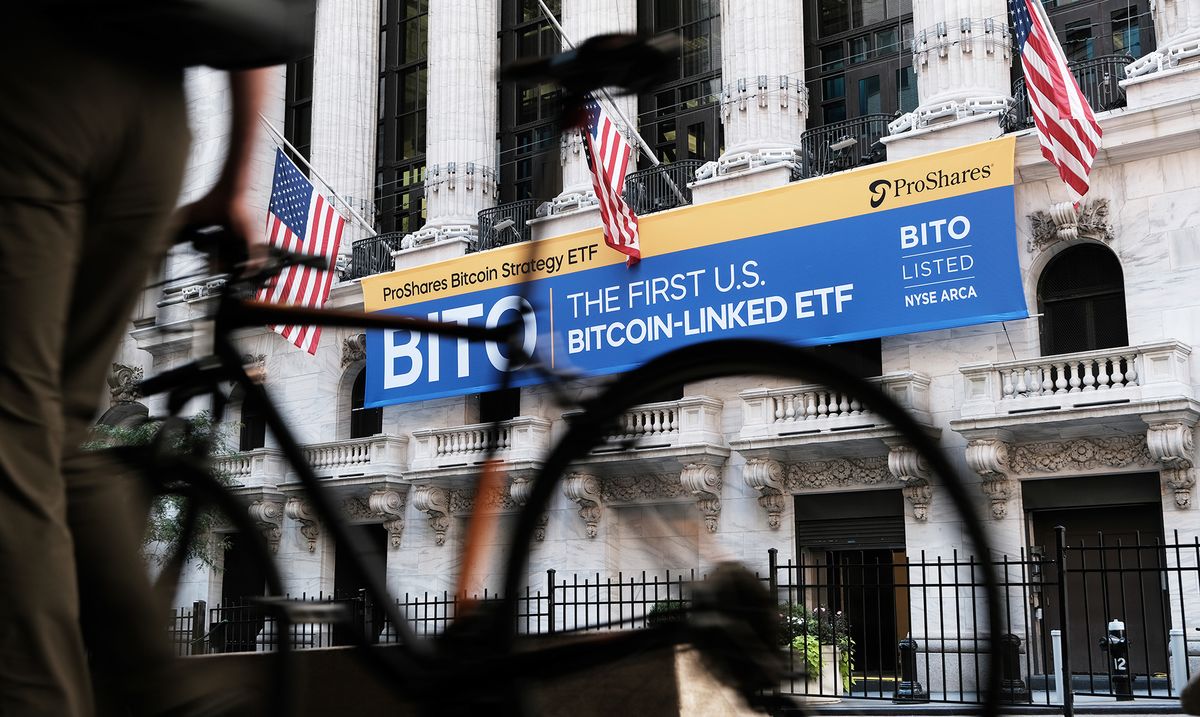 The challenge with cryptocurrencies for the average conservative mainstream investor is that there are just too many cryptocurrency exchanges and the prices between them also vary considerably. Because cryptocurrency exchanges are illiquid, they are subject to extreme volatility. The exchanges are barely regulated which breeds a lack of transparency in their operations. Finally, many cryptocurrency changes are susceptible to hacking and manipulation which can lead to significant losses in crypto assets.
The breakthrough ETF listings in the US and Australia over the past month has opened cryptocurrencies to a broader spectrum of investors, including both retail and institutional investors.
The recent ETFs listings also represent an about turn on the part of policymakers and regulators and is part of a wider effort across jurisdictions to take cryptos out of the shadows and bring them into the regulatory orbits of governments. It is a major step towards the mainstreaming of crypto assets, a process that will, no doubt, attract more investors into cryptocurrencies.
With crypto ETFs growing in popularity, it may be time to consider investing in some. Let's delve into what these asset classes are and how you can invest them.
What are Crypto Exchange-Traded Funds?
Exchange-traded funds refer to fund-based financial products whose shares are listed on the mainstream stock exchanges side-by-wide with traditional equities. They have better liquidity than mutual funds. Shares in an ETF can be bought and sold just as you would stock shares.
An ETF is a fund-based product and consists of a collection of assets. ETFs invest in a portfolio of securities that are often picked based on a particular theme. For instance, there are technology ETFs that consists of a collection of assets based around high-tech companies. There are also S&P ETFs consisting of a mix of assets that have been crafted to track the S&P 500 index.
The return of a particular ETF is dependent on the overall return of the many assets that it holds. Such returns are, generally, more stable than the returns you'd get when you invest in a single asset.
A cryptocurrency ETF works in the same way as a conventional ETF but rather than deriving its value from stock shares or indices, it does so from cryptocurrency markets.
A cryptocurrency futures ETF listing will not hold the cryptocurrency itself but the cryptocurrency futures or the contracts to buy or sell a cryptocurrency in the future. As a result, a crypto ETF does not track the spot price of a Bitcoin, for instance, but it will track the expectations of future prices.
A cryptocurrency ETF can take the following forms: –
A crypto ETF fund can invest exclusively in cryptocurrencies. For instance, it can exclusively consist of a product like Bitcoin or Ethereum tokens. Such an ETF fund would have a value that reflects the value of the cryptocurrency or collection of cryptocurrencies it holds.
A crypto ETF fund can also pour investments into cryptocurrencies as an asset class. For instance, the fund might hold direct investments in cryptocurrencies but it can also hold investments in companies active around the crypto marketplace such as crypto mining companies, companies making crypto wallets, companies making crypto trading tools and cryptocurrency exchanges.
A crypto ETF fund can also invest in futures as well as options of contracts that are based on cryptocurrencies. The goal of cryptocurrency futures and options is to reflect the value of the asset, in this case, a cryptocurrency. All ETF funds help you avoid the risk of investing in a specific product.
How to Invest in Cryptocurrency ETFs
A major milestone was crossed on October 19th when ProShares Strategy ETF debuted on the New York Stock Exchange, becoming the first Bitcoin exchange-traded fund in the US, linked to the $1.18 trillion cryptocurrency.
ProShares' Bitcoin exchange-traded fund is trading under the ticker symbol BITO. The fund provides investors with a Bitcoin exposure and saves you from having to invest in the highly volatile cryptocurrency. This breakthrough listing, and others like it, will open the Bitcoin asset to a bigger spectrum of investors, many of whom will be pouring money to the industry for the first time.
The ProShares ETF, therefore, doesn't mimic the actual Bitcoin price. Instead, it tracks the prices of the Bitcoin futures which are contracts entered into by two parties to trade the cryptocurrency at an agreed-upon price.
The BITO carries a premium for investors who wish to hold it in their portfolio. It has an expense ratio of 0.95% which means you pay $95 to ProShares Strategy ETF annually for every $10,000 that you put in the fund. This rate is a bit higher than that of an average ETF or mutual fund. The asset-weighted average expense ratio for all open-end mutual funds and ETFs in the US was 0.41% in 2020.
BITO shares can be purchased through online brokerages just as in any other ETF. You can open online brokerage accounts with any of the leading online brokerages.
After opening a brokerage account, decide on the number of BITO shares that you wish to buy as well as the price that you are willing to pay. On their October 19th debut, BITO shares traded at $40.88 with Bitcoin surging 4% to $63,800 on the same day.
A market order enables an investor to buy shares of the ETF at the current market price. Alternatively, you can make a limit order with which you can set a maximum price that you'd be willing to pay per share.
If you are a seasoned investor, you can do all this on your own. You can also hire a financial advisor to perform these trades for you and offer you expert advice in crypto ETF investing.
While ETF is based on the decentralized crypto environment, it offers a centralized trading environment, something that will assure many mainstream investors. The Bitcoin ETF also offers some stability, a far cry from the price fluctuations and instability seen in cryptocurrencies.
The ETFs could increase market liquidity and will allow individual and institutional investors to easily invest in cryptocurrency. Through crypto ETFs, investors will be able to pump their money in cryptocurrencies via their ordinary investment portfolio. With the existing crypto trading system, an investor has to literally learn a new trading language to participate effectively in the market.
Final Thoughts
Cryptocurrency ETFs are exchange-traded funds based on cryptocurrency assets or the assets from the cryptocurrency-adjacent industries that support the industry, the so-called shovel sellers in the crypto goldrush. These kinds of ETFs are still not legal in the US but there is a strong momentum for their approval by both investors and brokerages. With the regulatory environment around crypto ETFs loosing up, we might soon see these being launched in the market.
https://virtualrealitytimes.com/2021/11/29/how-to-invest-in-crypto-etfs/
https://virtualrealitytimes.com/wp-content/uploads/2021/11/ProShares-Bitcoin-Strategy-ETF-600x359.jpg
https://virtualrealitytimes.com/wp-content/uploads/2021/11/ProShares-Bitcoin-Strategy-ETF-150x90.jpg
Business
Cryptocurrency
Among seasoned and traditional investors, cryptocurrencies have always been regarded as something of a Wild West. However, last month, on 19th October 2021, the first crypto ETF debuted in the US, followed a few days later by the second crypto ETF listing. The launch of the first bitcoin futures...
Sam Ochanji
Sam
Ochanji
[email protected]
Administrator
Virtual Reality Times