Best Cloud Mining Pool Companies
Mining forms the backbone of any cryptocurrency, helping ensure its integrity by solving ever complex cryptographic puzzles. There are two ways of mining cryptocurrency. The first option is to acquire your own mining hardware, install the mining software and join a mining pool or mine solo. The other option is to purchase the CPU mining power from a remote data center that is leasing or using its own mining rig to mine cryptocurrency. This is what is called cloud mining.
Cloud mining is just like anything "cloud". As the end user, you don't have to invest in anything. No expensive mining hardware, no software, no monthly bandwidth costs, no software maintenance and no electricity charges. Just like in cloud webhosting, a cloud miner simply buys the mining capacity contract or hash power from a data center that already has the hardware set up to mine cryptocurrencies. The only thing you will need is an internet connection. It is the easiest and fastest way to get started on cryptocurrency mining if you don't have the cash and the technical expertise to purchase and setup a powerful mining rig. All you have to do is rent the hash power (measured in Gigahertz per second or GH/s) according to your budget and you are good to go.
The cloud mining companies either lease, build or source their own equipment and situate their data centers in countries where power costs are low. However, not all advertised cloud mining companies are genuine. Some are scam mining companies so you need to do your due diligence before you decide to invest your money with any particular cloud mining pool.
Below is an overview of some of the best and most reputable cloud mining pool companies that you can try out today and begin earning fresh cryptocurrency without significant hardware and  electricity costs:
#1 Genesis Mining
Genesis Mining is the biggest name in cryptocurrency cloud mining and is a pioneer in the industry. Founded towards the end of 2013, the company has mining farms across vast geographical terrains including in Europe, Asia and North America.
The company offers lifetime mining contracts to users that allow them to receive payouts as long as the contracts remain profitable. To get started, a user simply needs to sign up with the company at its website and purchase a hash power that they can afford. Once you sign up, you can fund your Genesis Mining account using various payment options including PayPal, wire transfer, bitcoins, and credit cards.
The Bitcoin Mining Plans Available at Genesis Mining include the following:-
Gold: This is a great plan for beginners. It offers an open-ended bitcoin mining contract costing $179 and with a hash power of 1000 GH/s. The maintenance fees apply.
Platinum: This is a best buy package that costs $845. You get an open-ended mining contract along with a hash power of 5000 GH/s. Maintenance fees apply.
Diamond: The Diamond mining plan on Genesis Mining offers users maximum profit and costs $3975. Subscribers get a hash power of 25,000 GH/s. Maintenance fees also apply.
Custom Plan: You can also choose a custom plan at Genesis Mining according to your budget. Simply enter your preferred value and get the corresponding pricing.
Apart from Bitcoin, Genesis Mining cloud mining service also supports other altcoins such as Dash, Ethereum, Litecoin, Monero and Zcash. Unfortunately for many aspiring cryptocurrency miners, all the mining contracts at Genesis Mining are currently out of stock for all cryptocurrencies.
Here is an overview of the features Genesis Mining:-
It is a well established, popular and reputable cryptocurrency cloud mining company.
Offers mining contracts for multiple cryptocurrencies.
The mining contracts on Genesis Mining are often sold out.
The platform has a payouts section where miners can monitor the cryptocurrencies that they have mined.
The Genesis Mining network has high transaction fees so you will need to meet a minimum transaction threshold before your payouts are released.
You can click here to sign up for Genesis Mining.
#2 Hashflare.io
This is another popular cryptocurrency cloud mining company. It offers a range of cloud mining services for different cryptocurrencies at fairly affordable rates. You can begin mining your preferred cryptocurrency as soon as choose a preferred mining contract and your payment mode is accepted. Hashflare accepts a host of payment options including wire transfer, credit cards, Bitcoin and your USD Hashflare balance.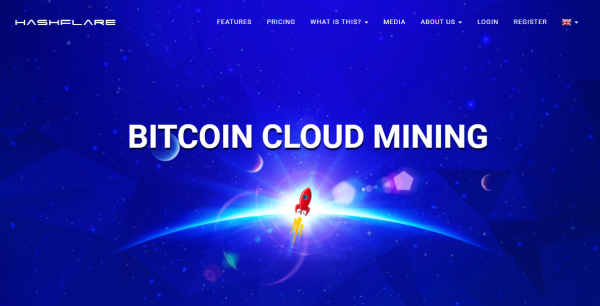 The platform issues a daily payout right from the first day and there is no withdrawal limit. However, you can only make a single withdrawal per day for every cryptocurrency on the platform. You can mine a host of cryptocurrencies with the Hashflare hardware including Bitcoin, DASH, Litecoin, Ethereum and ZCash.
Hashflare makes use of five algorithms in cryptocurrency mining. These include:-
Bitcoin mining with SHA-256 algorithm
Dash mining with X11 algorithm
Ethereum mining with Ethash algorithm
Zcash mining with quihash algorithm
Litecoin mining with Scrypt algorithm
As a cryptocurrency miner in the Hashflare cloud mining platform, you can switch between various pool combinations in order to establish the one that is most profitable for you. With Scrypt and SHA-256, you will get lifetime cloud mining contracts and you can continue mining for as long as it is profitable.
Hashflare.io has low prices and a simple interface and therefore offers users a fairly low barrier to entry in the cryptocurrency mining play. To get started, simply visit the website at and sign up on Hashflare.io. Upon sign up, you can begin earning in under 24 hours. The company offers the following cloud mining plans for its users:
Litecoin Cloud Mining: – Utilizes Scrypt Algorithm Miner. For $3.20 per 1MH/s, users get a minimum hash rate of 1MH/s and automatic payouts in BTC. They charge a maintenance fee of $0.005 per 1 MH/s per 24 hours. It utilizes a Hashcoins Scrypt hardware and the mining contracts lasts one year.
Bitcoin Cloud Mining: – It makes use of the SHA-256 Algorithm Miner. The plan costs $1.20 per GH/s and offers users a minimum hash rate of 10GH/s. It charges a maintenance fee of $0.0035 per 10Gh/s per 24 hours and offers automatic payouts in bitcoins. The mining contract lasts one year.
Ethereum Cloud Mining: Costing $2.20 per 100KH/s, it makes use of GPU Rigs hardware and provides automatic payouts in ETH. There is no maintenance fee and the mining contract lasts one year.
ZCash Cloud Mining: For $2.20 per 1 H/s, you get an EQUIHASH Algorithm Miner with a minimum hash rate of 1H/s and 1 year mining contract. Automatic payouts are issued through ZEC. The hardware is GPU rigs and there are no maintenance fees.
DASH Cloud Mining: This plan is priced at $3.20 per 1MH/s and offers a one year mining contract. There are no maintenance fees. Unfortunately, this plan is out of stock as at the time of writing.
An Overview of Hashflare.io Features:-
It has limited cryptocurrency mining contracts.
You can purchase hash power for multiple cryptocurrencies.
Provides miners with a 12-month guaranteed hash rate for both Bitcoin and Litecoin mining.
Currently, Bitcoin withdrawals have been temporarily suspended.
Click here to sign up for Hashflare.io
#3 Hashing24
Hashing24 is also one of the top cloud mining contract providers on the web and is targeted at individuals who wish to mine bitcoins.
Unlike the other cryptocurrency cloud mining companies that we have reviewed, Hashing24 doesn't have its own data centers holding its mining rigs. Instead, it leases hash power from large Bitcoin mining operations such as BitFury and sells it to its clients.
An important feature that new Bitcoin miners will appreciate in this cloud mining operation is the demo mode in Hashing24. A beginner can use the demo mode to simulate a mining contract offered on the platform and estimate how much they would earn if they factor out Bitcoin price fluctuations and increasing mining difficulty. This might not necessarily give you the desired predictability in your investments but it gives you a practical induction into how Bitcoin cloud mining works.
Users on Hashing24 can set their only custom plan and rent the actual amount of hash power that they require or which they can afford depending on their budget. The platform has one particular quirk: they will only send you the bitcoins that are newly minted. They do this to offer users proof that they are actually mining bitcoins and not merely selling miners the bitcoins that they are already holding as some scam websites do. To ascertain whether the bitcoins that Hashing24 sends you are actually newly minted coins, you can use the block explorer tool.
An Overview of Hashing24 Features:-
Offers Bitcoin mining contracts only. It does not support other cryptocurrencies.
It is built with lots of innovative features such as the demo mode that enables you to simulate mining profits before you commit.
It is a reputable cloud mining service provider. The company has partnered with one of the most reputable block chain technology companies.
After signing up, you can apply for a Bitcoin mining contract for duration of up to 36 months. In case the mining contracts are sold out, you can use the contract auction feature in Hashing24 in order to bid on hash power sold by other users on the platform.
Click here to sign up for Hashing24.
#4 Eobot
Eobot began operations five years ago as a bitcoin mining platform. Over the years, the cryptocurrency cloud mining platform has grown in scope and now offers cloud mining services for 24 cryptocurrencies.
It is one of the biggest cloud mining companies with more than 800,000 users who purchase the company's Scrypt and SHA-256 algorithm-powered mining capacity. The Cloud SHA-256 offers 1GHs per cloud instance and will follow the bitcoin difficulty level. The Scrypt algorithm offers miners 1.0 MHs per cloud instance and follows the Litecoin difficulty level.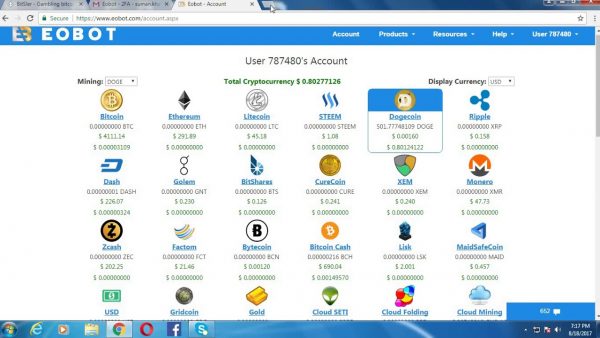 The company runs cryptocurrency mining farms powered by the GH 4.0 Antminer S9 mining rigs, the latest mining rigs in the market currently. Miners who use the platform therefore benefit from its powerful hardware with high hash rates along with affordable rates.
Eobot offers flexible cloud mining contracts ranging from 24 hours to 10 years. The platform also has a modular approach to its mining plans that allows miners to buy fractions of its cloud instances.
Eobot also has plenty of other cool features such a miner map that you can use to link up with other miners and a hack wallet. Servers use SSL technology for enhanced security and there are flexible payout options available in any displayed cryptocurrency.
#5 Hashnest
Hashnest is a major cloud mining outfit that is backed by one of the world's leading manufacturers of ASIC mining hardware-Bitmain- which manufactures the Antminer S9 mining rigs. Its parent company, Bitmain also operates one of the world's largest cryptocurrency mining conglomerates: Antpool. With Hashnest, there is that trust and confidence that you are dealing with one of the most reputable mining companies in the world.
The parent company is based in China but Hashnest, the cloud mining outfit, has mining farms that are situated in diverse locations around the world where the company leverages low electricity costs to run a profitable cryptocurrency mining operation.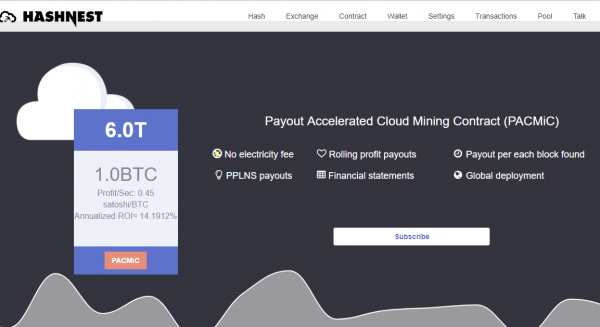 Apart from standard mining contracts, Hashnest also provides miners with an electronic contract called Payout Accelerated Cloud Mining Contract (PACMiC). This is structured such that the parent company Bitmain foots the cost of maintaining the mining rigs while the cryptocurrency mining revenue earned pays back the cost of the electronic contract. The profits are shared with buyers which translates to 1.0 BTC for 6 TH/s of hash power. At this rate, Hashnet estimates that its buyers earn an annualized ROI of 14.1912%.
Upon registration, you are issued with a Hashnest wallet address. Based on your needs and budget, you can choose a suitable contract to purchase between the PACMiC and a standard mining contract for Antminer devices. A direct contract on an Antminer S9 gives you a hash power of 125 TH/s. You will also need to pay a fixed maintenance fee for the mining rig.
After earning a few cryptocurrency blocks, you may choose to withdraw these immediately or you can go with the Reinvest or Profit Accumulation options that are offered on the platform.
Main Features of Hashnest:
With Hashnest, it is possible to withdraw mined coins on the same day.
There are three payment options: BTC, OKPay and AdvCash.
Users have the choice to purchase low-price standard mining contracts or PACMiC electronic contracts.
There are four standard mining contracts that you can purchase on the platform. These include Silver, Gold, Platinum and Diamond.
Hashnest enables you to mine Bitcoin, Ethereum, Litecoin and ZCash. The platform is planning to introduce the mining of more cryptocurrencies.
User-friendly design including an intuitive and beautifully designed dashboard. There are iOS and Android mobile apps that you can use in managing the mining platform from your smartphone along with an in-built calculator for calculating your cryptocurrency mining profits.
Click here to sign up for Hashnest.
For more information, check out this article on Best Cloud Mining Pool Companies. 
https://virtualrealitytimes.com/2018/04/10/best-cloud-mining-pool-companies/
https://virtualrealitytimes.com/wp-content/uploads/2018/04/Cloud-Mining-Farm-600x388.png
https://virtualrealitytimes.com/wp-content/uploads/2018/04/Cloud-Mining-Farm-150x90.png
Cryptocurrency
Mining forms the backbone of any cryptocurrency, helping ensure its integrity by solving ever complex cryptographic puzzles. There are two ways of mining cryptocurrency. The first option is to acquire your own mining hardware, install the mining software and join a mining pool or mine solo. The other option...
Sam Ochanji
Sam
Ochanji
[email protected]
Administrator
Virtual Reality Times