Sony's Next Generation PlayStation VR Could Have Wireless, Eye Tracking, Better Resolution and More
2019 is shaping up into a year of an avalanche of immersive hardware releases. The Oculus Quest and Oculus Rift S headsets have already hit the market, the Valve Index is set to follow soon while the HTC Vive Cosmos is expected to hit the market later in the year.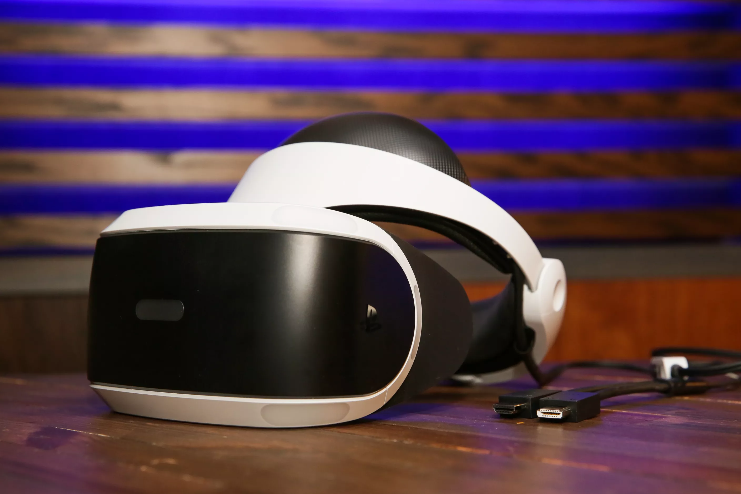 The major player in the immersive hardware market that is yet to announce a major hardware update is Sony Interactive Entertainment (SIE). Its PlayStation VR was launched in 2016 and the entertainment company is yet to make a major update. During the Collision 2019 held in Toronto, the company divulged some of the features that we might expect in its next-generation PlayStation virtual reality devices. These updates come happen alongside the PlayStation 5 debut and they aren't even guaranteed. However, should Sony go ahead with all the updates, they will certainly be key to taking the PSVR to the next frontier.
It will be lighter and wireless
The current PSVR is already a roaring success compared to other virtual reality hardware. Sony reported that it has so far shipped more than 4.2 million PSVR headsets. This is against an installation base (lifetime unit sales) of 96.8 million for PS4 consoles. It is still not comparable to the uptake of the console but the PSVR sales for far have been impressive by VR standards. Sony admits that PSVR is still far from a mass market proposition but it wants to make the device more attractive to customers by making it lighter and less cord-tangly which will make the headset less messy and easier to use.
According to Sony, taking the wireless route could also be in the form of an add-on rather than the default proposition. The main issue with wireless implementation at this time is that it is more costly. More cable means more power and performance for less the price. However, users prefer the wireless option so the hardware vendors will have to innovate to reach the end user aspirations for standalone headsets.
A recent Sony patent filing shows a wireless headset design. The current version of PlayStation VR is relatively bulky and with its tether and break-out box, you will only be able to achieve a gameplay in the range of PS4.
A move towards a lighter and wireless standalone design will be critical given Facebook's recent moves with the standalone Oculus Quest headset which has received lots of rave views. However, Sony is not promising a mobile PlayStation VR. SIE Senior VR for R&D Dominic Mallinson has stated that as  much as a light, wireless and unencumbered experience is great for users, virtual reality is still something people experience in the privacy of their living room spaces so a mobile headset may not necessarily be a necessity.
Sony has eye tracking in play
While there are no mainstream virtual reality headsets that currently use eye tracking or gaze tracking, Sony says it is actively considering the technology for the PlayStation. Mallinson believes that in the future, gaze tracking will be an integral and default feature of all virtual reality headsets. The integration of eye tracking will also have other practical benefits such as helping reduce the graphics load and ensuring that the games deliver excellent performance through foveated rendering. Such technology could see future game consoles deliver a high performance that will be pretty much like that of the high-end PCs. For Sony, it is an "obvious technology" that will provide a win-win for the industry.
New controllers
The present PSVR design was about selling it to the mass market at the lowest possible price. To realize that, Sony utilized the current PlayStation Move controllers as well as the PS4 camera instead of going for the VR-specific controllers. Although the PSVR games will also work the standard DualShock 4, the Move controllers have been popular with developers. Sony admits that delivering anything better than the PlayStation Move would have cost more so it went for the cheaper Move as a compromise. However, the company is promising that it will offer a better solution in its next-generation PlayStation VR and replace the Move controllers.
A Mixed Reality Play?
While Sony is currently contemplating developing a HoloLens for gaming, it is also possible that it could go for a pass-through mixed reality through the virtual reality headset cameras. Mallinson is seeing a future where Sony could incorporate real-world objects into the virtual reality headset, something akin to the way Quest allows you to draw room-scale boundaries and pop your head out of these magic virtual boundaries to peep into the real world. That could be a less complicated option than attempting to drop holograms into an actual reality like in Magic Leap. It also helps that Sony already has some experience with augmented reality games all the way back to the PlayStation 3 with games such as EvePet and Wonderbrook.
A new PSVR launch will not coincide with the PS5 launch
If you were hoping for a new PlayStation VR launch to happen alongside the launch of PS5, then you better start contemplating other plans. Rather than a concurrent launch, Mallinson says he is satisfied with how the previous PSVR launch happened several years after the launch of PS4. Also, the current version of PSVR will also be PS5-compatible so there won't be the hurry and inconvenience to upgrade to the next PSVR and the new version will not be immediately necessary. So Sony could wait for quite some time before it debuts a new VR headset. Sony also doesn't want to create an environment where consumers are bombarded with several gadgets that they need to purchase at once. It wants to give consumers some "breathing space" in between the product launches.
Resolution and field of view
Mallinson says he expects the virtual reality headsets resolution to double in the next generation of virtual reality headsets. The field of view (FOV) of the VR headsets will also get larger in the next set of VR devices. Currently, the majority of virtual reality headsets have a FOV of roughly 100 degrees. Going wider than this means diminishing returns for the manufacturer. However, the Sony R&D head expects the FOV to hit approximately 120 degrees in the next generation of VR products.
Currently, there is a very high developer interest for the Sony VR products. Sony is also thinking of growing the audience for virtual reality which is currently a tiny proportion of technology consumers globally. VR has grown but it has been far below the projections from 4 or 5 years ago.
Eventually, virtual reality will grow into a platform that works and which will be an integral part of our lives. While the VR titles currently give little in terms of commercial movement, Sony has had some impressive lineup of virtual reality games. Some of the best PlayStation titles in the 2018 such as Moss, Astro Bot: Rescue Mission and Tetris Effect were actually VR titles showing this is a niche that is gaining some traction.
https://virtualrealitytimes.com/2019/05/26/sonys-next-generation-playstation-vr-could-have-wireless-eye-tracking-better-resolution-and-more/
https://virtualrealitytimes.com/wp-content/uploads/2019/03/PlayStation-VR-sales-hits-a-42-million-milestone-600x337.jpg
https://virtualrealitytimes.com/wp-content/uploads/2019/03/PlayStation-VR-sales-hits-a-42-million-milestone-150x90.jpg
Hardware
PSVR
2019 is shaping up into a year of an avalanche of immersive hardware releases. The Oculus Quest and Oculus Rift S headsets have already hit the market, the Valve Index is set to follow soon while the HTC Vive Cosmos is expected to hit the market later in the...
Sam Ochanji
Sam
Ochanji
[email protected]
Administrator
Virtual Reality Times