The Week in XR: Most Important AR, VR and MR News in the Past Week
The week ending January 12, 2020 was one of the busiest in the immersive world. There was the CES 2020 which came with its fair share of announcements. The most notable development of the week was, of course, Nreal's exploits at the CES.
The Nreal spatial augmented reality glasses generated a lot of interest and are likely to prove popular with end users when they launch this fall. For the time being, these AR glasses are set dominate the consumer market as Microsoft and Magic Leap grapple to come up with an answer. Apple and Facebook are also working on their XR glasses behind the scenes which are likely to hit the market in two to three years. Nreal's main challenge is that it still has very little spatial content that users can experience with its sleek glasses.
This year's CES was a massive showcase with 180,000 attendees but the big XR players such as Facebook/Oculus, Apple, Microsoft and Magic Leap did not exhibit any major developments or breakthroughs at the show as they will have their own developer conferences in the course of the year.
Nreal Stole the Show at the CES
Nreal was a major highlight of the CES with its sleek and smartphone-based mixed reality headset which drew lots of visitors and rave reviews. While admitting that the platform still lacked spatial content, they did demonstrate their approach of transferring the smartphone 2D content into a spatial context. Nreal unveiled both its new eye tracking feature and the Nebula 3D operating system where users are able to place multiple screens around themselves and interact with them in various ways including typing, consuming media and monitoring social media feeds all simultaneously.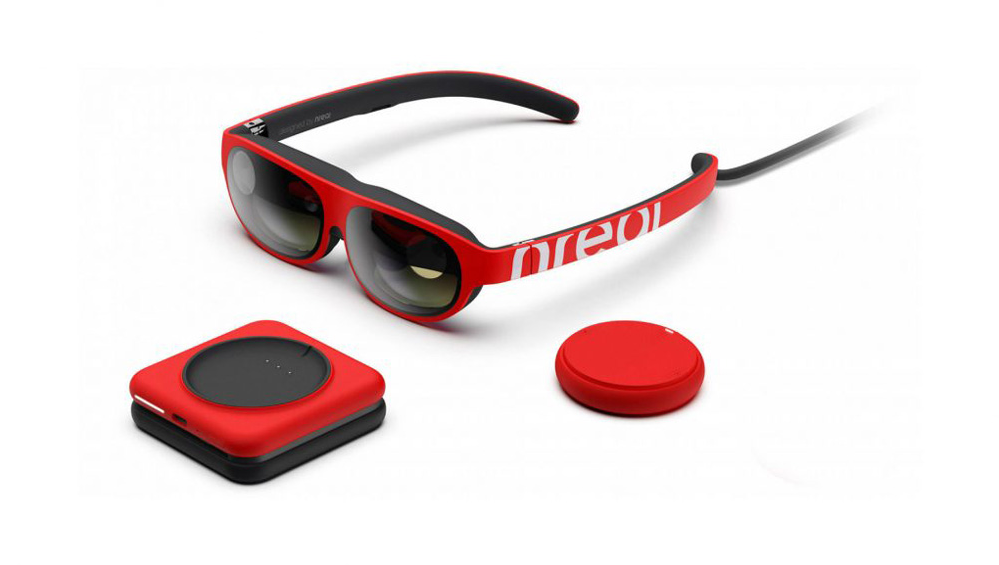 The Nreal Light glasses will cost $499 and are prescription-compatible. They will launch in Korea in Spring followed by a launch in Japan. Nreal will enter the US market in the latter half of 2020. For now, the platform will mostly be Android-based unless Apple decides to work with the Chinese mixed reality company.
Panasonic Presents Ultra-Slim UHD VR Glasses Concept
One of the major surprises at the CES was Panasonic's announcement of its ultra-slim virtual reality glasses prototype during the CES 2020. Apart from their slim form factor, the glasses also feature a very high quality display and can support HDR. They have a steampunk aviator look: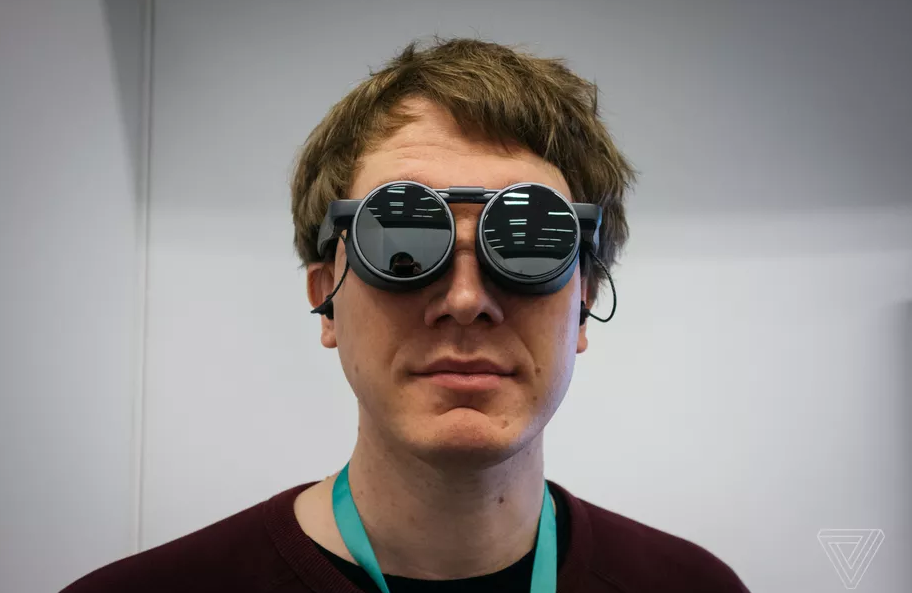 The reviews from the first testers have been interesting and mostly positive but the concept still has some limitations and scope. As far as form factor goes, they could be a pointer of things to come for virtual reality hardware in the next few years. Panasonic stated that it will continue working on the design and little is known at the moment of how these glasses will pan out with proper tracking hardware.
HTC Vive Pro
This week saw HTC Vive officially reduce the price of the Vive Pro for the first time since the glasses were launched three years ago. The glasses will now cost $599 instead of $799. However, even at that price, the Vive Pro headsets don't appear competitive with so many attractive alternatives in the market.
PlayStation VR Hit a 5 Million Milestone
This week saw Sony announce the sales figures for its PSVR headsets. So far, more than 5 million units have been sold since their launch in 2016. This is an impressive figure by any measure but squared against the fact Sony has sold more than 106 million units of its PS4 and PS4 Pro consoles, it is still reminder that virtual reality and the immersive industry in general still has a long way to go.
Samsung Teased AR Headset at CES Presser
Samsung almost casually teased augmented reality glasses for a fitness app during a CES 2020 press conference. Not much is known about these glasses, though. The dedicated AR headset will be part of Samsung's "Age of Experience" product strategy.
HTC Went AWOL at the CES 2020
HTC apparently went "into hiding" at the CES 2020. Amidst falling fortunes, the company cancelled the CES press conference as well as press appointments on short notice.
Samsung Launches Neon AI at the CES
One of the most interesting launches during the CES 2020 was Samsung's showcase of virtual humans in an initiative dubbed Project Neon. The project is a spin-off of Samsung's Samsung Labs and generates very nuanced virtual humans who seem almost lifelike.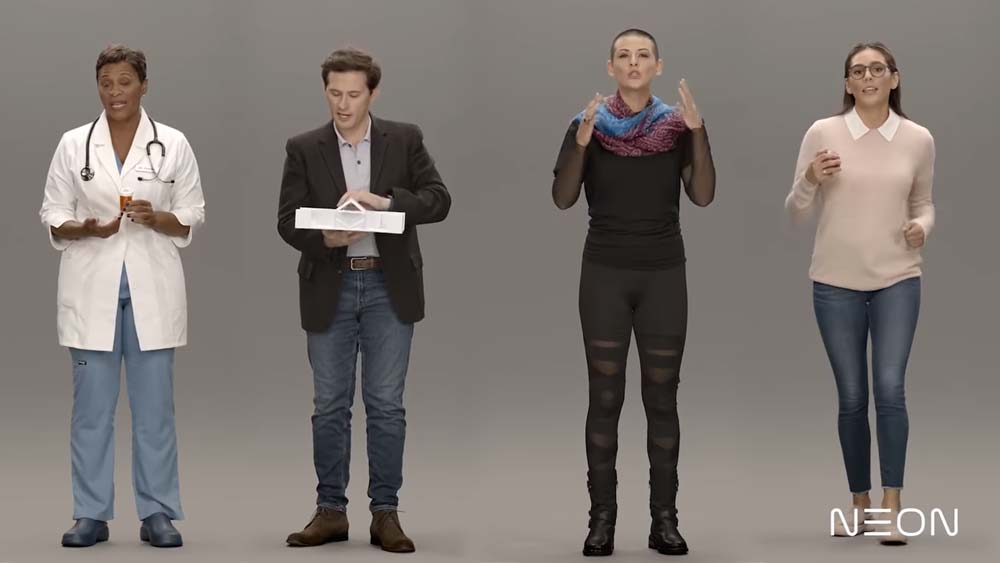 The virtual humans look so real that you might mistake them for volumetric captures of real human actors except that they are not.  Samsung is hoping that these intelligent agents will in the near future generate more empathy between humans and machines. Project Neon is looking for partners to help in further developing the technology.
Firefox Reality Comes to Pico Devices
Firefox's virtual reality web browser, Firefox Reality, already works on some of the leading consumer virtual reality headsets and it's soon set to launch on Pico's new Neo 2. Along with the browser, Firefox will also bring the Hubs virtual spaces to the Pico devices. Firefox Reality is set to launch on Pico devices in the first quarter of 2020.
Pico's Neo 2 is Standalone VR Headset for Businesses
The main standalone virtual reality headsets in the market are currently Oculus Quest and HTC Vive Focus. A new entrant is about to take on these two dominant standalone VR HMDs, however. During the CES 2020, Pico unveiled its take on a standalone virtual reality headset with the unveiling of the Neo 2.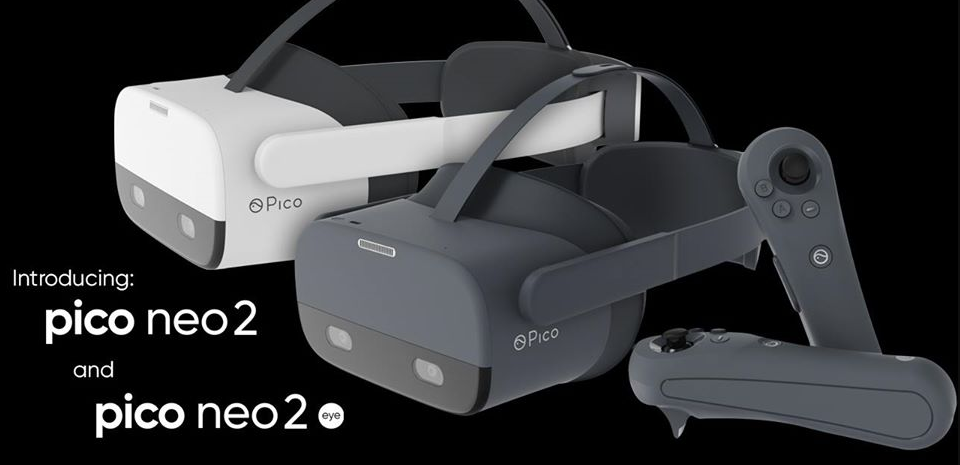 This is a standalone virtual reality headset targeting business users and which has 6DoF tracking, two wireless controllers as well as optional eye tracking. If you are running a business and are looking for a standalone enterprise VR headset, you can preorder the Neo 2 and Neo 2 Eye from the Pico website.
HaptX Partners with Shadow Robot Company and Tangible Research
The there will form a new consortium christened Converge Robotics Group. The consortium's mission is to "extend the reach of human cognition, sensation and manipulation" via the integration of advanced technologies. Read more on the consortium on their new website.
Pimax Unveiled New High-End Virtual Reality Headsets
Pimax announced its new high-end head-mounted displays that are targeting prosumers. The Pimax 5K SUPER features a 2560 x 1440 resolution, a 170-degree field of view as well as a 180Hz refresh rate and is priced at $1,300. The 5K SUPER headset is compatible with both Valve Index controllers as well as SteamVR 2.0 base stations.
VRgineers Revealed the Specs for Its Newest XTAL VR HMD
The new XTAL HMD headset is VRgineers newest iteration of the company's enterprise-level VR head-mounted display (HMD) that sports a whoping resolution of 8K or 4K per eye. It also has a 180-degree field of view along with both hand and eye tracking functionalities. The headset delivers a very realistic performance.
AARP Innovation Labs Launches the Alcove Social Space
Alcove is a social space where users can enjoy shared social experiences. The Washington-DC-based not-for-profit organization The Association for Retired People is trying to use virtual reality to reduce loneliness as well as isolation in the elderly by creating a virtual space where families will be able to share their experiences and activities. The non-profit is intent on developing "the longevity economy" for the elderly as well as healthtech/Age-Tech innovations in general.
https://virtualrealitytimes.com/2020/01/13/the-week-in-xr-most-important-ar-vr-and-mr-news-in-the-past-week/
https://virtualrealitytimes.com/wp-content/uploads/2020/01/The-Panasonic-VR-Glasses-have-a-Steampunk-Aviator-Look-600x390.png
https://virtualrealitytimes.com/wp-content/uploads/2020/01/The-Panasonic-VR-Glasses-have-a-Steampunk-Aviator-Look-150x90.png
Augmented Reality
Mixed Reality
Technology
Technology Discussion
The week ending January 12, 2020 was one of the busiest in the immersive world. There was the CES 2020 which came with its fair share of announcements. The most notable development of the week was, of course, Nreal's exploits at the CES. The Nreal spatial augmented reality glasses generated...
Sam Ochanji
Sam
Ochanji
[email protected]
Administrator
Virtual Reality Times