All You Need to Know About the Upcoming Meta Quest Pro
Meta's high-end Project Cambria headset or the Meta Quest Pro will launch in October this year. Here is all you need to know about the premium headset.
The Project Cambria headset was officially announced at the Connect 2021 which took place on October 28th last year, an announcement that was preceded by a series of rumors and leaks about the headset.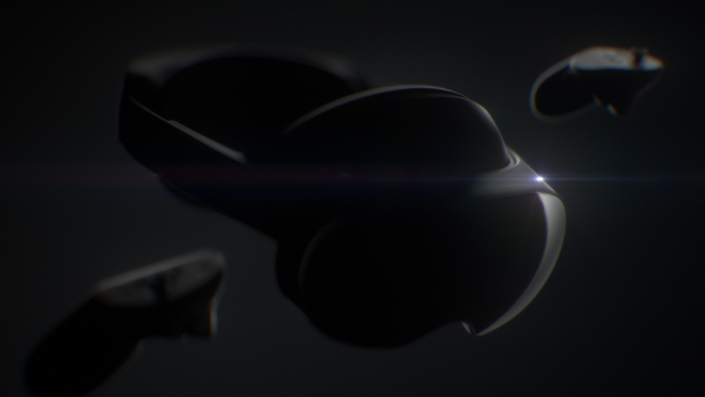 Months before the launch, both Zuckerberg and Meta's head of technology Andrew Bosworth had mentioned a "Quest Pro" headset that would be more technically enhanced. By launch time in October that year, it turned out that the enhanced "Quest Pro" headset was in fact, a headset under development that was codenamed, Project Cambria.
Project Cambria
The Project Cambria codename is the name used for the premium headset internally and is not its product name. Most of the news coverage over the past year referred to the headset by its codename.
The actual product name of the headset will be known at its full unveiling. A Bloomberg report in July stated that the headset would be called "Quest Pro".
The Quest Pro name is easy to market. It builds on an already well-established Meta Quest brand name that is currently the most successful VR headset reported to have sold more than 15 million units. Given that this device targets an entirely different market segment, professionals and the enterprise market, a new name would have suited it better. However, riding on the "Quest" brand name with a "Pro" suffix to denote its professional and enterprise focus also sends the right message to consumers.
Meta Seacliff, aka Cambria, appears in the Oculus app with an developer test account

Last week I mentioned that pre production units were floating around in China. They are likely beginning to float around software devs as well https://t.co/J3N1fnMyqq

— Brad Lynch (@SadlyItsBradley) February 22, 2022
The Quest firmware shows different names for the Project Cambria headset including Seacliff, Arcata, and Seabright. Seabright is most probably denoting a more technically advanced virtual reality headset, a second-generation Project Cambria that might launch in 2024, according to recent reports and leaks.
Project Cambria a Next-Generation Meta Quest 2?
The Project Cambria headset is not the successor to the Meta Quest 2 headset. Meta has said this is an entirely new product line, a high-end enterprise-focused headset with premium features.
However, the Project Cambria headset will still be backward compatible with the Meta Quest app ecosystem. The clincher is that it also offers users new technology but at a higher price point. A few weeks ago, the company clarified that the headset would cost significantly more than $800 following some reports that it would be priced at about that price point.
The successor to the Meta Quest 2 headset will be a Meta Quest 3 that is set to launch in late 2023.
What is Meta's Market Play with the Project Cambria Headset?
The Project Cambria headset tests new technologies on the market that the company has been developing in its research labs. After these technologies have been refined on the software side and are more cost-effective to produce, they will undoubtedly be implemented in future headset iterations of the Meta Quest line. Meta has aggressively priced its Quest product line with the aim of rapidly penetrating and grabbing a huge chunk of the market.
With Project Cambria, the company isn't necessarily going for market share as with Meta Quest 2. Instead, the company wants to use Project Cambria as an experimental headset for new and advanced virtual reality technologies. It is a high-end and much more expensive headset that targets professional users and avid VR enthusiasts.
Mark Zuckerberg outlined the target use cases for the new high-end headset in April and May 2022. Zuckerberg stated that the headset targets workplace and productivity use cases.
The Project Cambria will be the first in a series of headsets that Meta plans to launch for "enterprise and knowledge workers." He stated that the headset may eventually replace laptops and Chromebooks, enabling users to literally wear their offices and take them on the go. The company's long-term vision is to make these headsets a primary work device.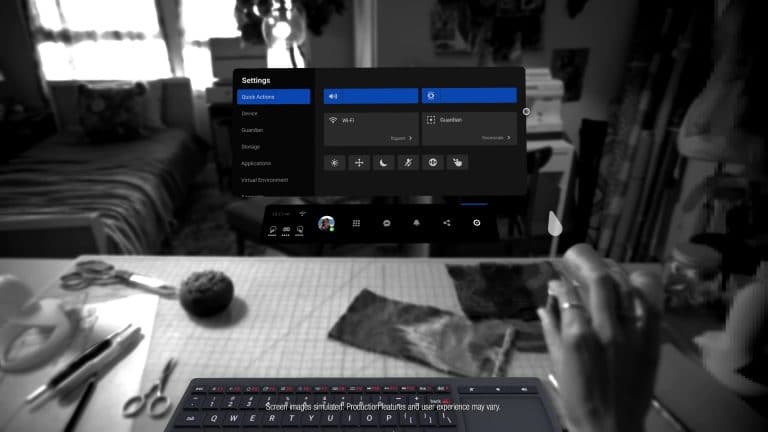 Through the Project Cambria product line, Meta wants to build a "work headset" that aims to revolutionize the workplace as we know it at some point in the future. Meta is also keen on creating a virtual office as well as a new multitasking interface that is optimized for its conferencing app Horizon Workrooms, according to YouTuber Brad Lynch.
Although it targets enterprise and workplace applications, the high-end Project Cambria headset may also appeal to gamers with its enhanced features. It has better ergonomic and PC VR support as well as a sharper and higher contrast display. Its precise hand tracking support could also attract gamers eager to experience the improved immersion it offers. There aren't likely to be Cambria-exclusive virtual reality games, though.
New Project Cambria Features
On top of what we already know about the Project Cambria headset, three new technical features and enhancements were announced by Zuckerberg and the company's head of products for VR devices Angela Chang. These include: –
Eye and Face Tracking
The headset features new sensors for natural eye contact between avatars and which also deliver real-time transmission of facial expressions into virtual reality. This makes it easier to read emotions. It also adds realism to social interactions.
Better Augmented Reality Functionality
The Meta Quest headset already has a passthrough mode that enables wearers to view the real-world physical environment in the headset. Quest apps can even superimpose digital objects onto this physical environment in a mixed reality functionality. In the Meta Quest headset, however, the video image of the physical world is relayed in black and white. The images relayed via the passthrough are also so grainy that you can't easily make out the fine details of the environment. That's about to change.
The Project Cambria headset reportedly has a much more improved color passthrough technology that is possible due to its high-resolution RGB cameras. The Project Cambria headset, therefore, relays the physical environments in color and with more sharply defined details. You can supposedly even take notes using a ballpoint pen or even sports with a virtual trainer inside your room.
Meta CTO Andrew Bosworth said the Cambria headset has "way better cameras" and that both its RGB and black and white cameras work in concert to render the color passthrough. He also said the headset uses active instead of passive depth detection through infrared beams. The infrared beams ensure that the depth-sensing provides a better image reconstruction.
Better Displays and Narrower Form Factor
The Project Cambria headset also has improved displays and optics. This is the first headset from Meta that uses pancake lenses.
Pancake lenses can be fitted very close to the display which enables the headset to have a narrower profile. The new lenses have also enabled the Project Cambria headset to have a high-quality and artifact-free display. As a result, Project Cambria is now the headset with the best optics in the Meta VR product line.
Project Cambria Display
Meta is yet to divulge concrete details about the Project Cambria display. However, supply chain analyst Ming-Chi Kuo reported that the headset will feature two 2.48-inch mini-LED displays from JDI and Sharp and the display has a resolution of 2,160 x 2,160 pixels per eye.
This means the Project Cambria's headset resolution is higher than that of the Meta Quest 2 which has an LC display of 1,832 x 1,832 pixels per eye. The Cambria headset, therefore, offers approximately 33% more pixels. However, YouTuber Brad Lynch has reported that it is rendering below its maximum resolution.
The headset could well in both color reproduction and black value.
The mini-LEDs are a refined form of the LC displays and their backlights are made of tiny LEDs. This makes it possible to switch off groups of these tiny LEDs via software thereby allowing for local dimming where there are areas of more natural black. The mini-LED displays can render better contrast than the conventional LC displays.
Lynch has also claimed that the Project Cambria headset also features QLED technology. This could mean that the high-end headset is capable of displaying an expanded color spectrum and will thus render nicer colors.
Project Cambria Specifications
The exact specifications of the headset are yet to be released. However, there have been some leaks that are yet to be confirmed.
YouTuber and XR enthusiast Brad Lynch, citing a "trusted source", claimed in March this year that the headset's specs have already been finalized. He followed up on the claim in July by publishing an update of the headset's supposed technical features. Meta is yet to confirm these features or divulge any information on the technical features of the Project Cambria headset.
Lynch's post listed the following features:
System–on–Chip (SoC): Qualcomm Snapdragon XR2 that provides 30% more performance potential.
Headset Display: Dual Tianjin-3 QLED panels with a resolution of 2,160 by 2,160 pixels per eye (a render resolution of 1,800 by 1,920 pixels per eye). It also features a Quantom Dot layer that provides an extended color spectrum along with a mini-LED backlight for local dimming.
Field of View: The headset's horizontal field of view is the same as that of the Meta Quest 2. The panels can also rotate 21 degrees to provide a vertically higher field of view.
Optics: The Project Cambria headset uses custom pancake lenses.
IPD: They have stepless hardware lens for distance control
Storage: 256GB
Memory: 12GB LPDDR5 RAM
Network: WiFi 6E support
Audio: The surround sound has improved. They also have an improved microphone equipped with echo cancellation. Battery: Uses Li-ion battery with a capacity of 5,000mAh along with a charging cradle.
Sensor technology: It has 10 sensors along with IR depth projector. The sensors include the following: –

Two "Canyon" 640 x 480 pixels sensors for constellation tracking, IoT, and hand tracking functions.
Two "Glacier" 1,280 x 1,024 pixels sensors for luma passthrough, stereoscopy, constellation tracking, and hand tracking.
One "Teton" 2,328 x 1,748 pixels sensor, 16MP that delivers the RGB passthrough.
Five "Esker" 400 x 400 pixels sensors for face-tracking and eye-tracking functions.
Lynch also reported that Meta is using a revised Snapdragon XR2 chip which delivers up to a 30% performance gain over the Meta Quest 2. Cambria supposedly also features a dual fan which increases its performance.
Lynch's data mining network unearthed signs of the new Project Cambria passthrough sensor technology in the Quest firmware. The firmware shows the headset is equipped with three sensors for the passthrough mode. These include two low-resolution Luma sensors that sense the depth of the space and capture motion while also enabling stereoscopy ("Glacier"). The third sensor is a high-resolution RGB camera that is positioned in the central part of the housing ("Teton"). This RGB camera delivers the color reproduction of the environment. The improved video image of the physical environment seen in the Project Cambria headset is thus a fusion of the data from the three sensors.
A post on the Oculus blog states that the passthrough RGB camera delivers four times the resolution of the sensors in the Meta Quest 2 headset.
It also features a dedicated depth sensor that provides active room recognition. This works like Apple's LiDAR scanner and supports hand-tracking and the passthrough mode.
Additional details about the headset have emerged from leaked blueprints and even some dubious hands-on report whose authenticity is difficult to prove.
Hardware analyst Ming-Chi Kuo published a hardware report that gives additional details about the Project Cambria headset, including the names and specifications of the individual components.
What the Project Cambria Headset Looks Like
In the official render video, one can only make out a black device that has a ski goggle-like visor and a halo head mount.
The slim form factor has also been confirmed by firmware snippets and leaked video tutorials. This means the headset could have a much lower weight as well as an improved weight distribution since its battery sits at the back of the head mount.
Zuckerberg shared a photo of the Project Cambria headset in May 2022 but the image only showed an outline of the device without any visible details. A video was released a day later with the headset deliberately blurred and unrecognizable.
YouTuber and XR hardware analyst Brad Lynch claimed he saw an image of the final Project Cambria headset in April this year. He went ahead and collaborated with an industrial designer to reconstruct a 3D phantom render of the high-end headset from memory.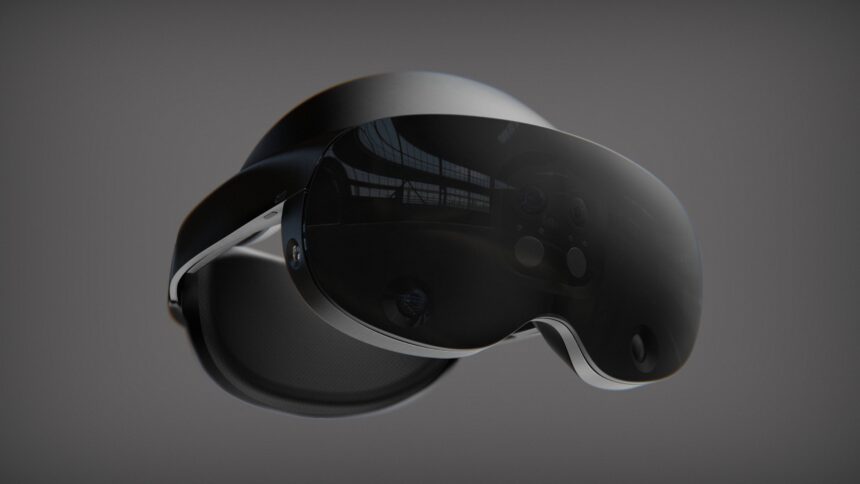 Later on, Lynch leaked the headset's blueprints which show its form factor and interior.
What Virtual Controllers Will the Project Cambria Use?
In the official announcement video, it looks like the headset uses new virtual reality controllers. Firmware findings indicate that these new controllers are codenamed Starlet. Tracking rings are noticeably missing in the controllers.
Meta is yet to comment on the Cambria VR controllers. However, leaks suggest they have a new tracking system.
There are reports the Project Cambria headset could also deploy integrated laser projectors that cast an invisible infrared pattern into the environment and these lasers will be detectable by infrared cameras in the virtual reality controllers. This will make it possible for the devices to spatially locate themselves, even if they are positioned behind the headset.
A video tutorial leak shows that both the headset and controller will have their own charging station.
In July 2022, Lynch leaked blueprints for the new Project Cambria VR controllers which show them having a permanently installed battery, a pressure sensor at the tip of the grip along with high-quality haptics. According to firmware findings, the controllers will also ship with a stylus accessory for Horizon Workrooms.
Lynch claimed that Meta could sell the charging station and the virtual reality controllers separately. Meta is also working to make the new controllers backward compatible with Meta Quest 2, according to the XR hardware analyst.
Will Project Cambria Offer Improved Hand Tracking?
Through a number of software tricks, Meta is gradually improving its hand tracking functionality for the Quest 2 headset. However, it still requires more refining to reach a desired level of fluidity. A key limiting factor in Quest 2's hand tracking operation is its cameras which aren't suited for optical and finger tracking.
In a Protocol interview, Zuckerberg stated that the Project Cambria headset will have a new sensor that could also help with hand tracking. While the Quest hand tracking with the camera is merely a "hack", the Project Cambria headset is built with a proper depth sensor. Zuckerberg stated that the Quest headset's hand tracking functionality has already surpassed the company's expectations, which has prompted the company to step up its efforts in improving hand tracking for its future headsets.
Zuckerberg stated that Meta now has a "sensor architecture" that it can optimize for hand tracking in Project Cambria and all future headsets. All that will be required is better hardware support for this.
Will Project Cambria Offer PC VR Support?
Although this is yet to be confirmed, it is likely that the headset will feature PC VR support. The headset targets professionals and they are likely to use it with a PC. Even though devices like the Project Cambria headset seek to transcend computing as we know it, PCs will still be here for at least a few generations.
Information from data mining and leaks seem to suggest that the headset is aiming for improved PC VR support, over and above what is currently being offered by the Meta Quest 2. The possibility of DEP Alt mode as well as better Air Link streaming via Wi-Fi 6E has been cited. PC VR support may, therefore, get an upgrade with the Project Cambria headset.
Will Project Cambria Support Variable Focus and Foveated Rendering?
Variable focus and foveated rendering are two technologies that are crucial for optimal virtual reality experiences. However, these technologies will only be available in future versions of the Project Cambria headset.
Foveated rendering enables the headset to work out where the eyes are focusing on in the field of view and then compute that area in full detail. This saves on the computing power which can, subsequently, be used in rendering better graphics and higher resolution images.
Foveated rendering is theoretically "invisible" in systems that work faster and with high precision. However, in practice, rendering is still a tough technical challenge. It begins with capturing the differences in the anatomies of the pupils and concludes with the graphics rendering pipeline which is delivered as foveated rendering.
Bosworth has stated that foveated rendering isn't adding much at the moment so there are minimal chances that the Project Cambria headset will support it.
The same technological limitations obtain when it comes to varifocal displays. Meta's research on corresponding displays has been ongoing for several years now and is aimed at resolving a fundamental optical issue in virtual reality headsets and raising the prospects of a more realistic and pleasant viewing experience in the future. However, this research still has some way to go before it can be implemented in virtual reality headsets.
What is the Most Important Feature in the Project Cambria Headset?
The much-improved color passthrough mode is the most significant feature of the headset. Most of the conventional augmented reality headsets such as the HoloLens, Nreal Light, and Magic Leap use transparent optics whose technology hasn't changed much in the past decade.
Current augmented reality technology is held back by low brightness, a narrow field of view, and poor image quality.
The Project Cambria headset, on the other hand, is passthrough-optimized and doesn't grapple with these challenges or it has them to a lesser degree. As a result, a headset like the Cambria could be the best option for accessing augmented reality or mixed reality experiences for the foreseeable future and until augmented reality overcomes the technical bottlenecks. Apple's upcoming VR headset is also said to leverage an advanced passthrough functionality like the Project Cambria.
Project Cambria offers a video-based augmented reality that could meet the requirements of mixed reality experiences until better future AR displays are able to relay better image quality in thin form factors and transparent glasses with conventional non-creepy form factors.
Will Project Cambria Launch with any Apps?
All the virtual reality apps on Meta Quest 2 will be compatible with the Project Cambria headset. Meta is yet to announce any Cambria-exclusive VR apps. The main difference in experiences between the two headsets is that in the Project Cambria headset, the physical environment will be displayed in color and it will be more sharply defined than in Meta Quest 2.
Meta did an Augmented Reality demo dubbed The World Beyond to showcase Project Cambria's performance edge. The brief AR experience showcases the advantages of Meta's Presence platform.
The Presence platform is a constellation of interfaces for Meta Quest and Project Cambria that allow for more natural interactions as well as advanced augmented reality experiences. According to XR hardware analyst Lynch, the Project Cambria headset, a workplace-focused device, is to be optimized for the company's Horizon Workrooms conferencing app.
What is the Cost of the Project Cambria Headset?
The price for the Project Cambria headset is yet to be divulged. Supply chain analyst Ming-Chi Kuo once claimed that components used in the device cost $780. Other sources also claimed that the headset would cost $799. Meta promptly dispelled those pricing rumors by clarifying that the headset would cost significantly more than $800. It is likely the headset will cost over $1,000. Zuckerberg has assessed that the new VR headset product line would cost about the same as that of the PC price segment.
Lynch, citing anonymous sources, has claimed that the device would cost $1,500, a cost that includes a charging station, a controller, and a cable. John Carmack projected in 2021 that due to its price, Project Cambria would only attain a tenth of the Quest buyer base.
Project Cambria Release Date
The Project Cambria headset is launching in October at the Meta Connect 2022. Lynch's sources claim that pre-orders for the Project Cambria/Meta Quest Pro will begin at the Connect 2022 conference scheduled to take place at the end of this month. Project Cambria goes on sale on October 25, 2022.
What Comes After Project Cambria?
A new leak claimed that the next Cambria headset model is codenamed Funston and will launch in 2024. Additional two new Meta Quest headset models which are codenamed Stinson and Cardiff are set to launch in 2023 and 2024.
Project Cambria Reviews So Far
The headset has been independently reviewed twice so far by major tech publications. Protocol editor Janko Roettgers tested the pre-release version of the headset with the AR demo app The World Beyond. In his review, he describes the color passthrough as a "massive improvement" over the Quest passthrough although the video image is still not perfect. According to Roettgers, although the image is not photorealistic, it is no longer as jarring as the grainy black-and-white images in the Quest 2 passthrough. He compares the image quality of the color passthrough as similar to that of a "more decent-quality home video."
Podcaster Joe Rogan tested the headset's face and eye tracking features and calls it "very immersive." XR hardware analyst Brad Lynch also reports speaking to a source who allegedly tried out the prototype.
What are the Alternatives to the Project Cambria Headset?
Passthrough VR headsets are going to have a major impact on the virtual reality market in the coming years. Apart from Project Cambria, there are alternatives that the market can also look forward to:
TikTok parent company Bytedance will soon launch the Pico 4 Pro headset, a Project Cambria competitor.
Lynx, a mixed reality hardware manufacturer based in Paris is working on a passthrough headset known as Lynx-R1. The headset is expected to launch before the end of the year.
Apple is also working on a passthrough headset which it has so far kept under the wraps. Rumors have it the headset will launch in early 2023.
There are also reports of Google's Project Iris and Microsoft's Project Bondi headsets that are expected to launch in 2024.
https://virtualrealitytimes.com/2022/09/04/all-you-need-to-know-about-the-upcoming-meta-quest-pro/
https://virtualrealitytimes.com/wp-content/uploads/2022/01/Project-Cambria-600x338.png
https://virtualrealitytimes.com/wp-content/uploads/2022/01/Project-Cambria-150x90.png
Business
Hardware
Meta
Meta's high-end Project Cambria headset or the Meta Quest Pro will launch in October this year. Here is all you need to know about the premium headset. The Project Cambria headset was officially announced at the Connect 2021 which took place on October 28th last year, an announcement that was...
Rob Grant
Rob
Grant
[email protected]
Author
Virtual Reality Times