Snapchat Unveils Its New Snap AR Utility Platform
Snap Inc has announced a new set of augmented reality and camera search experiences for Snapchatters, partners and creators. The new feature now helps Snapchatters do more than just point and shoot. They can point and interact with others among other little tasks.
Snapchat's Camera or Lenses are the basis of its augmented reality functionality. With the new update, the Lenses will now form the foundation of a new Snap AR developer platform called "Snap".  The Snapchat Lenses pack in some of the most sophisticated augmented reality technology in the world and provide the community with plenty of creativity. More than 70% of Daily Active users on Snapchat interact with the Lens daily on the service.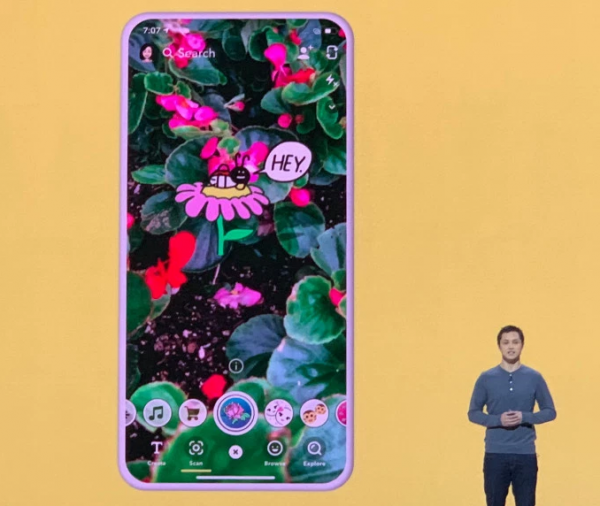 Scan is the search experience on the Snap's Camera. With today's announcement of the new search experiences, Snapchatters will be able to "press and hold" on the Snap camera screen for them to scan and unlock the relevant experiences that are based on their environment or what is on their viewfinder. Users can scan the Snapcode and this will unlock the special Filters and Lenses, barcode or physical product to surface research results on a platform such as Amazon. They can also scan when listening to music to get more info on the music playing thanks to an integration with Shazam.
Snap Inc has also unveiled its new partnership with Photomath which will incorporate the ability to solve math problems with a simple Scan. There is also the Giphy integration to detect objects that subsequently generates GIFs on the screen. The Scan feature will soon be available to all Snapchat users. Any developers that would want to join the platform can get in touch with Snap.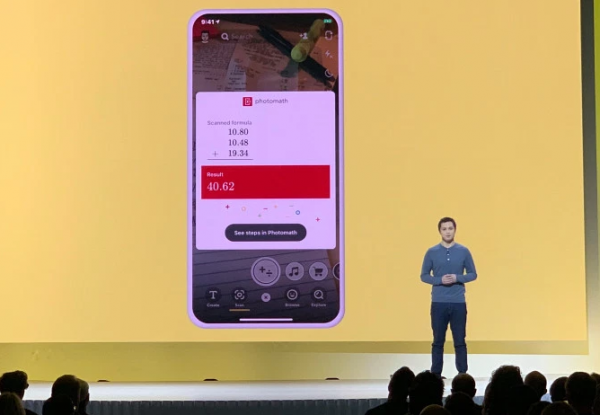 Snapchat already had some pretty search experiences. Its camera, for example, could identify songs with Shazam and also recognize objects that you can buy on Amazon. However, these features have been sort of skeletal. It didn't offer a rich ecosystem of useful tools. Snapchat is currently in the process of crystallizing a plan that will enable users to reveal a lot more hidden information about the world around them.
Snapchat also announced its plans to launch an ad network, power stories in other apps along with a real-time multiplayer games platform.
Other tech companies such as Blippar have been trying to build augmented reality utility apps but their scope is limited by the small user community and the low frequency of daily use that is required for these apps to be constantly on top of people's minds when they wish to scan something.
However, Snapchat has seen been seeing some robust success in its markets. Snapchat CEO Evan Spiegel revealed that Snapchat now has a reach of close to 75% of the 13 to 34 year olds and 90% for the 13 to 24-year olds. Snapchat has even a better reach among the 13 to 24 year olds than social media giants Facebook and Instagram not only in the U.S. but also in the U.K., Canada, France and Australia!
These stats come from Facebook's ad manager estimates which may not always be 100% accurate but they are a pointer that Snapchat is a huge phenomenon among a target group that is most likely to explore their world via augmented reality (AR). It's a niche where Snapchat is likely to enjoy some dominance for quite some time as some of the potentially serious competitors such as Facebook simply don't use the Camera as the centerpiece of its social networking services.
There are so many quirky things that the Camera can do. Whenever a user taps and holds on their Snapchat camera, they will begin the Scan of their surroundings. View a $10 bill and watch Hamilton appear and begin singing the song from the musical. You can scan a slice of your pizza and watch a dancing Giphy pizza slice magically appear out of nowhere. Snapchat users are also able to see the new AR Bar which has dedicated buttons that can be used to Scan, create a lens or explore the more than 400,000 AR Lenses that have been created by the Snapchat community.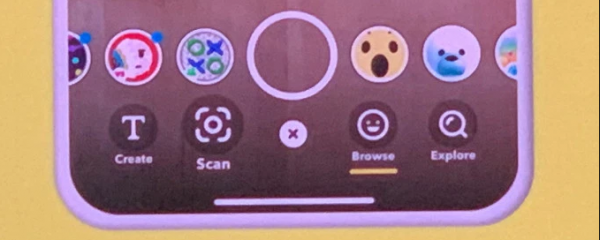 Snap has 186 million daily users and 75% of them play with Lenses every day, with the cumulative number of plays totaling to 15 billion to date. Scan was built off following the acquisition of the Scan.me startup which has powered Snap's QR Snapcodes to date, a feature that allows people to add friends or unlock Lenses.
Outside its utility-based functions, Snapchat has also incorporated a host of creative augmented reality features that help keep the audiences hooked and entertained. Snapchat is currently launching the Landmarkers app that makes use of point cloud data from the user-generated Our Stories of iconic landmarks such as Eiffel Tower to power an animated augmented reality transformation of famous places. You can take in the sights of some of the world's leading tourist attractions such as the Buckingham Palace, Capitol Building, Eiffel Tower or the Chinese Theater in LA while doing all kinds of creative things with them such as shooting lighting, spewing rainbows and so on.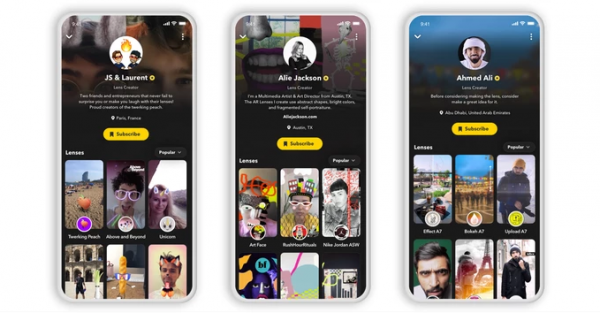 Developers and Lens creators that utilize Snap's Lens Studio tools have not been left behind. The camera company is planning to launch new Creator Profiles that creators or developers can use to showcase all the Lenses that they have contributed. The Creator Profiles will provide access to new augmented reality templates for hand, body and pet effects to cater for the hardcore computer science stuff. Creators simply need to add their graphical assets such as fireballs shooting out of people's hands, mustaches on dogs or rainbows that appear above someone whenever they hold out their arms.
Snap promises to even display relevant community Lenses under the Lenses Carousel based on what its scans have picked up. The only shortcoming is that it still does not provide any direct monetization opportunities for its independent Lens creators. The best it offers so far in terms of monetization channels is the occasional connecting of the best augmented reality artists to brands for paid development partnerships. The camera company has admitted that it will have to work on offering its creators better incentives over the long haul.
During yesterday's press briefing, the company's top executives also explained that it no longer considers growth for the sake of growth as a success metric. Instead, Snapchat plans to work on deepening its user engagement and the ad revenues generated by its users.
The more the company nurtures its augmented reality offerings and gets its users playing with AR filters and the better development tools it offers on the platform, the more it is likely to get brands and developers to promote their Lenses in the Lens Carousel or via video ads that users can swipe to try out Lenses.
The depth of that engagement will be key to getting an edge over Facebook and Instagram in the next phase of augmented reality adoption. AR is going be huge and brands will prefer platforms with a high level of user engagement on AR. In terms of the sheer number of users, Instagram Stories currently has an edge with its 500 million daily users. However, it's mostly applying augmented reality effects on the users' faces as opposed to using AR to interact with the world as is the case with Snapchat. To maintain its edge, Snapchat will need lots of Landmarkers-style augmented reality entertainment experiences so as to mainstream the AR interactions and exploration. This might in the future have the multiplier-effect of fueling affiliate fees from augmented reality commerce sales along with other revenue streams.
Snapchat has also stated that its Lenses have been coded to be compatible with Android and iOS as well as any future AR hardware platforms. However, Snapchat will still need help from a robust community of developers for it to build a massive repository of augmented reality experiences. The company has in the past entertained an anti-developer attitude but it's finally course-correcting by building the platform and tools that will harness the limitless talents of the developer community to build apps that will add augmented wonders to the physical world.
https://virtualrealitytimes.com/2019/04/05/snapchat-unveils-its-new-snap-ar-utility-platform/
https://virtualrealitytimes.com/wp-content/uploads/2019/04/Snapchat-generates-GIPHY-GIFs-based-on-whats-around-the-user-600x506.png
https://virtualrealitytimes.com/wp-content/uploads/2019/04/Snapchat-generates-GIPHY-GIFs-based-on-whats-around-the-user-150x90.png
Augmented Reality
Technology
Snap Inc has announced a new set of augmented reality and camera search experiences for Snapchatters, partners and creators. The new feature now helps Snapchatters do more than just point and shoot. They can point and interact with others among other little tasks. Snapchat's Camera or Lenses are the basis...
Sam Ochanji
Sam
Ochanji
[email protected]
Administrator
Virtual Reality Times