Librarium VR Launches VR Memorizing Tool for Test Preparation
Librarium for Meta Quest 2 is a virtual memory palace platform launching soon to create new opportunities for effective long-term learning. The app is combining an ancient traditional memory technique with virtual reality and could find use in various edtech applications such as in test preparations.
Librarium for Meta Quest 2 blends the power of virtual reality technology with an ancient learning technique. In ancient Greece and ancient Rome, there were schools of rhetoric where speakers linked the key concepts in their speeches with different locations.
The technique, called the loci method, entails the speaker wandering along a memorized route (route method) where they find one term after the other from the text. This technique transforms the hard-to-remember words into a spatial and less abstract landscape where it is possible to more intuitively grasp the text.
The memory palace technique allows a user to visualize what they wish to remember thereby making it easier to remember stuff that would, under ordinary circumstances, be a lot difficult to recall.
Similarly, the Librarium virtual memory palace platform for Meta Quest 2 can be applied to more easily memorize things for test preparations.
According to experts, this technique improves memory retention by 30%. The platform was created by Librarium founder Duane Mathes and is available on both mobile and virtual reality apps.
It is designed for edtech applications to help learners remember things more easily. One of the platform's first use cases has been in helping medical students study for MCAT tests.
The development of the memory palace platform was a collaborative effort between Librarium, Meta Reality Labs, and Kaplan, a global education services provider. Librarium for Quest platform is gamified and designed to make learning a lot more fun, engaging, and also effective, particularly when it comes to memorizing things in preparation for tests.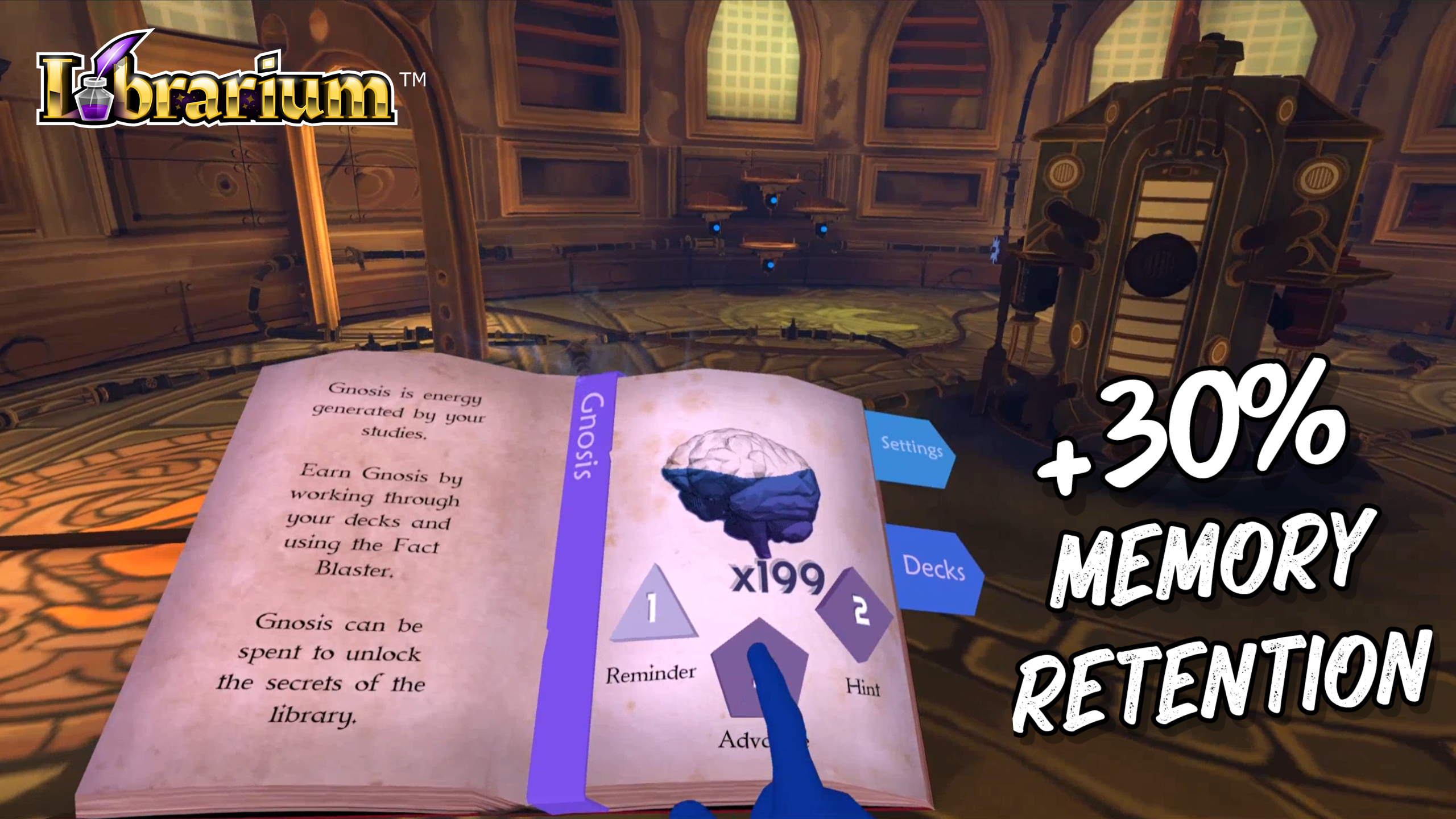 When using this method, the learner wanders along a memorized route and they find terms from different texts along this route. This method transforms the hard-to-remember words into spatial and less abstract landscapes where people can grasp stuff more easily.
Librarium has been creating the memorization platform for Meta Quest 2 over the past year. On top of the virtual reality app, there are also companion Android and iOS apps that allow users to create digital flashcards that can be used in the Meta Quest 2 VR app.
According to Librarium founder Mathes, the startup began with virtual reality but its roadmap also includes expanding into other platforms as its technology takes off. Librarium is also planning on raising a seed funding round.
The company's test preparation app is targeting both high school and higher education students. It is primarily aimed at bolstering memory retention and performance. The app also combines proven study methods using leading-edge and patent-pending technology. The app delivers these functions inside a fun and engaging gamified environment.
The Librarium app is available on the Meta Quest Store for users in North America and can be purchased for $20. Users will also find options to buy best-in-class premium content created by Kaplan which is a major test prep supplier.
Mathes says the test prep market is an $11 billion industry with a huge opportunity for this kind of innovation and learning aid. He says that the startup has been able to create a highly immersive environment by leveraging Librarium's patent-pending virtual reality technology. These immersive environments have proven visual memorization and retention techniques built around the Memory Palace concepts that were first used over 2,500 years ago.
Mathes says the platform has enabled students to improve their long-term memory retention by at least 30%. The fun and engaging Librarium platform also boosts the quantity of information retained by over 200%.
Librarium's partnership with Kaplan has also enabled it to deliver premium content that surpasses the highest industry standards while also making the most of the huge benefits of a virtual reality medium.
The Meta Quest Librarium app is set to launch with more than 100 curated test prep flashcard "decks" which covers a range of subjects including biology, philosophy, environmental sciences, and sailing.
Apart from the subject-based content, Librarium is also offering a complete and standalone MCAT-focused content bundle that was developed in partnership with Kaplan. The MCAT content features 35 decks (with close to 1,000 flashcards) for additional purchase. In the near future, there will be other standardized test prep bundles. The Librarium community also allows users to create and share their own decks.
Guide to Using and Learning with Librarium
Once they have bought the Librarium app for Meta Quest 2, users are prompted to download its free iOS and Android companion app where they can create their own customized virtual "decks and flashcards" covering any subject. After it has been created, the content immediately becomes accessible in Librarium's VR study experience.
Every term added in the Librarium Meta Quest 2 app gets an associated mnemonic object which is generated from Librarium's smart algorithm and helps in memory recall and retention. After this, users can engage with the study material inside a highly gamified and immersive virtual reality world that contains lots of environmental puzzles along with an intriguing backstory.
Librarium's design leverages deep Game Theory principles to inspire learners to get back to the application and continue studying.
Edtech provider Kaplan says its partnership with Librarium has facilitated "new and cutting-edge ways" through which students can access its proven test prep content and this has been "customized and reimagined" to suit the immersive environment. Kaplan's Jennifer Moore says premium decks symbolize the edtech company's continued advancement into the virtual reality world. The partnership will see all Kaplan students undergoing comprehensive tutoring in person, live online, or via an on-demand MCAT course get complimentary access to the suite of offerings in the Librarium app.
Librarium was founded in August 2021 and currently has a staff of 9. The startup developed a demo and showcased it to Meta. Meta liked the idea and wanted to introduce it to the Quest 2 platform. Meta also met with top educators at Kaplan which led to the three-way partnership.
Librarium is making the memory palace app available on 2D screens due to the limited reach of virtual reality technology.
The Librarium app has been developed in a colorful art style, almost like the World of Warcraft. The company is hoping to expand the reach of the app into new languages, new territories, as well as in new platforms.  Mathes promises that the company has "exciting opportunities" lined up.
Librarium is one of the rare apps on Oculus Store that caters to new ways of learning.
https://virtualrealitytimes.com/2022/09/10/librarium-vr-launches-vr-memorizing-tool-for-test-preparation/
https://virtualrealitytimes.com/wp-content/uploads/2022/09/Librarium-VR-600x338.png
https://virtualrealitytimes.com/wp-content/uploads/2022/09/Librarium-VR-150x90.png
Gaming
Technology
Librarium for Meta Quest 2 is a virtual memory palace platform launching soon to create new opportunities for effective long-term learning. The app is combining an ancient traditional memory technique with virtual reality and could find use in various edtech applications such as in test preparations. Librarium for Meta Quest...
Rob Grant
Rob
Grant
[email protected]
Author
Virtual Reality Times