'Breakthrough' Pancake Optics Could Usher in Ultra-Compact and Stylish VR Glasses
Displays manufacturer Kopin has reported a breakthrough in Ultra-Compact & Stylish VR Glasses
Kopin Corporation has announced a major optics breakthrough that could result in super-compact, lightweight, and stylish virtual reality glasses.
Kopin Corporation is one of the world's leading developers and providers of high-resolution microdisplays as well as display subassemblies for enterprise, defense, consumer as well as medical products.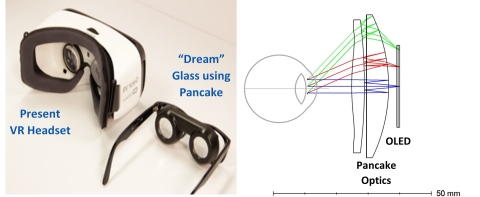 Last week, the company announced a breakthrough in the development of its all-plastic Pancake optics which have a breakthrough performance for virtual reality (VR), augmented reality (AR), and mixed reality (MR) applications.
The pancake optics represent a significant advance in the development of lenses and will be the first all-plastic Pancake optics in the world that have top-notch performance. Kopin Corporation has applied for three patents on the design, manufacturing process as well as system utilization for all plastic Pancake optics and expects additional patent filings to follow soon.
VR headsets have undergone tremendous advances over the past five years. The tracking system, for instance, has moved into the headset housing, the displays now have very high resolutions that the once annoying pixel grid has virtually disappeared, and there is no longer any need for a player.
In spite of these advances, some things such as the form factor and the weight haven't changed much. VR headsets are still considerably bulky and heavy just as they were five years ago which has inhibited their market potential.
The lack of progress in this area is largely attributable to the display technology and optics which haven't changed much over the past few years. The current VR headsets still consist of a large display in front of which is mounted a thick and heavy Fresnel lens at a good distance. This construction results in a bigger form factor and largely contributes to the heavyweights of most VR headsets which weigh more than 400 grams.
Kopin's pancake lenses are all-plastic and according to the company, they now make it possible to have more compact virtual reality headset designs. The lenses are based on polarization and they reflect the light between two optical elements. The main advantage of the pancake lenses is that they easily work with coin-sized microdisplays and can also be mounted closer to the screen as they can diffuse light particularly well. These two properties make it possible for these displays to be used to make more compact and lightweight VR headsets or VR glasses. They represent a major milestone on the road to developing more compact virtual reality.
The Pancake optics working mechanism involves reflecting light back and forth within the optical system. To correctly reflect the light and avoid the image artifacts, it is necessary to precisely control the polarization state of light. However, plastic materials typically have large birefringence which interferes with the polarization state. Up to now, an all-plastic lens system hasn't been able to overcome the disturbance of the polarization state.
Kopin's breakthrough lenses are made of all-plastic two-element Pancake optics which virtually have no birefringence. The core of the technology is a patented aspherical optical lens design capable of achieving great image performance as well as processing methods so as to preserve the negligible birefringence of a special plastic material that has unique characteristics. This resulted in a Pancake optics system that has better image quality, a much smaller size, lightweight as well as a lower cost than anything that has previously been available. Kopin's first all-plastic Pancake optics is named P95 and has been optimized for Kopin's 1.3" 2.6K x 2.6K organic light-emitting diode (OLED) microdisplay (with the resolution 2560 x 2560) and with a field of view of 95 degrees. The center is capable of holding an extremely sharp image with a superb modular transfer function. Kopin says it maintains the sharpness even up to the edge of the field of view which is a critical and difficult to achieve performance feature for virtual reality applications.
Both Kopin and Panasonic have already presented corresponding pancake optics designs and Facebook's XR research director Michael Abrash indicated in 2018 that pancake lenses could in the future replace the Fresnel systems currently deployed in VR hardware.
Kopin's new pancake lens is known as P95 and is optimized for Kopin's 1.3-inch OLED microdisplays with a resolution of 2,560 by 2,560 pixels. According to Kopin, a pancake lens weighs 15 grams and is 16 millimeters thick. Kopin wants to sell the product separately or in a package with the microdisplays and has already found a design partner.
According to Kopin, the pancake optics provide a far superior magnified image quality within a much thinner form factor, particularly for products with the field of views (FOV) that range from 50 degrees to 100 degrees. The previous pancake lenses required at least one spherical glass lens to avoid the image artifacts resulting from the birefringence of the plastic material but the glass lens used also added to the weight and the cost to the lens system.
However, Kopin's new all-plastic Pancake optics are all aspherical lenses and are completely made of plastic that further reduces the thickness, weight as well as manufacturing costs while at the same time improving the image quality.
It remains to be seen how Kopin's pancake optics will fare in terms of the image quality and the field of view. One of the major problems when using microdisplays in VR headsets is their comparatively narrow field of view. According to Kopin, the field of view is 95 degrees but it is unclear whether this value is the vertical field of view or the horizontal field of view. The image section corresponds to a 250-inch display at a distance of three meters.
Should the actual field of view fall below the industry standard of 90 to 100 degrees diagonally, Kopin's technology could be of interest to video glasses. Panasonic's first pancake prototype had a field of view of only 70 degrees. That astonishingly narrow form factor was also realized by outsourcing the tracking system, processing unit, and battery.
https://virtualrealitytimes.com/2021/08/01/breakthrough-pancake-optics-could-usher-in-ultra-compact-and-stylish-vr-glasses/
Hardware
Technology
Displays manufacturer Kopin has reported a breakthrough in Ultra-Compact & Stylish VR Glasses Kopin Corporation has announced a major optics breakthrough that could result in super-compact, lightweight, and stylish virtual reality glasses. Kopin Corporation is one of the world's leading developers and providers of high-resolution microdisplays as well as display subassemblies...
Sam Ochanji
Sam
Ochanji
[email protected]
Administrator
Virtual Reality Times